Composed Salad with Asparagus
Stuffed, Barbecued Pork Loin
Grilled Potatoes with Mustard and Vinegar
Sautéed Courgette (Zucchini) and Spinach
Barbecued Stuffed Pork Loin
Total time: 60 minutes     with 10 earlier
   This is marinated for a few hours in a cross between a brine and a classic pork rib sauce.  I stuffed it with mushrooms and ham and cooked it on the barbecue. After removing the pork from the marinade I boiled the marinade for 5 minutes, reducing it to use both as a basting sauce (some of it) and a dipping sauce (the rest).  There is enough pork for two meals.  Be sure to save any leftover sauce for the leftover pork!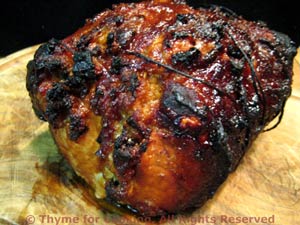 Ingredients:
1 pork loin roast, 24oz (720gr)
Marinade/Barbecue Sauce:
1/2 cup (4oz, 120ml) coffee 

1/2 - 3/4 tsp instant dissolved in hot water or brewed coffee

1/2 cup (4oz, 120ml) maple syrup
1/4 cup (2oz, 60ml) ketchup
2 tbs cider vinegar
1 tbs Worcestershire sauce
1 tbs soy sauce
1 tsp garlic powder
1 tsp dry mustard
Stuffing:
3oz (90gr) mushrooms,

about 1/2 cup finely chopped

2 slices Prosciutto
2 tbs dry bread crumbs
3 tbs marinade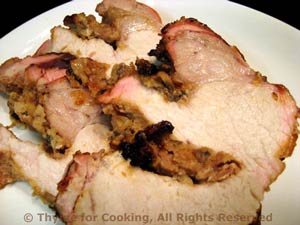 Instructions:
At least 2 hours or up to 8 hours earlier: 
Mix all ingredients for marinade/barbecue sauce. 
Cut a lengthwise slit down the center of the pork loin almost all the way through. Leave about 1/4" (.5cm).  You want to be able to open it like a book. 
Spread the pork out in a deep dish and pour the marinade over. 
Turn the pork to coat, cover and refrigerate. 
Dinner time:
Finely chop mushrooms and Prosciutto. 
Mix mushrooms, Prosciutto and bread crumbs in a small bowl. 
Add 3 tbs of marinade and mix well. 
Remove pork from marinade, reserving marinade, and let drain a bit. 
Lay pork out with cut side up.  Spread the stuffing on one side up to 1/4" from the edges. 
Fold the other side over and tie well with kitchen string: Cut five 10 inch lengths of string and wrap around pork and tie every 2 inches or so - making certain that you do one as close to each end as possible. 
Cook pork on barbecue grill for 45 - 60 minutes or until done, basting 3 or 4 times with the Barbecue Sauce. 
When done, slice and serve with more Barbecue Sauce on the side. 

Or:

Could also be baked at 400F for 45 - 60 minutes or until done but you won't get the sugary crust.  It is done when it's still slightly pink in the center - slice and peak or use a meat thermometer. An instant read meat thermometer is best for a nice, juicy roast.  Cook it to an internal temperature of 145F (62C)  See techniques.
To make barbecue sauce:
Put reserved marinade in a small saucepan and bring to a boil.  Boil for 5 minutes. 
Remove 1/3 cup to use as a basting sauce and reserve the rest to use as a dipping sauce for this meal and with the leftover pork.