Emerald Soup
Slow-Roasted Moroccan Leg of Lamb
Asparagus with Olive Oil and Green Garlic
Slow-Roasted Moroccan Leg of Lamb
Total time: 3 hours 30 minutes
    This is started hot, to brown the crust, then finished slowly.  It remains a lovely rose when sliced... and the crust is fantastic.... The best lamb I've had. This will easily serve 4 - 6.  Add more potatoes. Get a larger leg (and more potatoes) to serve more.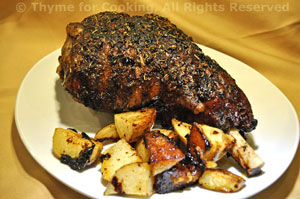 Ingredients:
2lb leg of lamb
2 tbs soft butter
2 tbs olive oil
2 tsp cumin
2 tsp paprika
2 tsp rosemary
3 cloves garlic, crushed
2 medium potatoes  
 Instructions:
Make a paste of the butter, oil, cumin, paprika, rosemary and garlic.
With a sharp knife make slits all over the lamb.
Spread the paste on the lamb, covering it as best you can. 
Roast for 10 minutes at 425F (220C). 
Reduce temperature to 315F (160C) and roast for 3 hours, basting with pan juices every 30 minutes.
45 minutes before lamb is set to be done cut potatoes into large chunks and add to roasting pan, stir to coat with pan juices and continue to roast.

To serve:

Remove lamb and allow to rest for 10 - 15 minutes before carving. 
Put potatoes back into oven, (turn oven off) to keep warm.
When ready, slice lamb, arrange on platter with potatoes.