Braised Lamb in Red Wine
Total time: 2 hours
    Slow-cooking lamb in wine is typical all over France.  This uses red wine, similar to the version made in Avignon.  The original is slowly baked for 5 hours in a 350F (180C) oven; I opted for a slow braise on the cook top.  After 2 hours the flavors have blended perfectly and the lamb melts in your mouth.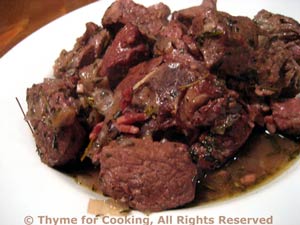 Ingredients:
14oz (420gr) lamb, shoulder or leg 

pieces are fine, buy a bit more if there is bone - but the bone adds flavor

1 onion
4 shallots
4 cloves garlic
3oz (90gr) bacon
2 tsp olive oil
1 cup (8oz, 240ml) red wine,

something hearty - Cote du Rhone, Cabernet Sauvignon

2 tsp beef paste, granules or 1 stock cube
2 tsp dried rosemary 

or fresh

2 tsp dried thyme
2 tsp dried parsley
4 bay (laurel) leaves
 Instructions:
Roughly chop bacon.
Cut onion into quarters, then slice. 
Slice shallots. 
Mince garlic. 
Cut lamb into 1 1/2" (4cm) pieces and trim excess fat.
Heat oil in a heavy pot or Dutch oven with tight-fitting lid.  Add bacon and sauté until starting to get crisp. 
Add onion, shallots, garlic and sauté until tender. 
Add lamb and lightly brown. 
Add all remaining ingredients and bring to a boil. 
Cover, turn heat to low and braise for 90 minutes. 
Serve lamb with onions/shallots and pan juices.