Split Pea Soup
Total time: 1 hour 30 minutes
   Traditionally made with a ham bone or ham hock, I made this with a slab of local, dry-cured ham.  Regular baked ham would work as well.  This will make 4 servings.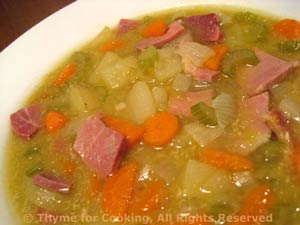 Ingredients:
1 1/4 cup (8oz, 240gr) split peas
6 cups water

2 thick slices Prosciutto, (6oz, 180gr total weight)

(for most intense flavor) 

or a meaty ham bone 

1 large onion
3 medium carrots
2 medium potatoes
3 ribs celery
 Instructions:
If using a ham bone, put in water with split peas.  If using Prosciutto or other ham, cut into bite-size chunks before adding. 
Bring ham, peas and water to a boil, cover and simmer for 45 minutes

After 45 minutes:

Roughly chop onion and add to pot.
Peel carrots.  Slice by cutting in half the long way (in 2 or more sections) then into half circles. Add to pot. 
Peel and slice potatoes to a similar size; add to pot. 
Slice celery, cutting the wide end in half lengthwise and add to pot. 
Cover and simmer until all vegetables are done, 30 - 45 minutes longer. 
Remove ham bone, if using, and cut ham.  Add ham back to soup.