Beef and Spinach Risotto
Total time: 30 minutes
    This is slightly different in that it uses beef broth and ground beef - making it not only quick but economical.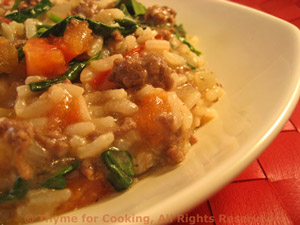 Ingredients:
 Instructions:
Heat beef broth and keep hot over low heat. 
Trim, rinse leek.  Thinly slice leek, including light green part.
In medium saucepan heat oil over medium heat.  Add leek and sauté until transparent.
Add rice and sauté stirring, for 2 - 3 minutes until rice has white center.
Add wine and stir.
Start condimenti.
When wine is almost absorbed add a 1/3 cup of broth, stir. 
When broth is almost absorbed add another 1/3 cup and continue adding 1/3 cup at a time and stirring.
Before the last 1/3 cup taste a few kernels of rice.  They should be just 'al dente' - slightly resistant to the tooth but fully cooked.  If more broth is needed add it 1/6 cup at a time and waiting until almost completely absorbed.
At this point risotto will be thick but not stiff - there will still be visible liquid and it will not hold its shape on a plate.
Stir in the Parmesan and condimenti, pour into a bowl or risotto platter and serve immediately.
It will continue to absorb liquid and the leftovers (if any) will be very stiff. 
Condimenti
Heat oil in medium skillet over medium heat. Add leek and sauté until tender.
Add beef and sauté until browned and cooked through.
Roughly chop tomatoes and add to beef along with the spinach.
Reduce heat, cover and let cook for 5 - 10 minutes. Keep warm until needed.
Note:  It is not necessary to stir constantly, just often and somewhat vigorously.