Salmon with Hot and Sweet Glaze
Total time: 25 minutes
     The mustard and brown sugar glaze works well with the slightly sweet flavor of salmon.  Use hotter mustard if you want more of a 'kick'.  I used fillets rather than steaks: they cook in less time and the larger surface captures more of the glaze.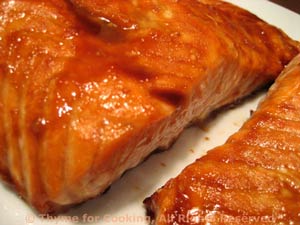 Ingredients:
2 salmon fillets,  6oz (180gr) each
1 1/2 tbs brown sugar
2 tsp Dijon-style mustard
2 tsp soy sauce
1 tsp Sherry
 Instructions:
Note:  For easy clean up cover pan with foil first.  This is especially nice if you are using fillets with the skin on.  You can carefully lift the salmon off the skin to serve, leaving the skin on the foil.  Then wrap the whole mess up and toss.