Spinach Timbales
Total time: 35 minutes
    These go together quickly and make a lovely presentation when unmolded, especially onto a white plate, with the red tomato sauce.  Puréed whole tomatoes have a fresher taste than commercial tomato sauce.  Garnish with some olives or a bit of cheese, whatever is on hand.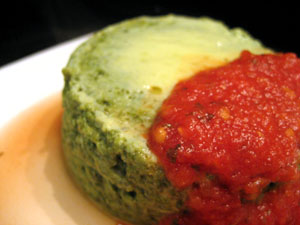 Ingredients:
 Instructions:
Thaw spinach - using hot water, microwave, heating on stove top, whatever. 
When thawed squeeze out all excess moisture (rinse with cool water first if too hot to handle). 
Butter 2 ramekins and line with buttered parchment or waxed paper (see techniques).
Put the egg in a medium bowl and beat lightly with a whisk. 
Add cheese, mustard and nutmeg and stir to combine. 
Add spinach and stir well. 
Divide spinach evenly between the 2 ramekins.
Put ramekins into a  baking pan (I use a bread pan) with deep sides.  Pour hot water into the pan coming half way up the sides of the ramekins. 
Bake in 400F (200C) oven for 20 - 25 minutes, until set; top will be firm. 
Remove from oven and carefully remove ramekins from hot water. 
Run a knife around edges of timbales and invert onto small plates. 
Remove paper. 
Spoon tomato sauce on the side and serve.
Tomato Sauce:
Open and drain tomatoes, reserving juice for another use. 
Purée in blender until smooth. 
Put into a small saucepan, add basil and heat.