Tomato and Red Pepper Soup
Total time: 30 minutes
    The combination of red tomatoes with red peppers makes a brilliant 'Tomato Soup' with just a hint of something to take it above the ordinary. Garnish with a dollop of yogurt, pepper strips, olives, shredded cheese, or just some freshly ground pepper.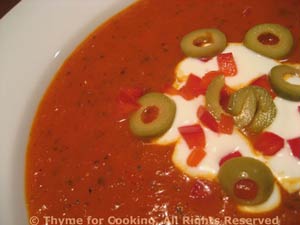 Ingredients:
 Instructions:
Chop shallots, celery and garlic. 
Clean pepper and roughly chop half. 
Heat oil in a medium saucepan over medium heat.  Add paprika and sauté 30 seconds. 
Add shallots, celery and garlic and sauté 5 minutes. 
Add pepper, tomatoes with juices, herbs and 1/4 cup chicken stock. 
Heat to boiling, cover, reduce heat and simmer 15 minutes or until pepper is tender and done. 
Purée either in a blender (easiest) or with an immersion blender. 
Add as much of the remaining 1/2 cup chicken stock as needed to get  your desired consistency (it's a personal thing). 
Put soup back into pan and heat through. 

Garnish:

Finely chop a bit more red pepper.  Pit olives if necessary and slice.

To serve:

ladle soup into bowls. Spoon 1 tbs yogurt into the center of each bowl, or sprinkle with cheese, olives and red pepper.