Baked Eggs
Paupiettes (Provençal Veal Rolls)
Potato Gratin with Caramelized Shallots
Sautéed Butternut Squash with Shallots
Baked Eggs
Total time: 15 minutes
    A simple dish: eggs baked with a light cream and mustard sauce.   Have some crusty bread on hand for dipping.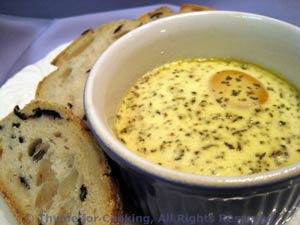 Ingredients:
1 tbs butter
2 eggs
1 tsp Dijon-style mustard
3 tbs crème fraiche
1 tsp milk 

substitute 1 tsp water - it's just to make the crème fraiche a bit thinner

1 tsp dried chives

bread

 

I bought artisan rolls at the bakery
 Instructions:
Divide butter and thoroughly butter 2 ramekins. 
Mix the mustard, crème fraiche, milk and chives. 
Put 1 tbs of mixture into the bottom of each ramekin. 
Put the egg on top of the sauce in each ramekin. 
Divide the remainder of the sauce and spoon on top of each egg. 
Put ramekins into a  baking pan (I use a bread pan) with deep sides.  Pour hot water into the pan coming half way up the sides of the ramekins. 
Bake at 375F (190)C, 10 - 12 minutes, depending on how you want the yolks.
Remove and serve directly from the ramekins.