Recipe in:
Barbecue
(Chicken and Other Poultry)
Wilted Lettuce Salad
Grilled Turkey Pesto Rolls
Faux Patatas Bravas
Green Beans with Butter and Pine Nuts
Grilled Turkey Pesto Rolls
Total time: 35 minutes
  These are a bit fussy because each roll has to be tied separately, but they are well worth the extra time.  If doing for a larger group, assemble ahead.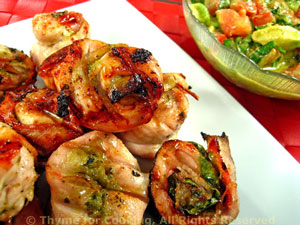 Ingredients:
3 thin turkey cutlets, 10oz (300gr), mine were 9" by 5" by 1/8" (23cm by 13cm by 1/3cm)
3 tsp pesto sauce
3 thin slices prosciutto
6 large basil leaves
kitchen string
Tomato, Avocado, Basil Sauce:
1/2 avocado
1 garden-ripe tomato
1 big bunch of basil
1 tbs pesto
1 tbs good olive oil
1 tbs white balsamic vinegar
 Instructions:
Note:  If you can't get turkey cutlets, use 2 chicken breasts: cut almost through, starting on the 'straight' edge of the breast, giving you a pocket the shape of the breast with 1/2 inch of 'uncut' chicken around 3 sides. Fill the 'pocket with pesto, Prosciutto and basil, tie and grill.