Asparagus with Prosciutto and Goat Cheese
Barbecued Sirloin Steak
Potato, Onion, Gruyère Packets
Green Beans with Celery
Barbecued Sirloin Steak
Total time: 30 minutes
   Get any steak suitable for your budget and for grilling.  If you slice the steak, at an angle, even a tougher cut is delicious - and they usually have more flavor!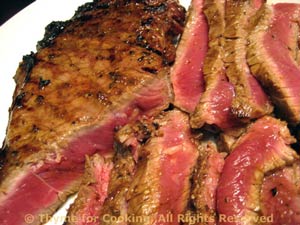 Ingredients:
16oz (480gr) sirloin or top round (suitable for grilling)
2 tbs ketchup
1 tbs Worcestershire sauce
1 tbs Balsamic vinegar
1/2 tsp garlic powder
1 tsp dried oregano
2 tbs olive oil
 Instructions:
Combine ketchup, Worcestershire, vinegar, oil, garlic and oregano. 
Spoon on both sides if steak and allow to marinate for 15 - 30 minutes. 
Cook steak on barbecue grill over direct heat for 5 - 9 minutes per side - or until done - 140F (60C) for rare.  Use thumb test, meat thermometer or, as last resort, by slicing into center and looking.
When done, remove from heat and let rest for 5 minutes. 
Slice at an angle about 1/2 inch thick (1.25cm) and serve. 

Note:

Can be cooked under broiler - start with 7 minutes per side.