Main Course Menu Plan: Week 4 
Fall II
Day 1:

Sautéed Sole with Butter and Lemon

Total time: 10 minutes
     Served whole, the delicate fish flakes easily off the skeleton, which, normally, remains intact for easy removal once you've eaten one side of the fish.  Finished with a bit of butter and lemon for accent, it will simply melt in your mouth.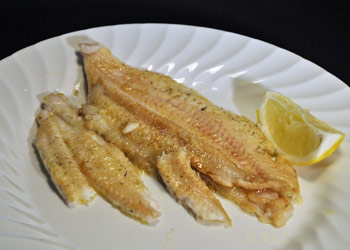 Ingredients:
2 whole sole, cleaned, about 12oz (360gr) total weight,  or filets
1/3 cup flour
salt & pepper
1 lemon, quartered
3 tbs butter
 Instructions:
Put the flour on a plate large enough for the fish to fit.  Add salt & pepper to the flour and mix it together. 
Over medium-high heat melt half of the butter in a nonstick skillet large enough to hold both fish. 
Rinse fish and pat dry. 
When butter is sizzling dip both sides of fish (hold it by the tail) in flour and add to pan. 
Sauté 1 - 2 minutes on each side depending on size of fish.  They cook very fast and if you are not careful when you take them by the tail to turn them over the skeleton will come away in your hand! 
When nicely browned and done remove to plates. 
Melt remaining butter in skillet and pour over each fish. 
Serve with 2 lemon quarters each, to squeeze over top.

Note

: If you get sole filets, they will cook even faster.  Use a long spatula to turn them carefully.
Day 2:

Grilled Lamb Chops with Lemon and Rosemary

Total time: 35 minutes
    Is there a better match than lamb and rosemary?  This simple marinade, with a bit of soy sauce and garlic, imparts a lot of complex flavors to our lamb chops.  Great grilled but equally good done indoors.  A grill pan for your stove top is nice but a hot nonstick skillet works fine.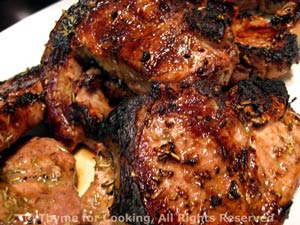 Ingredients:
4 - 6 center-cut lamb chops - depending on size
2 tbs lemon juice
1 tbs soy sauce
2 tbs oil
1/2 tsp garlic powder
2 tsp rosemary
 Instructions:
Mix lemon juice, soy sauce, oil, garlic powder and rosemary. 
Pour over lamb chops and allow to marinate for 15 - 30 minutes. 
Remove chops and discard marinade. 
Either cook on barbecue grill or in a non-stick skillet over medium-high heat.  In either case you will cook chops for 2 - 5 minutes a side depending on thickness and desired degree of doneness (I don't know if that is a word - but you get the idea).  We do ours on a hot grill 2 minutes a side for medium rare.  When you think they might be close take one off, cut into center and peak.  You can always put them back on to cook more - you cannot undo... When done to your liking remove from heat and serve.
Day 3:

 Stuffed Acorn Squash with Ham and Quinoa

Total time: 60 minutes, 35 if you use a microwave
     The squash bakes while the stuffing is prepared and just needs 10 minutes to finish.  I usually can't get all of the stuffing in, so I keep it warm and serve it on the side.  The salty ham and slightly crunchy quinoa contrast well with the sweet squash.  And, yes, the mustard works too!
 Ingredients:
1 acorn squash
1/2 cup (3.5oz, 90gr) quinoa
1 cup (8oz, 240ml) chicken stock
8oz (240gr) slice baked or deli-style ham
1 onion
2 cloves garlic
1 rib celery  

optional

1 tbs olive oil
1/2 cup (4oz, 120ml) chicken stock
1 tbs Dijon mustard
2 tbs fresh sage    

substitute 1 tbs dried, crumbled

1 1/2 tbs cornstarch (corn flour, maizena) dissolved in 2 tbs wate

r
 Instructions:
Cut squash in half and scoop out seeds.  Either place face down on tray and microwave for 10 - 12 minutes or put into a baking dish, cover with foil and bake in 400F (200C) oven for 40 minutes. 
While squash cooks: 
Cook the quinoa in chicken stock 15 minutes or according to your package directions, until all liquid is absorbed and it's done.  (Check your package directions for correct quantity of stock and cooking times.)
Chop the onion and celery; mince the garlic. 
Heat the oil in a nonstick skillet over medium heat. 
Sauté the onion and celery 5 minutes then add the garlic.  Sauté 5 more minutes or until onion and celery are tender and starting to brown. 
Cut the ham into small cubes, about 1/3" (1cm). 
Add ham and sage and sauté until ham starts to brown.  
Add mustard and chicken stock and stir well to combine. 
Dissolve cornstarch in stock. 
When ham mixture is simmering stir cornstarch in, a little at a time.  (You may not need it all).  You want it very thick but not paste. 
When quinoa is done add it to ham mixture and stir to combine. 
To assemble:
When squash are ready (they should be tender, almost done) remove from wherever they cooked and fill with the quinoa/ham mixture. 
Bake (not microwave for this last bit) uncovered for 10 minutes, until heated through and squash is done.
Day 4:

 Pasta with Chicken, Red Pepper and Red Beans

Total time: 25 minutes
   Red pepper, red beans and a few of the last fresh tomatoes come together for a quick sauce for pasta and sautéed chicken breasts.  Delicious doesn't have to be difficult!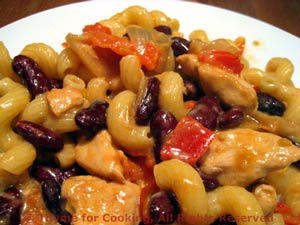 Ingredients:
1 1/4 cup dried pasta,

curly macaroni, rigatoni

2 chicken breasts
1 medium red pepper
1 medium onion
2 cloves garlic
1 tsp paprika
2 tsp olive oil
15oz (450gr) red beans
2 - 3 medium tomatoes
1/3 cup (3oz, 90ml) chicken stock
 Instructions:
Cook the pasta according to package directions.
Roughly chop the pepper, onion and tomatoes. 
Mince the garlic.
Cut chicken into large bite-size pieces.
Open, drain and rinse beans.
In a large skillet heat oil.  Sauté paprika for 1 minute.
Add onion, pepper and sauté for 5 minutes.
Add chicken and sauté until cooked through. 
Add garlic, sauté 1 minute longer. 
Add tomatoes, stock, beans; simmer until tomatoes soften and sauce starts to thicken, 5 - 10 minutes. 
Pour sauce over pasta, stir well to combine and serve.
Day 5:

 Pork Chops with Maple Syrup and Mustard 

Total time: 30 minutes
   I used boneless chops for this, about 1/2" (1.25cm) thick.  They cooked quickly, but, remember, slightly pink pork is okay, and keeps it tender and moist. If you don't have maple syrup you can use honey, or even brown sugar.  It's a simple, flexible recipe!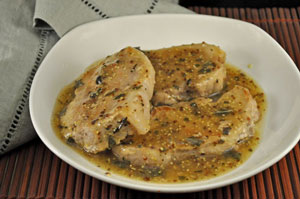 Ingredients:
2 - 4 pork pork chops, depending on size, 12oz (360gr) total weight 
2 tsp olive oil
1/2 cup (4oz, 120ml) beef stock
1/4 cup (2oz, 60ml) white wine
1 tbs maple syrup (or honey)
1 tbs whole grained mustard  (or Dijon-style mustard)
2 tbs dried sage
2 tsp cornstarch (corn flour, maizena) dissolved in 1 tbs water
 Instructions:
In medium nonstick skillet heat oil over medium heat. 
Add pork chops and brown on both sides, about 5 minutes each. 
Add beef stock, wine, maple syrup, mustard and sage. 
Cover, reduce heat and simmer 10 minutes. 
Uncover and remove chops to small platter.  Cover to keep warm. 
Increase heat under skillet.  Dissolve cornstarch in water and stir into simmering sauce. 
Spoon some sauce over chops and serve, remaining sauce on the side.
Day 6:

 Lemon and Soy Glazed Turkey Cutlets

Total time: 20 minutes
    Turkey cutlets, are thin slices of turkey breast meat.  They cook quickly and are particularly well suited to savory marinades and sauces.  If you can't find them, substitute thinly sliced turkey tenderloin or chicken breasts. This is an intensely flavored, savory dish.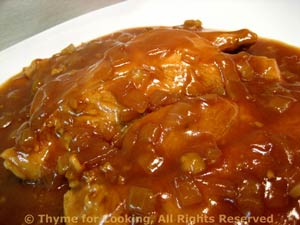 Ingredients:
 Instructions:
Combine soy sauce, lemon juice, brown sugar and stock in a dish.
Add turkey cutlets, turning to coat and allow to marinate for a bit.
Thinly slice onion.
Mince garlic.
Mince ginger if using fresh.
Sauté onion, garlic and ginger in oil in large nonstick skillet over medium heat for 5 minutes.
Add turkey (reserving marinade) and sauté until golden, turning once - pushing onion mixture to sides of pan to prevent burning.
Add reserved marinade, reduce heat and cook, covered 4 - 6 minutes longer or until done.
Remove turkey from pan.
Thicken pan juices by adding cornstarch mixture and stirring well.
Spoon over turkey and serve.