Main Course Menu Plan: Week 3 
Fall II
Day 1:

Seared Scallops with Prosciutto on Tarragon Cream 

Total time: 15 minutes
   Scallops are rich, sweet, and often expensive.  But we can still indulge on occasion.  Here they are quickly seared with a bit of Prosciutto and served on a bed of velvety Tarragon Cream.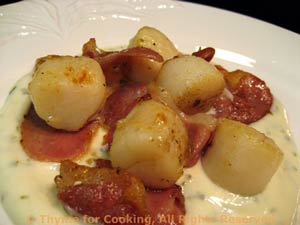 Ingredients:
10oz (300gr) large scallops
4 slices Prosciutto, (2oz, 60gr)   or other dry-cured ham, Bayonne, Serrano
1 tbs olive oil
1/2 tsp paprika
Tarragon Cream:
2/3 cup (5oz, 150ml) white wine
1/3 cup (3oz, 90ml) chicken stock
1/3 cup (3oz, 90ml) Greek yogurt, crème fraiche or sour cream
1 tsp dried tarragon
1 tsp dried basil
1 tbs cornstarch (maizena) dissolved in 2 tbs stock
 Instructions:
Mix olive oil and paprika. 
Add scallops and stir to coat. 
Cut ham slices in thirds.
Combine ham and scallops. 
Heat large nonstick skillet over medium-high heat . 
When hot add scallops and ham.   Stir-fry quickly until scallops turn opaque and ham starts to crisp. 
Remove and serve on Tarragon Cream.
Tarragon Cream:
In a small saucepan, over medium heat,  bring stock and wine to a boil.  
Add tarragon, basil and simmer 5 minutes.
 Mix cornstarch in stock and stir into simmering stock. Cook until thickened - should be quite thick. 
Remove from heat and stir in yogurt / crème fraiche.
Note:  Some scallops will release water when cooked, causing them to steam rather than fry.  Be sure to use a large skillet, giving them plenty of room.  Turn the heat to high after adding the scallops if they don't start to sizzle.
Day 2:

Veal Saltimbocca alla Romana 

alla Katie

Total time: 25 minutes
    This is a very traditional Italian dish.... Made my way.  I only make it in the fall when the sage is still fresh and aromatic.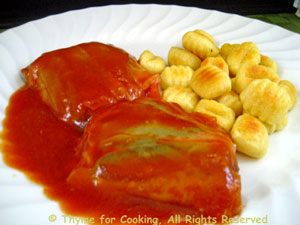 Ingredients:  
 Instructions:
Day 3:

 Butternut Squash with Sage and Ham Risotto  

Total time: 35 minutes
   This is based on a recipe from the cook book 'Risotto'.   As always, the end result should be creamy, smooth, almost soup-like, never stiff.  The squash gives a bit of sweetness to the risotto and adds to the overall velvety texture... and it's a lovely color!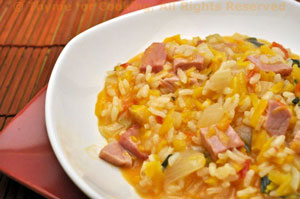 Ingredients:
 Instructions:
Heat chicken stock and keep hot over low heat. 
Finely chop onion and tomato. 
Peel butternut squash using potato/vegetable peeler.  Cut it in half the long way (blossom to stem) and remove seeds.  Using large holes on grater, shred part of the squash until you get 1 cup.  Wrap the remainder in film and refrigerate. 
In medium saucepan heat butter over medium-high heat. 
Add onion and tomato, sauté 5 minutes. 
Add squash and sauté 5 minutes longer.
Add rice and sauté stirring, for 2 - 3 minutes until rice has white center. 
Add white wine and stir. 
Start condimenti.
When wine is almost absorbed add a 1/3 cup of stock, stir.  
When stock is almost absorbed add another 1/3 cup and continue adding 1/3 cup at a time and stirring. 
Before the last 1/3 cup taste a few kernels of rice.  They should be just 'al dente' - slightly resistant to the tooth but fully cooked. 
If more stock is needed add it 2 tbs at a time and waiting until almost completely absorbed.  At this point risotto will be thick but not stiff - there will still be visible liquid and it will not hold its shape on a plate. 
Add the Parmesan and the condimenti, stir well, pour into a bowl or risotto platter and serve immediately. 
It will continue to absorb liquid and the leftovers (if any) will be very stiff. 
Condimenti:
Cut the ham into bite-size pieces. 
Heat olive oil in nonstick skillet.  Add ham and sage and sauté until ham is lightly browned. 
Turn heat to very low and keep warm until needed.
Day 4:

 Baked Chicken Breasts with Mustard Crust  

Total time: 40 minutes
  The key to giving these a crispy crust is to drizzle them with olive oil after breading, before baking.  You could also spray them with olive oil or other cooking spray if you have it.  The crust keeps the chicken moist and the mustard adds an unexpected hint of savory sharpness.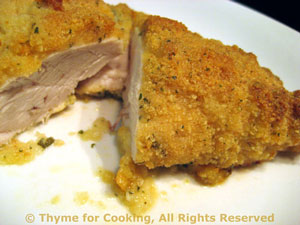 Ingredients:
2 chicken breasts, boneless, skinless
2 tbs Dijon-style mustard
2 tbs olive oil
1/2 tsp dried tarragon
1/2 tsp garlic powder
1/3 cup dried bread crumbs
1 more tbs olive oil
 Instructions:
In small bowl mix mustard, oil, tarragon and garlic. 
Spread on a plate or flattish bowl. 
Put bread crumbs on another plate. 
Roll chicken breasts in mustard mixture to coat thoroughly. 
Then roll in crumbs. 
Brush a baking sheet with a bit of oil and place breasts on
 Drizzle with remaining 1 tbs olive oil. 
Bake at 400F (200C) for 30 minutes or until topping is light brown and chicken is done (test if not sure, see techniques).
Remove and serve.
Day 5:

 Oriental Beef and Vegetables

Total time: 30 minutes
    You could substitute thinly sliced flank steak or beef pre-cut for stir-fry if you prefer.  Any bits of vegetable left in the fridge would be fine in this: sliced Brussels sprouts, broccoli, whatever.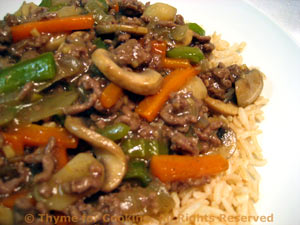 Ingredients:
 Instructions:
Mince garlic
Chop onion and pepper. 
Clean and slice mushrooms. 
Slice celery at an angle into 1/8 inch slices. 
Cut carrot into matchsticks. 
Drain and slice water chestnuts. 
Peel and chop ginger. 
In large non-stick skillet heat oils over medium-high heat. 
Add onion, celery, pepper and carrots and stir-fry 5 minutes. 
Add mushrooms, garlic and ginger and stir-fry 3 minutes more. 
Add beef and sauté breaking it up as it browns. 
When beef is brown add chestnuts, tomato paste and stock. 
Cover, reduce heat to medium-low and let simmer 5 minutes. 
Give the cornstarch mixture a stir to recombine.  Turn the heat up under the skillet and add the cornstarch mixture, stirring constantly until thickened.  Serve over rice.
Rice 
Cook rice according to package instructions adding the oregano with the stock
Fluff and serve.
Day 6:

 Chicken with Onions, Bay and Thyme

Total time: 35 minutes
     We think of bay leaves as something that is used in tomato based dishes, but they have a wonderful flavor that marries well with thyme, and shines through in this simple dish.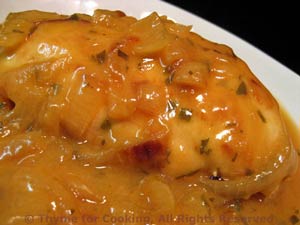 Ingredients:
2 chicken breasts, boneless, skinless
1 medium onion
2 cloves garlic
1 tbs olive oil
1 tsp thyme
2 bay leaves (laurel)
1/2 cup (4oz, 120ml) chicken broth
1/2 cup (4oz, 120ml) white wine
1 tbs tomato paste
1 tbs cornstarch (maizena, corn flour) dissolved in 2 tbs chicken stock
 Instructions:
Slice the onion and finely chop the garlic.
Sauté onion in oil in nonstick skillet over medium-high heat, about 5 minutes.
When onion starts to brown add garlic and sauté 1 minute longer.
Move onion and garlic to the sides of the pan, add chicken breasts, and sauté until lightly browned, about 7 minutes. 
Stir in thyme, bay leaf, wine, stock and tomato paste.
Cover, reduce heat and simmer until chicken is done, about 15 minutes.
Dissolve cornstarch in chicken stock.
Uncover skillet, increase heat and remove bay leaves.
Remove chicken to small platter.
Add cornstarch to onions and stir until sauce is thickened.
Spoon onions around chicken and serve.