Main Course Menu Plan: Week 13 
Spring II
Day 1:

Grilled Shrimp (Prawns) with Pimiento Sauce On Herbed Orzo

Total time: 30 minutes
    Add a bit of time if you have to clean the shrimp.  The Orzo is made 'risotto-style' for added creaminess.  The shrimp could also be quickly sautéed. The Pimiento Sauce is enough for 2 dishes.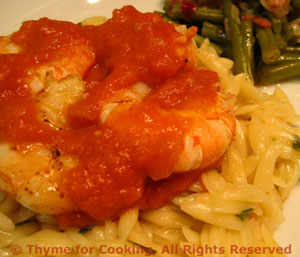 Ingredients:
10oz (300gr) cleaned large shrimp (prawns)
2 tbs olive oil
2 tbs lemon juice - fresh is best
1 tsp paprika
1/2 tsp garlic powder
Pimiento Sauce:
4oz (120gr) pimento pimiento (pimento) or roasted red peppers
1 cup (8oz, 240ml) tomato sauce 
1 shallot
2 cloves garlic
2 tsp olive oil
1 tsp oregano
1/2 - 1 tsp chili powder
2 tsp Balsamic vinegar
Red pepper flakes,

if you want more heat

Herbed Orzo: 
1/2 cup (4.5oz, 130gr)orzo
1 1/4 cups (12oz, 360ml) chicken stock
1 tbs snipped fresh chives   

substitute 1 tsp dried

1 tbs snipped fresh basil   

substitute 1 tsp dried
 Instructions
Clean shrimp if needed, if not just rinse and let drain. 
Mix garlic, paprika, lemon juice and oil in a bowl, whisking well to combine.  
Add shrimp and toss to coat. 
To cook on barbecue grill: either put shrimp on skewers or cook in perforated grill pan with a little olive oil. 
To cook on stove top: add a little olive oil to a large frying pan and sauté over medium-high heat
Either method: cook for 3-5 minutes - until shrimp curl and turn opaque.  When done, remove from heat. 
Pimiento Sauce:
Finely chop shallot and garlic. 
Heat oil in small sauce pan over medium heat.  Add chili powder, shallot and garlic and sauté until tender, about 3 minutes. 
Add the remaining ingredients for sauce and bring to a boil over medium heat. 
Reduce heat, cover and simmer for 5 minutes. 
Purée with blender or immersion blender.  Save half or a bit less of the sauce for another use.
Herbed Orzo:
Put orzo and stock in small pan and bring to simmer on medium heat. 
Turn heat to medium - low, and simmer until done, stirring occasionally, 15 - 20 minutes. 
All stock should be absorbed, if not, drain. Add a bit of water if it gets too dry.
Snip herbs and stir into orzo.  (Add dried herbs at the beginning of cooking) 
Remove from heat.
To Serve: 
Divide the orzo between 2 plates, arranging nicely. 
Spoon 2 - 3 tbs of sauce onto each mound of orzo. 
Arrange the shrimp on the sauce.  Drizzle the shrimp with a bit more sauce and serve.
Day 2:

Lamb Chops with Dijon-Basil Butter 

Total time: 20 minutes
    A bit of mustard-basil butter finishes off the lamb, melting over the top as you serve.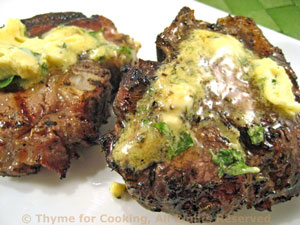 Ingredients:
4 - 6 center-cut lamb chops - depending on size
1 tbs olive oil
1/2 tsp garlic powder
1 tbs chopped/snipped fresh basil
1 clove garlic
1 tsp Dijon-style mustard
2 tbs soft butter
 Instructions:
Day 3:

 Simple Grilled Burgers

Total time: 30 minutes
   I used beef but these would be equally good with ground turkey or chicken.  If using poultry I would use white wine.  The crumbs, wine, etc. add a bit of moistness and a whole lot of flavor!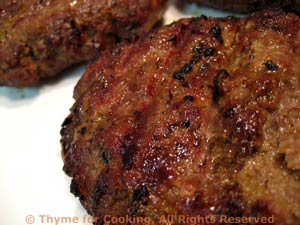 Ingredients:
12oz (360gr) ground beef ( mince)
2 tbs breadcrumbs
1 tbs red wine

  or stock

1 1/2 tbs ketchup
2 tsp Dijon-style mustard
1/2 tsp garlic powder
 Instructions:
Put all ingredients into a large bowl and mix well. 
Shape into 3 or 4 patties. 
Cook on barbecue grill over direct heat for 4 - 5 minutes per side. 
Or sauté in nonstick skillet for same amount of time. 
Remove and serve.
Day 4:

 Chicken Breast with Lemon and Honey 

Total time: 30 minutes
    Chicken breasts are a favorite on the grill but be careful not to overcook or they tend to dry out.  We prefer to slice them thinly, at an angle, to serve, rather than leaving the breast whole, but that, of course is optional!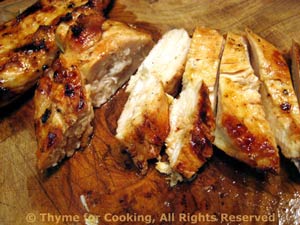 Ingredients:
2 chicken breasts, boneless, skinless
4 tbs lemon juice 
2 tbs honey
2 tbs olive oil
1 tbs soy sauce
1/2 tsp garlic powder
 Instructions:
In small bowl mix lemon juice, oil, honey, soy sauce and garlic powder.
  Place chicken breasts in a dish with sides and pour marinade over.  Let marinate 15 minutes or up to 4 hours in the refrigerator. 
Remove from marinade and cook on barbecue grill for 7 - 10 minutes per side, or until done,  basting with marinade until 5 minutes before removing (to make sure marinade is cooked). 
Could also be sautéed in a nonstick skillet for same amount of time. Serve.
Day 5:

 Salad with Creamy Dressing, Tuna, Walnuts and Cheese

Total time: 15 minutes
  This is a light, heart-healthy summer salad, with walnuts, greens, and a tangy dressing made with Greek Yogurt, reminiscent of 'Ranch', but lower in calories and all natural.
 Ingredients:
greens: lettuce, spinach, mesclun, for 2 large salads
9oz (270gr) tuna
3/4 cup walnut halves
2 ribs celery
1/2 cup (3oz, 90gr) halved cherry tomatoes
1/3 - 1/2 cup Creamy Herb Dressing
1/2 cup shredded cheese - any flavor
Creamy Herb Dressing:
2/3 cup (5oz, 150ml) Greek or plain yogurt
1 tbs Dijon-style mustard
2 tbs white Balsamic vinegar
2 tbs fresh snipped garlic or regular chives
1 tbs fresh snipped oregano
3 tbs salad olive oil
 Instructions:
Prepare greens and put into a large salad bowl. 
Thinly slice celery, add to greens.
Add a bit of dressing and toss to coat (use tongs, it's easier). 
Taste and add more dressing if desired. 
Drain tuna. 
Cut tomatoes. 
Arrange tuna, tomatoes and walnuts on salad. 
Sprinkle with cheese and drizzle a bit more dressing.
Serve.
Creamy Herb Dressing:
Snip oregano and chives with scissors. 
In small bowl whisk yogurt, mustard and vinegar.
Add oil, a bit at a time and whisk well. Add herbs. 
 Note: This will keep a week... And makes a great dip for raw veggies.
Day 6:

 Deviled Pork Chops, Grilled

Total time: 30 minutes
  Pork chops with a kick, marinated and cooked on the barbecue grill.  If you want them hotter, more 'devilish' you could add a drop or 2 of Tabasco or other hot sauce.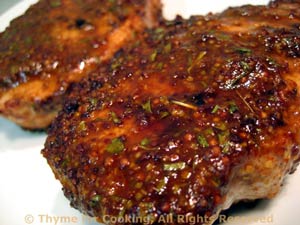 Ingredients:
 Instructions:
Mix all ingredients for marinade and spoon on chops.  Let marinate for 10 - 15 minutes. 
Cook on barbecue for 4 - 7 minutes a side or until done.  Should be slightly pink in center when done - take a peak (techniques). 

Or

fry in nonstick skillet over medium-high heat the same amount of time.