Main Course Menu Plan: Week 9
Spring II
Day 1:

Grilled Salmon with Tarragon Mayonnaise

Total time: 20 minutes
Tarragon and chives are the first herbs to come up in the spring. They make a light mayonnaise perfect with grilled fish.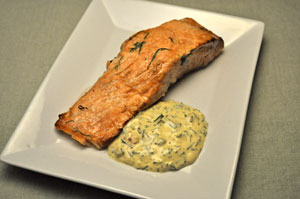 Ingredients:
2 salmon fillets, 6oz each (180gr each),

or steaks, if your prefer

1 tbs olive oil
1/2 tsp dried dill weed
Tarragon Mayonnaise:
1 tbs snipped fresh tarragon
1 tbs snipped fresh chives
1 tbs lemon juice
1 clove minced garlic or 1/2 tsp garlic powder
1/2 cup prepared mayonnaise
Instructions:
Brush salmon with the oil and sprinkle with dill weed.
Cook on barbecue grill 5 - 7 minutes per side, depending on thickness.

OR

put on baking sheet and roast in 400 F oven for 15 - 20 minutes, depending on thickness. Steaks will take a few minutes longer than fillets. Salmon should flake easily with fork when done but it's okay to have it still a bit pink in the center.

Tarragon Mayonnaise

Mix tarragon, chives, lemon, garlic and mayo.
When salmon is done, remove to plates and serve, tarragon mayonnaise on the side.
Day 2:

Grilled Glazed Lamb Chops

Total time: 30 minutes
We don't normally marinate lamb chops, but this added a light flavor and a slightly caramelized crust to the finished chop. If you are not ready for the barbecue grill, they can be broiled (grilled in the oven) or pan-fried.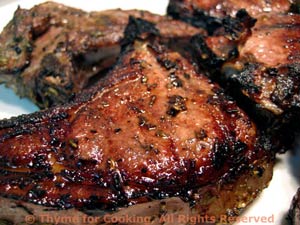 Ingredients:
4 - 6 center-cut lamb chops - depending on size, 16oz (480gr) total

substitute pork chops

3 tbs sherry
2 tbs sherry wine vinegar
1 tbs honey
1 tbs olive oil
1/2 tsp garlic powder
2 tsp dried rosemary
Instructions:
Mix all ingredients except chops in a small bowl.
Put chops in a glass baking dish large enough to hold them in a single layer. Pour marinade over, turn chops a few times to coat well, and set aside. Can marinate for several hours in the refrigerator or for 20 minute at room temperature.
Cook on barbecue grill for 2 - 5 minutes per side depending on thickness and desired degree of doneness (I don't know if that is a word - but you get the idea).

We do ours on a hot grill 2 minutes per side for medium rare.

When you think they might be close take one off, cut into center and peak. You can always put them back on to cook more - you cannot undo...
When done to your liking remove from heat and serve.

Or you can broil or sauté in non-stick skillet for about the same amount of time - until done.

Pork chops will take 6 - 8 minutes per side.
Day 3:

Spring Greens Salad with Asparagus and Ham

Total time: 25 minutes
A variation on a Cobb Salad with the emphasis on spring: asparagus, radishes and spring greens.

Ingredients:

Instructions:
Hard boil eggs.
Snap off ends of asparagus. If white use vegetable peeler and peel bottom half of stalk.
Roll cut (cut the end off at an angle, roll 1/4 turn and cut next piece at an angle, roll 1/4 and cut next piece, etc.) asparagus in 1 1/2 inch (4 cm) lengths.
Fill large saucepan half full of water and bring to a boil over high heat.
When boiling, drop in asparagus and parboil for 2 minutes if green, 3 if white.
Drain and immediately rinse with cold water.
Prepare greens and put into a large bowl.
Add a bit of dressing and toss well with tongs to combine. Taste and adjust dressing.
Arrange on a shallow platter, flat salad bowl or two plates.
Clean and slice radishes.
Slice ham/turkey into strips and cheese into rounds.
Peel and quarter eggs.
Arrange ham, eggs, asparagus, radishes and cheese nicely on top of greens.
Drizzle a bit of dressing over all and serve, extra dressing on the side.
Creamy Herb Dressing
Whisk together the yogurt, mustard and lemon juice.
Drizzle in the olive oil, whisking constantly.
Stir in herbs. This will keep a week in the refrigerator.
Day 4:

Spicy Teriyaki Chicken Breasts

Total time: 25 minutes
Using a hot mustard with the Teriyaki sauce gives these chicken breasts an intense flavor. Poke the breasts with a fork to let the marinade seep deeper into the chicken.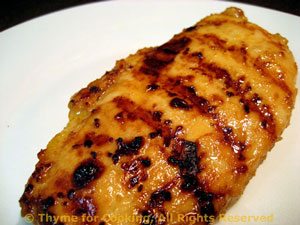 Ingredients:
2 chicken breasts, boneless, skinless
1 tbs Dijon-style or spicy brown mustard
3 tbs Teriyaki sauce
1/2 tsp garlic powder
1/4 tsp ground ginger
Instructions:
Mix all ingredients except chicken in a small bowl.
Pour over the chicken and let marinate for 10 - 15 minutes.
When ready, cook on barbecue grill for 10 - 12 minutes, turning once or under broiler for same amount of time or sauté in nonstick skillet for 12 - 15 minutes; in all cases cook until done.
Remove chicken, slice nicely (if you want... or not) and serve.
Day 5:

Stir-Fried Pork with Snow Peas (Mangetout)

Total time: 25 minutes
Snow Peas are traditional in Asian stir-fries. They stay crisp and green, adding both texture and color to the dish.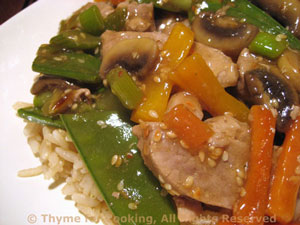 Ingredients:
Instructions:
Rice:
Melt butter in small saucepan over medium heat. Add rice and sauté, stirring for 2 - 3 minutes.
Add stock or water. Cook rice for length of time on package. When done fluff with fork.
Stir-Fry:
Thinly slice onion.
Mince garlic.
Julienne the pepper (techniques).
Cut the carrot into matchsticks.
Trim snow peas.
Cut the pork into strips bite-size pieces.
Heat olive oil in large nonstick skillet over medium-high heat.
Add onion, pepper, carrot to skillet and stir-fry for 2 minutes.
Add garlic and stir-fry another 2 minutes. Remove onion/pepper/garlic from pan and set aside.
Add sesame oil to pan and heat. Add pork and stir-fry 3 - 5 minutes, until nicely browned.
Remove and put with onions.
Add snow peas to skillet and stir-fry 1 - 2 minutes.
Return everything to the skillet.
Add chicken stock, sherry and bring to a boil.
Dissolve cornstarch in soy sauce. Add cornstarch mixture to pan and stir until thickened.
Serve over Basmati Rice.
Day 6:

Asian Chicken and Cabbage Salad

Total time: 30 minutes
Shredded cabbage with a creamy peanut butter dressing is the base for this chicken salad. Sprinkled with sliced (or slivered) almonds and sesame seeds, it has a definite 'Asian' flavor.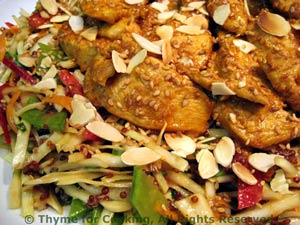 Ingredients:
The Chicken:
2 chicken breasts, boneless, skinless
1 tbs soy sauce
1 tbs walnut or sesame oil
1 tbs peanut butter
1 tbs sherry vinegar
2 tbs olive oil
1/2 tsp chili powder
1/4 tsp dried, powdered ginger
1/2 tsp garlic powder
The Salad:
1/3 cup (2.4oz, 65gr) quinoa
2/3 cup (5oz, 150ml) chicken stock
3 cups shredded cabbage
1 carrot
1/2 green or red bell pepper
3oz (90gr) snow peas (mangetout)
1 tbs fresh snipped chives

substitute 1 tsp dried

1 tbs toasted sesame seeds
1/4 cup sliced almonds
Peanut Dressing:
1 tbs brown sugar
2 tbs peanut putter
3 tbs sherry vinegar
1 tbs fresh parsley

substitute 2 tsp dried

1 tbs oil - sesame or walnut
2 tbs salad olive oil
1 tbs soy sauce
Instructions:
Cook quinoa in stock for 15 minutes, fluff when done and set aside.
The chicken:
Put soy sauce, walnut oil, peanut butter, vinegar, 1 tbs olive oil, chili powder, ginger and garlic in a small bowl. Whisk well to combine.
Slice chicken breasts into strips and toss with marinade.
Allow to marinate for 15 minutes while you make the rest of the salad.
When ready, heat remaining 1 tbs olive oil in a nonstick skillet over medium-high heat.
When sizzling, add chicken and stir-fry 4 - 6 minutes, or until done.
The salad:
Shred cabbage: cut a slice off of the head, lay the slice cut side down, cut into 4ths, then, cutting across, slice very finely: 1/16" - 1/8" (.3cm). Do not use the core of the cabbage - you'll recognize it when you see it.
Slice the carrot into paper thin strips using the vegetable peeler.
Julienne the pepper.
Trim snow peas and slice, at an angle, into pieces about 3/4" (2cm) long.
Snip chives.
Make the

Dressing.

To assemble:
Put cabbage, carrot, pepper, snow peas and chives into a large salad bowl.
Add the dressing and toss well.
Add quinoa, and toss to combine.
Allow to rest and the flavors to blend while cooking the chicken.
When the chicken is done, arrange on the salad, sprinkle with sesame seeds and almonds, serve.
Peanut Dressing:
Put all ingredients in small bowl and whisk well.
Note: Toast sesame seeds in a dry, nonstick skillet, over medium-high heat, 3 - 6 minutes. Start flipping them or shaking the skillet after 1 - 2 minutes and remove as soon as light brown.