Main Course Menu Plan: Week 2 
Summer II
Day 1:

Salmon, Smoked Salmon, Avocado and Asparagus Pasta 

Total time: 30 minutes
   I used cold-smoked, moist, Irish smoked salmon, but use any type you like.  It will cook, ever so slightly, while it warms with the pasta.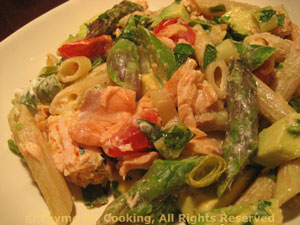 Ingredients:
 Instructions:
Cook pasta according to package instructions. Drain.

Poach salmon:

 
Put fresh salmon into a small skillet. Add enough water to come half way up the sides of the fish. 
Add 1 tbs lemon juice. Cover and simmer, 8 - 10 minutes, just until it turns opaque and flakes easily. 
Remove, drain and break into large chunks.
Blanch asparagus: 
Snap off ends of asparagus. If white use vegetable peeler and peel bottom half of stalk.
Cut asparagus in 1 1/2 inch (4 cm) lengths.
 Fill large saucepan half full of water and bring to a boil over high heat. When boiling, drop in asparagus and parboil for 2 minutes if green, 3 if white.
 Drain and immediately rinse with cold water.
The rest:
Slice leek. 
Cut tomatoes in half. 
Cut avocado into cubes. 
Slice smoked salmon.
Snip herbs.
Sauté leek in cooking olive oil for 3 minutes.
Add blanched asparagus, sauté 3 minutes longer.
Add smoked salmon, tomatoes, herbs, remaining lemon juice, salad olive oil, and warm slightly, stirring gently. 
Add drained pasta, avocado, poached salmon, stir gently.  Serve warm or at room temperature.
Day 2:

Barbecued Stuffed Pork Loin

Total time: 60 minutes     with 10 earlier
   This is marinated for a few hours in a cross between a brine and a classic pork rib sauce.  I stuffed it with mushrooms and ham and cooked it on the barbecue. After removing the pork from the marinade I boiled the marinade for 5 minutes, reducing it to use both as a basting sauce (some of it) and a dipping sauce (the rest).  There is enough pork for two meals.  Be sure to save any leftover sauce for the leftover pork!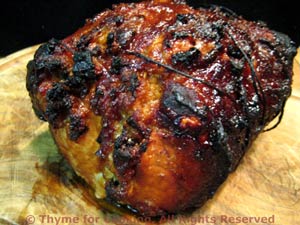 Ingredients:
1 pork loin roast, 24oz (720gr)
Marinade/Barbecue Sauce:
1/2 cup (4oz, 120ml) coffee 

1/2 - 3/4 tsp instant dissolved in hot water or brewed coffee

1/2 cup (4oz, 120ml) maple syrup
1/4 cup (2oz, 60ml) ketchup
2 tbs cider vinegar
1 tbs Worcestershire sauce
1 tbs soy sauce
1 tsp garlic powder
1 tsp dry mustard
Stuffing:
3oz (90gr) mushrooms,

about 1/2 cup finely chopped

2 slices Prosciutto
2 tbs dry bread crumbs
3 tbs marinade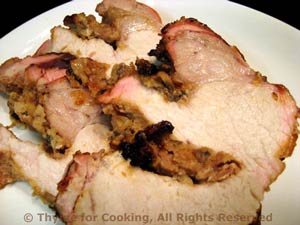 Instructions:
At least 2 hours or up to 8 hours earlier: 
Mix all ingredients for marinade/barbecue sauce. 
Cut a lengthwise slit down the center of the pork loin almost all the way through. Leave about 1/4" (.5cm).  You want to be able to open it like a book. 
Spread the pork out in a deep dish and pour the marinade over. 
Turn the pork to coat, cover and refrigerate. 
Dinner time:
Finely chop mushrooms and Prosciutto. 
Mix mushrooms, Prosciutto and bread crumbs in a small bowl. 
Add 3 tbs of marinade and mix well. 
Remove pork from marinade, reserving marinade, and let drain a bit. 
Lay pork out with cut side up.  Spread the stuffing on one side up to 1/4" from the edges. 
Fold the other side over and tie well with kitchen string: Cut five 10 inch lengths of string and wrap around pork and tie every 2 inches or so - making certain that you do one as close to each end as possible. 
Cook pork on barbecue grill for 45 - 60 minutes or until done, basting 3 or 4 times with the Barbecue Sauce. 
When done, slice and serve with more Barbecue Sauce on the side. 

Or:

Could also be baked at 400F for 45 - 60 minutes or until done but you won't get the sugary crust.  It is done when it's still slightly pink in the center - slice and peak or use a meat thermometer. An instant read meat thermometer is best for a nice, juicy roast.  Cook it to an internal temperature of 145F (62C)  See techniques.
To make barbecue sauce:
Put reserved marinade in a small saucepan and bring to a boil.  Boil for 5 minutes. 
Remove 1/3 cup to use as a basting sauce and reserve the rest to use as a dipping sauce for this meal and with the leftover pork.
Day 3:

 Tuna Cannellini Pasta Salad with Creamy Herb Dressing

Total time: 25 minutes
     With the addition of white beans this becomes a main meal pasta salad.  Using a yogurt based rather than mayonnaise based dressing keeps it healthy... but still creamy.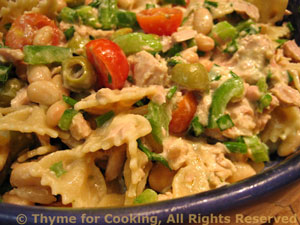 Ingredients:
1 1/4 cups (4.2oz, 125gr) farfalle pasta
1 tbs salad olive oil
9oz (270gr) tuna
1 3/4 cup (15oz, 450gr) white beans (cannellini)
3oz (90gr) cherry tomatoes, 

about 1/2 cup

1/2 cup green olives
2 - 3 ribs sliced celery,

about 2/3 cup

1/2 green or red bell pepper  
1 tbs fresh snipped tarragon
1 tbs fresh snipped chives
Creamy Dressing:
1/2 cup (4oz, 120gr) Greek or plain yogurt 
1 tbs Dijon mustard
1 tbs lemon juice
1 tbs fresh snipped chives       

Substitute 2 tsp dried

1 tbs fresh snipped tarragon   

Substitute 2 tsp dried

2 tbs salad olive oil
 Instructions:
Cook pasta according to package directions. 
When done, drain, rinse with cool water, put in a large bowl and toss with 1 tbs olive oil.
Open, drain and rinse beans. 
Open and drain tuna. 
Cut cherry tomatoes and olives in half. 
Slice celery - diagonally is nice. 
Cut pepper into matchsticks, then in half. 
Snip herbs. 
Make dressing:
nip tarragon and chives with scissors. 
In small bowl whisk yogurt, mustard and lemon juice. 
Add oil, a bit at a time and whisk well.  Add herbs.  This will keep a week.
Add half of the dressing to the pasta and toss gently to coat. 
Break up tuna and add to pasta along with the rest of the ingredients, 
Toss lightly to combine.  Taste and add as much more dressing as desired. 

I used it all.
Day 4:

 Salad with Potatoes, Turkey and Avocado 

Total time: 30 minutes
     You can do the potatoes and turkey in a skillet or on the barbecue grill.  The time is about the same.  Use a mix of greens if you can.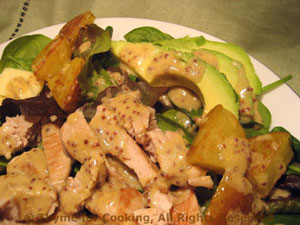 Ingredients:
 Instructions:
Potatoes:
Cut potatoes into bite size pieces and coat with the olive oil. 
Either cook in a pan on the barbecue if you are using, or sauté in a large, nonstick skillet over medium heat until done and lightly browned, 20 - 25 minutes.
Turkey:
Put turkey on a plate and spoon Teriyaki marinade over both sides. 
Cook on barbecue grill for 4 - 6 minutes per side (depending on thickness) or sauté in nonstick skillet for the same amount of time. 
Remove and slice into strips.
Vinaigrette: 
Put all ingredients in a small bowl and whisk well to combine.
The rest:
Prepare lettuce, rinse and spin dry if needed.
Slice avocado.
To assemble:
Add half of the vinaigrette to the lettuce and toss well to coat. 
Divide and arrange on 2 plates. 
Divide and arrange potatoes, turkey and avocado. 
Drizzle with remaining vinaigrette and serve.
Day 5:

 Cheeseburgers with Glazed Mushrooms

Total time: 20 minutes
    Simple grilled burgers topped with a thick wedge of runny Brie or goat cheese and sautéed mushrooms: adult cheeseburgers.  We normally eat burgers with a fork and a glass of red.  Feel free to have them on a bun with a Mountain Dew.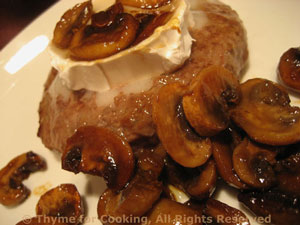 Ingredients:
12oz ground beef (360gr mince)
3oz (90gr) Brie or Chevre (aged goat cheese), sliced
1 tbs bread crumbs
1 tbs ketchup
1 tbs Worcestershire sauce
1 tsp thyme
1/4 tsp garlic powder
4oz (120gr) mushrooms
2 tsp olive oil
2 tsp Worcestershire sauce

more

1 tsp soy sauce
 Instructions:
For the burgers: 
Put bread crumbs, ketchup, Worcestershire sauce, garlic, and thyme in a medium bowl and mix well. 
Add the beef.  Mix well - hands work best, and form into 3 or 4 patties. 
Cook on barbecue grill over direct heat for 3 - 5 minutes per side, using a grill pad or pan if you have one, it's easier. 
Or sauté in a nonstick skillet for the same amount of time.  
When burgers are almost done, move off heat and top with the cheese. 
Cover for a minute if possible.  Remove as soon as cheese starts to melt, spoon some mushrooms over and serve.
For the mushrooms:
Trim and thickly slice mushrooms. 
Heat 2 tsp oil, 2 tsp Worcestershire and soy sauce in medium nonstick skillet over medium heat. 
Add sliced mushrooms and sauté until nicely glazed, stirring and turning frequently, about 7 minutes.
Day 6:

 Chicken Breasts with Orange/Mustard Glaze 

Total time: 30 minutes
     There is no oil in this marinade but the sugar in the marmalade can burn a bit so these have to be watched. Done right, there is a lovely caramel taste...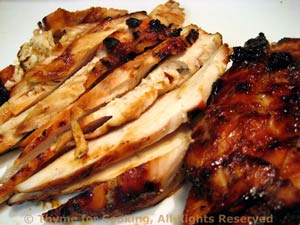 Ingredients:
2 boneless, skinless chicken breasts
1 tsp dry mustard
1/2 cup Teriyaki sauce
2 tbs orange marmalade
 Instructions:
Mix Teriyaki sauce and mustard well with a whisk, add marmalade. 
Pour over chicken breasts and let marinate for 10 - 20 minutes or longer. 
Either cook 10 - 15 minutes on barbecue grill or under broiler (4 inches ) for 6 - 8 minutes a side.  They should be nicely browned and juices should run clear when pierced with a knife.  They could also be baked for 30 minutes @350 F.