Main Course Menu Plan: Week 7
Summer II
Day 1:

Grilled Tuna with Mustard Sauce

Total time: 15 minutes
If you get sushi-grade tuna you will definitely want to have this rare (it has to be graded to a higher standard so it's okay to eat raw). Regular tuna we normally have medium. If it gets to close to well done it tends to be dry. The Mustard Sauce adds a rich finish to the dish.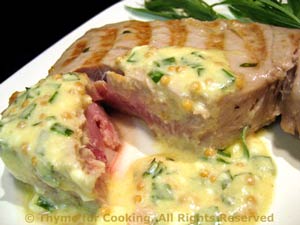 Ingredients:
Instructions:
Snip tarragon.

Mix tarragon, oil, lemon juice and white wine. Spoon on to tuna and let marinate for 10 - 15 minutes.
Remove tuna from marinade and cook on barbecue grill for 3 - 5 minutes per side (depending on thickness) for regular tuna, 1 - 3 minutes for ahi. Or until done to your liking.
Can also be cooked under broiler or sautéed in nonstick pan for roughly the same amount of time. Place tuna on a platter, spoon a bit of Mustard Sauce over and serve, remaining sauce on the side.
Mustard Sauce:
In small saucepan (or in micro) heat white wine, yogurt and mustards, stirring, just until hot and well combined.
Stir in tarragon and allow to cool.
Spoon over fish to serve.
Day 2:

Lamb and Vegetable Kebabs with Yogurt Dipping Sauce

Total time: 45 minutes
It does look nice to have the meat and vegetable on the same skewers - and you can do that if you partially pre-cook the vegetables. I prefer to do it all on the grill, and, as the different foods have different cooking times, arranging them on the skewers accordingly. Serve on a bed of Summer Couscous, Minted Sauce on the side.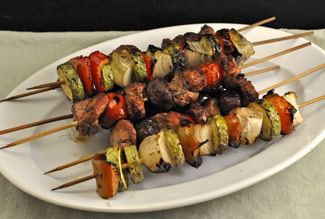 Ingredients:
lamb shoulder, 14oz (420gr) (or pork or beef), cut into 1 1/2" (3.75cm) pieces
1 red bell pepper
1 red onion
1 medium zucchini (courgette)
8 - 12 mushrooms, large enough to be skewered
8 large cherry tomatoes
6 - 8 skewers
Marinade:
3 tbs olive oil
2 tbs red wine vinegar
1 tbs Worcestershire sauce
1 tbs sherry
1 1/2 tsp dried rosemary
1 1/2 tsp dried basil
1/2 tsp garlic powder
Instructions:
Soak wooden skewers.
In large, deep bowl whisk together all ingredients for marinade.
Cut meat and add to the marinade; let marinate for 20 - 30 minutes or up to 4 hours.
Clean pepper and cut into 1 1/2 " (3.75cm) squares.
Peel and cut onion into 8 wedges.
Cut zucchini into thick slices, about an 3/4 inch (2cm).
Clean mushrooms.
Add all vegetables to bowl with meat/marinade and stir to coat.
Cooking:
Thread meat, mushrooms and tomatoes on 2 - 3 skewers, alternating.
Thread peppers, onions and zucchini on 2 - 3 skewers, alternating.
Cook vegetable skewers on barbecue grill over direct heat for 10 - 15 minutes, turning once.
When vegetables start to brown move to indirect heat and cook for another 5 - 10 minutes.
When you move the vegetable skewers, start to cook meat skewers over direct heat.
Cook until meat is done to your liking. We cooked ours for about 8 minutes, turning once.
Remove and serve on a bed of Summer Couscous.
Could also be cooked under the broiler (grill) for 12 - 15 minutes, or until done
Yogurt Dipping Sauce
Time: 5 minutes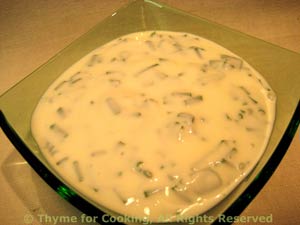 Ingredients:
Instructions:
Combine all ingredients in a small bowl. Mix well and refrigerate until ready to use. Serve with kebabs.
Day 3:

Lemon Chicken Salad

Total time: 30 minutes
Lemon marinated chicken and a lemony Honey Mustard Vinaigrette, give this salad a fresh, citrus flavor. Use any greens that are in season, but I especially like multi-colored Romaine for this.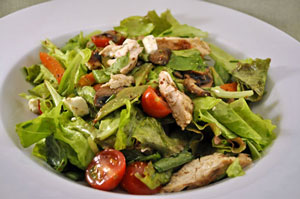 Ingredients:
2 chicken breasts, boneless, skinless
1/4 cup lemon juice
2 tbs olive oil
lettuce - enough for 2 main course salads
4oz (120gr) green beans
1/2 avocado
1/2 cup (3oz, 90gr) cherry tomatoes or 1 regular tomato
1/2 red, yellow or green bell pepper, 3oz (90gr)
4oz (120gr) mushrooms
1/4 cup walnuts
2 tbs freshly snipped chives
2 tbs freshly snipped basil - lemon basil would be wonderful if you have any
Honey Mustard Vinaigrette
1 1/2 tbs honey
1 1/2 tbs course grain mustard
1 1/2 tbs lemon juice
3 tbs salad olive oil
Instructions:
In small bowl whisk together lemon and olive oil. Pour over chicken and marinate for 15 minutes.
Prepare lettuce, tear and put into a large salad bowl.
Top and tail beans and cut into 1 inch lengths.
Fill a medium saucepan 2/3 full of water and bring to a boil over high heat. Add beans and blanch for 3 minutes.
While the beans cook fill a large bowl or pan 3/4 full of cold water. When the beans are done, drain and dump into the cold water. Swirl around until cool then drain and set aside.
Cut cherry tomatoes in half or slice tomato, then cut slices in half.
Slice avocado
Cut the pepper into matchsticks.
Clean and thickly slice mushrooms.
Take 2 tbs of the marinade from the chicken and heat in a medium nonstick skillet until sizzling.
Add mushrooms and quickly stir-fry for 2 minutes.
Remove and set aside.
Cook chicken breasts on barbecue grill for 10 - 15 minutes, turning once, or until done. They are done when no longer pink and juices run clear. Stick a skewer or knife in to test.
Or you can sauté them in a nonstick skillet for about the same amount of time. Remove chicken and slice.
Honey Mustard Vinaigrette:
In small bowl whisk together the honey, mustard and lemon juice.
Slowly whisk in oil. It will be fairly thick - which means you have to toss well to avoid 'over-dressing'.
To assemble:
Toss lettuce with some of the vinaigrette.
Arrange mushrooms in the center with chicken slices around the mushrooms, then the green beans, tomatoes, pepper and avocado around the chicken.
Sprinkle walnuts, chives and basil over all.
Drizzle with a bit of the vinaigrette and serve, with the remaining vinaigrette on the side.
Day 4:

Sausages with Roasted Peppers, Onions and Potatoes

Total time: 35 minutes
A simple summer dinner, done completely on the grill. Use your favorite sausage: pork, chicken, turkey, duck... with or without added flavoring (apples, olives, herbs).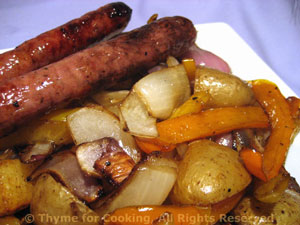 Ingredients:
6 - 8 sausages, 12oz (360gr) total weight
1 bell pepper, any color
1 large onion or 2 medium
2 medium potatoes
2 tbs olive oil
1/2 tsp chili powder
2 tsp Worcestershire sauce
Instructions:
The vegetables:
Slice pepper (cut in half from bottom toward stem, discard seed and core) and onion (either vertically or horizontally - tastes the same and, in my humble opinion, looks the same after cooking).
Cut the potato into bite-size pieces.
Put olive oil, chili powder and Worcestershire sauce in large bowl, add all vegetables and toss well to coat.
Put into 'grill pan' (a metal or foil pan dedicated to use on the grill) or onto a mesh grill pan (the idea is not to have the stuff fall through the grate into the fire....)
Cook over medium heat 20 - 30 minutes, until vegetables have a nice color and potatoes are done.
The sausages:
About 10 minutes into vegetable cooking time put the sausages on the grill (allow more time if they are fat). Grill until done. Whichever gets done first just move to the side off of the main heat and finish up.
Remove all and serve.
OR: Put potatoes, onions and peppers onto a baking sheet with a lip (my trusty 'pizza' pan) and roast in 400F (200C) oven for 30 minutes. You can either add sausages after 10 minutes or sauté sausages in large nonstick skillet, browning well on all sides, then cover and continue cooking until done 4 - 8 minutes longer, depending on size (cut one open and look - shouldn't be pink).
OR: Sauté potatoes, onions and peppers and do the sausages on the grill ....enough with the options, you get the picture.
Day 5:

Pasta Salad with Ham, Peas and Celery

Total time: 25 minutes
I love creamy pasta salads - made with lots of mayonnaise. Unfortunately, my good sense tells me that it's not the most healthy way to enjoy summer. Using a bit of Greek or plain yogurt stretches the mayonnaise while still keeping the flavor.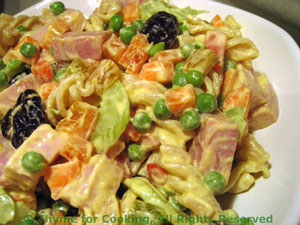 Ingredients:
Instructions:
Cook pasta according to package directions.
Peel and chop carrot.
Chop pepper.
Slice celery.
Put frozen peas in a strainer and run hot tap water over them until they are thawed, about 1 minute.
Cut ham into bite-size pieces.
Pit olives if needed, and cut in half.
Mix all ingredients for salad (except dressing) in a large bowl.
When the pasta is done, drain, rinse lightly in cool water.
Add to bowl.
Add as much of the dressing as suits your taste; Stir and eat.
Creamy Dressing:
Whisk all ingredients together. It will be quite thick.
Day 6:

Barbecued Chicken Breasts

Total time: 30 minutes
A quick, savory marinade and a spicy barbecue sauce to finish makes these chicken breasts perfect for a quick summer dinner. Save a bit of barbecue sauce to pour over just before serving.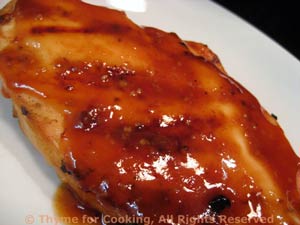 Ingredients:
2 chicken breasts, boneless, skinless
1 tbs Worcestershire sauce
1 tbs red wine vinegar
2 tbs olive oil
1/3 tsp garlic powder
1/2 tsp chili powder
Barbecue Sauce:
1/3 cup ketchup
1 tbs cider vinegar
1 tbs molasses or brown sugar
1 tbs Dijon-style mustard
2 tsp Worcestershire sauce
1/2 tsp chili powder
1 tsp garlic powder
Instructions:
In small bowl whisk together Worcestershire, vinegar, oil, garlic and chili powder.
Put chicken breasts in a glass baking dish and pour marinade over. Let marinate for 10 - 15 minutes.
Cook on barbecue grill for 7 - 9 minutes a side or until done (test - take a peak), basting with barbecue sauce.

OR

sauté in nonstick skillet for 8 - 10 minutes a side until nicely browned and done.
Serve with remaining barbecue sauce on the side.
Barbecue sauce:
Mix all ingredients in small sauce pan and heat, stirring, until well combined.
Keep half the sauce separate for finishing.