Main Course Menu Plan: Week 6 
Summer II
Day 1:

Grilled Lemon Shrimp (Prawns)

Total time: 15 minutes  longer if you have to clean them
    Use a grill pan (it's like a mesh skillet) or a mat for these, if possible.  Or thread them onto skewers (soaked in water for 15 minutes if wood) to make them easier to turn.  We don't want them falling through the grill.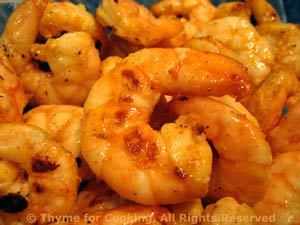 Ingredients:
12oz (360gr) large shrimp (prawns)
1 tsp garlic powder
2 cloves garlic
3 tsp sweet paprika (smoked if you can find it)
2 tbs butter
2 tbs lemon juice  

juice from 1/2 lemon

Olive oil for coating pan
 Instructions:
Clean shrimp if needed, if not just rinse and let drain. 
Mix 1 tsp garlic and 2 tsp paprika in a small bowl. Add shrimp and toss to coat. 
To cook on barbecue either put shrimp on skewers or cook in perforated grill pan with a little olive oil. 
To cook on stove add a little olive oil to a large frying pan and sauté over medium-high heat for 3-5 minutes - until shrimp curl and turn opaque. 
When done, remove from heat, toss with butter sauce and serve.
Butter sauce:
Mince garlic. 
Melt butter in small pan.  Add garlic, 1 tsp paprika and sauté until garlic is tender, 2 - 3 minutes. 
Add lemon juice and whisk lightly to combine.
Day 2:

Barbecued Veal Chops

Total time: 20 minutes
   Veal tends to be a mild flavored meat that lend itself well to robust sauces and marinades.  The chops can marinate anywhere from 1 - 8 hours so start the marinade whenever you have a spare 5 minutes.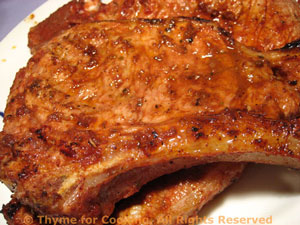 Ingredients:
2 veal chops, 18oz total weight (540gr)
Barbecue Marinade:
8oz (240ml) tomato sauce
1/3 cup (3oz, 90ml) red wine
1/3 cup (3oz, 90ml) olive oil
1 tbs lemon juice
1 small onion, chopped
2 cloves garlic, minced - or 1 tsp garlic powder
2 tsp chili powder
1 tsp dried oregano
 Instructions:
Mix all ingredients for marinade and pour over chops. 
Refrigerate for at least 1 and up to 8 hours. 
Remove chops from marinade and cook on barbecue grill for 4 - 6 minutes a side depending on thickness or until done to desired degree.  
Could also be sautéed or broiled for about same amount of time.  Serve.
Day 3:

 Barbecued Chicken 

Total time: 60 minutes
  As it is assumed people want to do most things for themselves here, we have to buy the whole chicken and cut it up - otherwise we might not get the feet... Get a cut-up chicken or packages of your preferred pieces, freezing what you don't use for another day.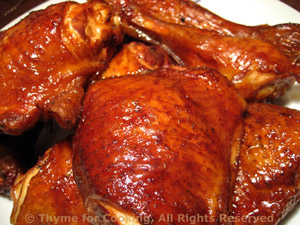 Ingredients:
 Instructions:
Wash chicken and pat dry with paper towels. 
Sprinkle with salt, pepper and paprika. 
Put on barbecue grill on indirect heat and close cover. 
Check periodically - if any pieces flare up just move around a bit.  An instant-read or remote read meat thermometer is a great help. 
After about 30 minutes start basting with barbecue sauce (if you do it earlier the sauce may burn).  I always put 2/3's of the sauce in a separate small bowl to be used for dipping at the table before mon mari starts the basting. 
Chicken will be done at 170F or when it is no longer pink and the juices run clear when pierced with a knife.  Try not to cook it too long or it will be dry - and remember that the breast will be done before the thigh.  It should take about 45 minutes over indirect heat but can be up to an hour, depending on heat. 
Remove and serve with sauce on the side. 
Oven method: Put chicken skin side down on baking sheet with sides or in 9X13 pan. 
Sprinkle with salt, pepper and paprika and put in a 400F (200C) oven. 
After 30 minutes turn chicken and baste with barbecue sauce. 
Continue to bake 15 minutes longer or until done, basting once more with barbecue sauce. 
Remove and serve with a bit of sauce on the side. 
Barbecue Sauce:
Mix all ingredients in small sauce pan and bring to a boil over medium heat stirring frequently.
Simmer 10 - 15 minutes, remove from heat and use when needed. 
Sauce will keep for a week in the refrigerator.
Day 4:

 Salad with Tuna, Tomatoes and White Beans  

Total time: 25 minutes
   I had these wonderful, heirloom, Ananas Tomatoes for this salad.  They're bright gold with a red center...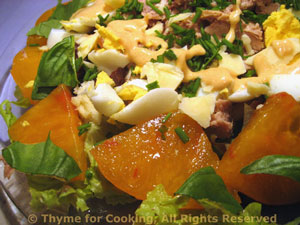 Ingredients:
9oz (270gr) tuna
1 3/4 cups (15oz, 450gr) white beans
2 eggs, hard cooked
2 ripe tomatoes
1oz (30gr) sharp white cheddar or any cheese of choice
lettuce for 2 large salads
2 tbs fresh, snipped chives
2 tbs fresh basil
Faux 1000 Island Dressing:
1/2 cup (4oz, 120gr) Greek or plain yogurt
1 1/2 tbs ketchup
1 tbs white Balsamic vinegar
1 tsp Worcestershire sauce
1 tbs good olive oil
 Instructions:
Hard-cook eggs. 
Open, drain and rinse beans.  Open and drain tuna. 
Snip herbs.
Prepare lettuce and divide onto two plates.
Arrange tuna and white beans on top of each plate of lettuce. 
Slice and quarter tomatoes, arrange around salads. 
Crumble cheese and sprinkle on top along with herbs. 
When eggs are done, peel, chop and add to salads. 
Drizzle with a bit of dressing and serve, remaining dressing on the side.
Faux 1000 Island Dressing:
Whisk all ingredients together.
Day 5:

 Barbecued Pork Chops

Total time: 30 minutes
  Perfectly simple: a quick marinade to add flavor and moisture followed by a quick cooking on the grill.  I used rather thin, boneless chops.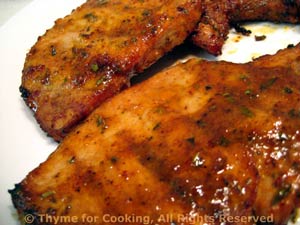 Ingredients:
2 - 4 pork chops - depending on size, 12oz (360gr) total if boneless
Marinade:
2 tbs red wine vinegar
1 tbs ketchup
2 tsp soy sauce
1 tsp dried marjoram
1/2 tsp garlic powder
3 tbs olive oil
 Instructions:
Mix all ingredients for marinade and pour over chops. 
Let marinate for 15 - 20 minutes. 
Cook on barbecue for 5 - 8 minutes per side or until done.  Should be slightly pink in the middle, or near the bone if bone-in, when done - take a peak (techniques). 

Or

fry in nonstick skillet over medium-high heat the same amount of time.  Serve.
Note:  If you cook it too long pork tends to be dry - unless you cook it really, really long - but that's winter cooking ... this is summer.
Day 6:

 Warm Turkey and Garlic Pasta Salad

Total time: 35 minutes
    This is based on a Williams-Sonoma recipe.  You'll get plenty of garlic flavor in the simmered stock - so adding the whole cloves to the pasta is optional; just discard after simmering if you choose.  The long, slow cooking does make them rather sweet, though, so you may want to try one!
 Ingredients:
12oz (360gr) turkey cutlets
8 garlic cloves
3/4 cup (6oz, 180ml) chicken stock
2 tbs snipped fresh chives
2 tbs snipped fresh parsley
2 tsp olive oil
2 tbs Balsamic vinegar
2 tbs good olive oil
1 tsp whole grain mustard
1 1/4 cups (4.2oz, 120gr) bite-size pasta
 Instructions:
Cook pasta according to package instructions. 
When done, drain, and toss with 1 tbs of the good olive oil.
Peel garlic but leave whole.
Heat 2 tsp oil in medium nonstick skillet.
Add turkey and garlic and sauté 6 - 7 minutes, turning turkey once. 
Remove turkey, leaving garlic in the skillet. Garlic should be very lightly browned.
 Add chicken stock to skillet, reduce heat to medium-low and simmer, uncovered, until garlic is very tender and there is 2 - 3 tbs of stock left in skillet, about 15 minutes.
Snip herbs and add to pasta. Slice turkey into strips and add to pasta. When the garlic is done, remove from stock and add it to the pasta

if you choose.

Pour remaining stock into a small bowl.
Add vinegar, mustard and remaining 1 tbs olive oil and whisk well to combine. 
Pour over pasta, stir to combine and serve.