Main Course Menu Plan: Week 6 
Winter II
Day 1:

Pan-Seared Tuna with Capers

Total time: 15 minutes
     This is best with good sushi-grade tuna that is quickly seared on both sides and cool or just barely warm in the center.  If you get regular tuna you will need to cook it until it is closer to medium - well. Ask your fish monger (I love that word)... or the guy behind the counter.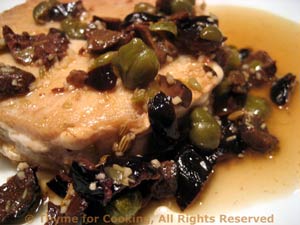 Ingredients:
2 tuna steaks, 6oz each (180gr)
1 tsp fennel seeds
1 clove garlic
1 tbs olive oil
2 tbs capers
3 tbs chopped olives - kalamata or Greek black (or green if that is what you have)
1 tbs lemon juice
1/2 cup (4oz, 120ml) cup white wine
 Instructions
Mince garlic.
Chop olives.
Heat oil in large nonstick skillet over medium-high heat.
Add garlic, fennel seeds and sauté 1 minute.  Remove and reserve.
Add tuna and sauté 3 - 5 minutes per side (depending on thickness - 3 minutes if 1 inch (2.5 cm), 5 minutes if 2 inch (5 cm)) for medium-rare, longer if you want them more done.
Remove and cover with a lid or foil to keep warm.
Return fennel and garlic to pan and add rest of ingredients.
Bring to a boil and boil 2 minutes.
Pour over tuna and serve.
Day 2:

Braised Lamb with Potatoes and Onions

Total time: 75 minutes
     Casseroles and slow-cooked dishes are very popular in Spain.  Usually made using pork or lamb, with potatoes and onions slowly simmered with the meat, they are served from the cazuela or baking dish.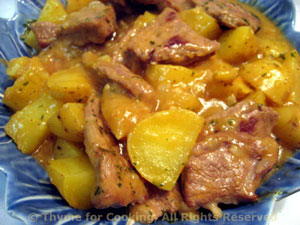 Ingredients:
14oz (420gr) boneless lamb
1/4 cup flour
1 tbs paprika
1 large onion
2 cloves garlic
2 bay leaves
1 cup (8oz, 240ml) chicken stock
1/2 tsp rosemary
1 tbs olive oil
2 medium potatoes
 Instructions:
In plastic food bag mix flour and paprika. 
Cut lamb into 1 1/2" (4cm) pieces and trim excess fat.  Add lamb to flour and mix to coat well. 
Heat oil in a heavy pot or Dutch oven with tight-fitting lid.  Add lamb (reserve any remaining flour) and brown on all sides. 
Slice onion; mince garlic. 
Remove lamb and sauté the onion and garlic until tender and starting to brown, about 7 minutes. 
Sprinkle with any remaining flour/paprika and stir well. 
Return the lamb to the pot, add herbs and stock.  Cover, turn heat to low and braise for 30 minutes.
Cut potatoes into 1" (2.5cm) chunks.  Add to the pot, stir well and continue to simmer 30 minutes longer, until potatoes are done.  If it starts to dry out add a bit more chicken stock or water. 
When potatoes are done, remove bay leaves and serve.
Day 3:

 Beef Barley Soup

Total time: 60 minutes
    This was one of my favorite soups as a child, though I ate the condensed, canned version, not home made.  This is ever so much better. The recipe calls for canned beef stock, but if you would like to make your own, (I did) that recipe is below.  There will be enough soup for 2 meals - cook once, eat twice.
 Ingredients:
16oz (480gr) lean beef, suitable for stewing or braising, or the beef left from making stock
1 large or 2 smaller onions
3 ribs celery
4 carrots
8oz (240gr) flat or regular green beans
15oz (450gr) whole tomatoes
6 - 10 cups beef stock 

or more, depending on how thick you like soup, if using canned, use part water

1/2 cup pearl barley or 3/4 cup quick cooking barley

this is a tough one - the size varies.   Mine was quite small and cooked in 10 minutes- so I started with 1/2 cup and added another 1/4 cup. It didn't expand nearly as much as traditional pearl barley - which I can't get... In the US I used 1/2 cup pearl...

1 tsp thyme
1 tsp marjoram
1 bay (laurel) leaf
1 tbs oil
 Instructions:
If you didn't make stock:

 

Cut beef into bite-size pieces.

Heat oil in a large skillet. 
Add beef and brown well. Remove and set aside.

If you made stock:

Take the meat off any bones, trim off any fat and cut into bite-size pieces.

The soup:

 
Heat stock in soup pot.
Chop onion.
Slice carrots into 1/4" (.6cm) rounds - cutting in half if too big.
Slice celery the same size as the carrots.
Cut beans into 1/2" (1.25cm) lengths if using fresh.  If using frozen beans, rinse under hot water and cut if needed. 
Chop tomatoes, reserving all juices.
Add all ingredients, including beef and juices from tomatoes, to stock as they are prepared. 
Add barley, herbs and bring to a boil. 
Cover, reduce heat and simmer for 30 - 40 minutes, until vegetables are tender and barley is done.  Serve. 
Beef Stock
  Time: at least 2 hours, 4 - 6 is better, plus chilling time
     It's best to make this the day before using, to allow ample time for chilling so you can remove the fat. You can leave this simmering on the stove top for hours.  Make more, divide into 1 cup portions and freeze it.  Or reduce it, to concentrate the flavors, and freeze in ice cube trays, then put into freezer bags.
 Ingredients:
2 - 3 pounds beef short ribs, chuck roast (with bone) or soup meat
1 onion, quartered
1 carrot, cut into large chunks
2 ribs celery - or the tops from a bunch of celery, cut into large chunks
1 bouquet Garni
3 bay leaves
1 tbs olive oil
 Instructions:
Heat oil in large pot. 
Brown the beef very well on all sides over medium high heat, about 20 minutes. 
Add the remaining ingredients and enough water to just cover the meat, or 10 cups, whichever is more.
Cover and simmer over low heat for several hours. 
Remove meat and chill until needed. 
Strain soup and chill at least 2 hours - this allows the fat to congeal on the surface for easy removal.
Once fat is removed, stock can be boiled to reduce liquid and concentrate flavors.
Day 4:

 Pasta with Turkey, Peas and Leeks

Total time: 30 minutes
   Frozen peas are another under-used vegetable.  They are hard to find fresh and, for peas, frozen is better, anyway.  The leeks add a mild onion flavor to the pasta and a sprinkle of shredded cheese finishes it.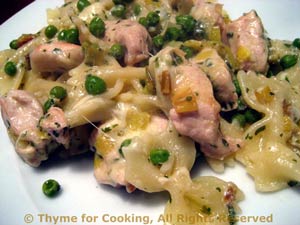 Ingredients:
 Instructions:
Cook pasta according to package directions. 
Slice turkey into strips.
Heat oil in a large nonstick skillet.  Add leeks and sauté until starting to get tender, about 5 minutes.
Add turkey and sauté 5 minutes longer.
Add chicken stock, wine, tarragon and peas
Cover, reduce heat and simmer until peas are done and tender, about 10 minutes. 

To finish:

Add the drained pasta, and cook, stirring until heated through and the liquid has either been reduced a bit or absorbed by the pasta.
Sprinkle with shredded cheese, stir to combine and serve.
Day 5:

 Pork Chops, German Style

Total time: 35 minutes
     Braised pork chops, flavored with beer (or wine) and paprika, make a warming dish for cold weather.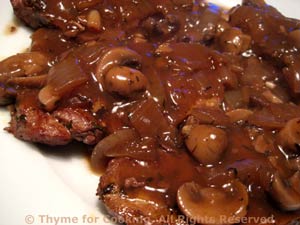 Ingredients:
 Instructions:
Clean mushrooms, cut in half or quarters if large. 
Peel and thickly slice onion. 
Heat oil in large nonstick skillet over medium high heat. 
Add pork chops and brown, about 5 minutes per side.  Remove. 
Reduce heat to medium.  Add paprika and sauté briefly, about 30 seconds. 
Add onions and sauté 3 minutes. 
Add garlic and mushrooms and sauté 5 minutes longer. 
Add beer or wine and deglaze pan, stirring up any browned bits. 
Add chicken stock and thyme. 
Return chops to pan, cover, reduce heat and simmer until chops are cooked through and tender, about 15 minutes longer. 
Remove chops and keep warm.  Increase heat to medium-high. 
Dissolve cornstarch in water.  Add to sauce, stirring until thickened and cleared.  Pour over chops and serve.
Day 6:

 Chicken Creole  

Total time: 35 minutes
      Boneless chicken breasts, cooked with onions, peppers, mushrooms and tomatoes make a quick, healthy, dinner, perfect for midweek. Add Tabasco if you like more heat.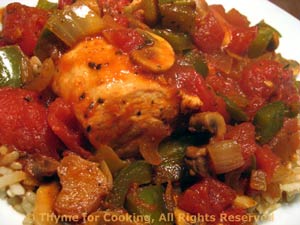 Ingredients:
 Instructions:
Cut chicken breasts in half, the short way.
Cut pepper in half, discarding seeds and top; roughly chop. 
Chop onion.
Mince the garlic.
Clean and slice the mushrooms.
Heat oil in large non-stick skillet over medium heat.
Add the pepper, onion and sauté for 5 minutes.
Add chili powder, garlic, mushrooms and sauté another 5 minutes. 
Push vegetables to the sides of pan and add chicken. Sauté until chicken starts to brown.
Drain tomatoes reserving juice.
Roughly chop tomatoes and add to chicken, along with juices, Worcestershire and herbs.
Cover, reduce heat and let simmer 10 - 15 minutes, until chicken is done. 
Remove bay leaf.

Brown Rice:

Cook rice according to package instructions. Fluff and serve.

To finish:

Put rice on a small platter, spoon Creole over and serve.