Main Course Menu Plan: Week 9
Winter II
Day 1:

Scallops Provençal

Total time: 40 minutes
Tender scallops, quickly sautéed and finished with a tomato, white wine and tarragon sauce. You can use either the small (bay) scallops or the larger (sea) scallops in this dish. Remember to cook them quickly to retain their tenderness. Large scallops can be cut in half. Baking and serving from individual casseroles makes a lovely presentation.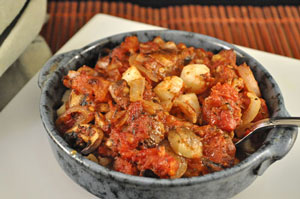 Ingredients:
8oz (240gr) scallops - out of the shell, thawed if frozen
4oz (120gr) shrimp (prawns) - peeled

or all scallops

4 tsp olive oil
2 shallots
4oz (120gr) mushrooms
1 clove garlic
15oz (450gr) whole tomatoes
1/4 cup (2oz, 60ml) white wine
2 tbs tomato paste
1 tsp dried tarragon
1/2 tsp dried thyme
1 tbs Balsamic vinegar
Instructions:
Finely chop the shallot and garlic.
Open and drain tomatoes, reserving sauce for another use. Roughly chop tomatoes.
Clean and slice mushrooms.
Heat 2 tsp oil in medium nonstick skillet over medium-high heat.
Add scallops and sauté until light brown and opaque, being careful not to crowd. They sometimes have a lot of water in them and you want them sautéed, not steamed. As they brown remove them and put them into 2 individual, shallow casseroles or one larger one.
In same pan sauté shrimp until they start to curl and turn opaque. Put into casseroles with scallops.
Add remaining 2 tsp oil to pan along with the shallot, garlic and mushrooms. Sauté until shallots are tender and starting to brown.
Add tomatoes, wine, tomato paste and herbs. Bring to a boil, reduce heat and simmer, uncovered, 10 minutes.
Add vinegar to sauce and stir.
Spoon sauce over scallops and shrimp.

Bake at 400F (200C) for 10 minutes, until heated through. Serve directly from casseroles.

If using individual casseroles place them in a baking sheet for easy handling.
Day 2:

Pork and Celeriac Stew

Total time: 1 hour 40 minutes
The spices used in this are from a recipe for Wild Boar Stew, but work very well with domestic pork. The juniper berries give it a wintry, woodsy flavor. If you have the time, marinate the pork in the red wine for a few hours before cooking. This makes enough for 2 meals.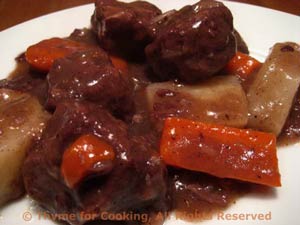 Ingredients:
Instructions:
The cutting:

Cut pork into large pieces, 1 1/2" (4cm) cubes.
Roughly chop Prosciutto.
Peel carrots and cut into 2" (5cm) lengths. Cut each piece in half the long way.
Cut the celeriac in quarters. Wrap the bit not being used in cling film and refrigerate. Peel the remaining quarters using a vegetable peeler or knife. Cut into sizes similar to or a bit larger than the carrots and keep in water until using.

Note:

Use as much of the celeriac as needed so that you have an amount equal to the carrots.
Peel the onion and slice vertically into wedges.
Mince the garlic.

The cooking:

Heat oil in a large pot or dutch oven over medium heat.
Add pork, a few pieces at a time and brown well on all sides. Remove to a plate if it gets crowded.
Add Prosciutto, onions and garlic, and sauté 5 minutes.
Return all pork to pot, add vegetables, spices, herbs, wine and stock.
Cover and simmer 75 minutes.

To finish:

Remove pork and vegetables. Discard bay leaves.
Increase heat under sauce.
Dissolve cornstarch in water and slowly add, stirring until thickened. Spoon sauce over pork and serve.
Day 3:

Chicken Tarragon Risotto

Total time: 30 minutes
Tarragon is a classic pairing with chicken. A bit of carrot, leek and celery / celeriac make this a complete dinner, with just a hint of spring-time flavors.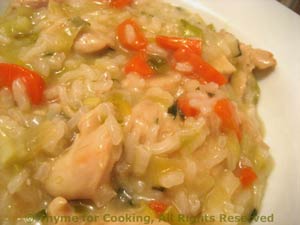 Ingredients: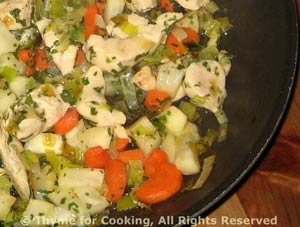 Instructions:
Heat chicken stock and keep hot over low heat.
Clean and trim the leek. Cut it in half, the long way and thinly slice.
In medium sauce pan heat butter and oil; add half of the leek and sauté until transparent.
Add the rice and sauté, stirring, for 2 - 3 minutes until rice has white center.
Add white wine and stir.
Start

condimenti.

When wine is almost absorbed add a 1/3 cup of stock, stir. (No need to stir constantly but do stir from time to time.)
When stock is almost absorbed add another 1/3 cup and continue adding 1/3 cup at a time and stirring.
Before adding the last 1/3 cup taste a few kernels of rice. They should be just 'al dente' - slightly resistant to the tooth, but fully cooked.
If more stock is needed add it 1/8 cup at a time and waiting until almost completely absorbed.
At this point risotto will be thick but not stiff - there will still be visible liquid and it will not hold it's shape on a plate.
Add the Parmesan, condimenti, stir well, pour into a bowl or risotto platter and serve immediately.
Condimenti
Peel the carrot and cut in half lengthwise. Thinly slice into half-circles.
Roughly chop celeriac.
Cut chicken into bite-size pieces.
Heat oil in medium skillet. Add remaining leek, carrot, celeriac and sauté until tender.
Add chicken and brown lightly.
Add stock, tarragon, cover and simmer until chicken is cooked through.
Turn off heat, add milk and keep warm until needed for risotto.
Day 4:

Pasta Puttanesca with Tuna

Total time: 25 minutes
A simple pasta with Mediterranean flavors. Tuna is not a traditional ingredient, but it makes a more substantial main course for our way of eating. In Italy, this would be served without tuna, as a pasta course.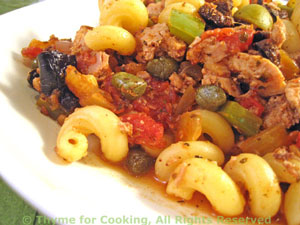 Ingredients:
Instructions:
Day 5:

Creamy Chicken with Carrots

Total time: 25 minutes
Another skillet dinner: cook the chicken and carrots together and serve over rice. And, it's yogurt, not cream, for a healthier finish.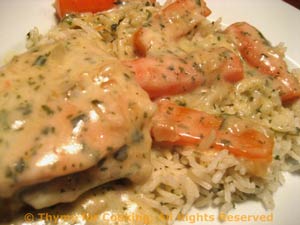 Ingredients:
2 chicken breasts, boneless, skinless
3 carrots
1 onion
1 clove garlic
1 tbs dried parsley
1 tsp dried tarragon
1 cup (8oz, 240ml) chicken stock
1 tsp Dijon-Style mustard
2 tsp cornstarch dissolved in 1 tbs water
4 tbs (2oz, 60ml) Greek or plain yogurt

Basmati Rice:

1/2 cup (3.3oz, 95gr) Basmati rice
1 tsp butter
1 cup (8oz, 240ml) chicken stock or water
Instructions:
Chop onion, mince garlic.
Peel and cut carrots into 2" (5cm) lengths. Cut each length in half or quarters, depending on size.
Cut chicken breasts in half the short way.
Heat oil in a large skillet over medium heat.
Add onion, garlic, and sauté until tender, 4 - 5 minutes.
Add chicken and brown lightly, about 3 minutes per side.
Add carrots, stock, mustard, herbs, cover and simmer until chicken is done and carrots tender, about 15 minutes.
Dissolve cornstarch in water and stir into skillet.
Remove from heat, stir in yogurt.
Serve over Basmati Rice.
Basmati Rice:
Melt butter in a small saucepan over medium heat.
Add rice and sauté, stirring for 2 - 3 minutes.
Add stock or water and thyme.
Cook rice for length of time on package.
When done fluff with fork and serve.
Day 6:

Farmhouse Pasta

Total time: 30 minutes
The sauce cooks in the time it takes to boil the water, so it's quicker if you use fresh pasta. The recipe is based on one I found ages ago in 'The Book of Sauces'. The original recipe said to thaw the spinach and squeeze dry... then add water. That didn't seem very logical to me so I put the spinach in frozen. The sauce is meant to be very thick - add more water as desired.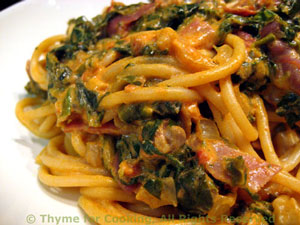 Ingredients:
Instructions:
Cook pasta according to package instructions.
Clean mushrooms (techniques).
Chop onions, mushrooms and ham.
Mince garlic.
Heat oil in medium nonstick skillet over medium heat.
Add onions, garlic, mushrooms and ham. Sauté for 5 minutes.
Add tomato paste, spinach and 1 tbs water, reduce heat to low, cover and simmer for 15 minutes. Mind the spinach so that it thaws. If sauce starts to dry out add more water.
Add goat cheese and stir until it melts.
Toss with pasta and serve immediately.