Main Course Menu Plan: Week 8 
Winter II
Day 1:

Red Sauced Shrimp

Total time: 10 minutes
     This is one of those dishes that can be as hot or not as you like. The ginger, garlic and red pepper flakes add the heat but you could also add other hot sauce to taste.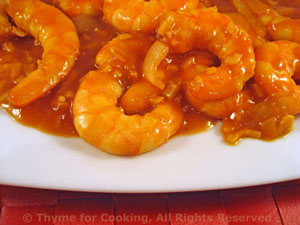 Ingredients:
12oz (360gr) cleaned shrimp

1 tbs minced ginger,

about 4 slices the size and thickness of an American quarter or 1 euro coin

3 cloves garlic
4 - 6 green onions (scallions)
2 tbs sherry
2 tbs soy sauce
2 tbs ketchup
1 tbs olive oil
1 tbs sesame or walnut oil
1 tbs cornstarch (maizena) dissolved in 2 tbs chicken stock

1/2 tsp red pepper flakes

(optional, I leave them out as it makes it too hot for me)
 Instructions:
Peel, slice and mince ginger.
Mince garlic.
Clean the green onions: slice off the root, remove 1 layer of skin.  Slice into 1/2" (1.25cm) long pieces.  OR chop onion. 
Dissolve cornstarch in chicken stock.
Have everything else measured and ready.
Heat oils in large nonstick skillet or wok over medium-high heat.  When very hot add ginger, garlic and onion (and red pepper flakes if using).  Stir-fry for 1 minute.
Add shrimp and stir-fry for 1 - 2 minutes longer, until shrimp turn opaque and start to curl.
Add sherry, ketchup and soy sauce.  Stir to combine.
Stir cornstarch mixture to recombine, then add it to the shrimp, stirring constantly.
Sauce will quickly thicken and coat shrimp.  Remove and serve immediately.
Day 2:

Roasted Cornish Games Hens (Poussin)

Total time: 60 minutes
    Small, perfectly roasted hens make an elegant presentation and are perfect individual servings (with maybe a snack leftover).  If yours are larger birds, one may be enough, (you can split it in half before roasting) or fix two and have cold chicken/game hen for lunch tomorrow!  Remember to put bowls for bones on the table - and wet towels for fingers.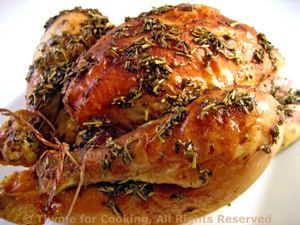 Ingredients:
2 Cornish game hens or poussin (little chickens)
2 tbs olive oil
1 tbs lemon juice
1/2 cup (4oz, 120ml) red wine
2 tsp Dijon-style mustard
2 tsp dried rosemary
2 tsp dried thyme
2 tsp dried sage
 Instructions:
Wash hens and pat dry with paper towels.

Mix 1 tbs oil with lemon juice and 1 tsp each of the herbs.
 Divide herb mixture and put half into each of the hens. 
Tie legs close and bend wings around and under the back - so it looks like they are lying there with their arms akimbo. It keeps them from flapping and gives the hen something to rest on.
 Lay them on a rack in a shallow baking pan. 
Mix the remaining oil, herbs, mustard and red wine and brush on hens. 
Put into 400F (200C). Bake for 50 - 60 minutes, basting every 15 minutes with wine mixture, until done.  See techniques. 

I recommend a meat thermometer

.
Day 3:

 Meat Loaf Florentine 

Total time: 80 minutes
     While this meat loaf is chock-a-block with vegetables it still retains the 'proper' meat loaf taste and texture.  We'll eat it for 2 meals - and there may be enough for a couple of great sandwiches as well. I actually used about 19oz (540gr) in this because I had some bits in the freezer to use up.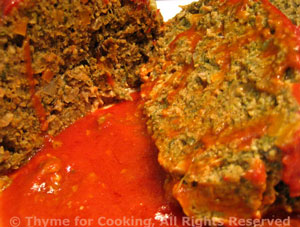 Ingredients:
16oz (480gr) ground beef (mince)

or beef and sausage mixed or turkey

1 medium onion, 

about 1/2 cup finely chopped

2oz (60gr) mushrooms 

about 3/4 cup finely chopped

1 carrot, 

about 1/3 cup finely chopped

1 - 2 ribs celery, 

about 1/3 cup finely chopped

2 cloves garlic
8oz (240gr) frozen spinach
1 tbs olive oil
2 eggs
1/2 cup bread crumbs
1/2 cup (4oz, 120ml) red wine or beef stock
1/4 cup (2oz, 60ml) ketchup
1 tsp dried thyme
1 tsp dried basil
2 tsp parsley
1 cup (8oz, 240ml) tomato sauce
 Instructions:
Day 4:

 Chicken with Whole Grain Mustard Sauce

Total time: 25 minutes
  Whole grain mustard and white wine, slightly reduced, make a lovely, light sauce for the chicken, bursting with flavor but low in calories.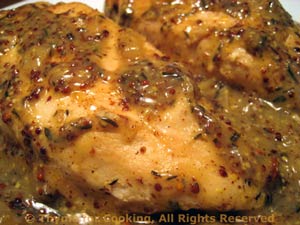 Ingredients:
2 chicken breasts, boneless, skinless
1small onion
2 tsp olive oil
1 tsp thyme
1/2 cup (4oz, 120ml) white wine
2 tbs whole grain mustard
 Instructions:
Roughly chop the onion.
Sauté onion in oil in nonstick skillet over medium-high heat. 
When onion starts to brown, move it to the sides of the pan and sauté chicken breasts until lightly browned.
Add thyme, mustard and wine.  Stir to combine.
Cover, reduce heat and simmer until chicken is done, about 15 minutes.
Remove chicken to a small platter, cover to keep warm.
Increase heat under skillet and reduce sauce slightly.
Pour sauce over chicken and serve
Day 5:

 Pork Tenderloin with Brussels Sprouts

Total time: 30 minutes
   Sliced pork tenderloin and Brussels sprouts cooked together in a brown sugar and hot mustard sauce.  Serve over brown rice for a healthy, one-dish dinner.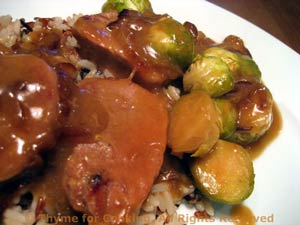 Ingredients:
14oz (420gr) pork tenderloin
1 onion
2 tsp olive oil
14 - 16 Brussels sprouts
1 tbs brown sugar
1 tbs Dijon-style mustard
1 cup (8oz, 240ml) beef stock
1 tbs maizena dissolved in 2 tbs water
 Instructions:
Roughly chop onion. 
Heat oil in a large skillet.  Add onion and sauté until tender, about 5 minutes.
Slice tenderloin into 1" (2.5cm) thick rounds.
Move onions to the side of the skillet and add pork.  Brown about 2 minutes per side.
Add sugar, mustard, and stock; stir to combine, cover and simmer for 10 minutes
Trim Brussels sprouts: slice a bit off of the stem end and peel away the outer leaves - any that are damaged, wilted or discolored. Cut in half. 
Lay the Brussels sprouts around the pork, cut side down. 
Simmer until sprouts are fork tender, about 10 minutes longer. Dissolve cornstarch in water. 
Move pork to the side, stir in cornstarch mixture, stirring until thickened. Serve.
Day 6:

 Chicken Stroganoff with Pasta

Total time: 30 minutes
    Chicken breast, cut up and quickly cooked, makes a very tender meat for the Stroganoff.  You may never go back to the traditional Beef! I break from tradition again, using Greek yogurt rather than the sour cream.  Greek yogurt is thicker and creamier than regular plain yogurt, but lower in fat and calories than sour cream.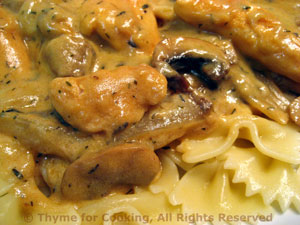 Ingredients:
2 chicken breasts, boneless, skinless
1 medium onion
4oz (120gr) mushrooms
2 tbs olive oil
1 tbs paprika
1/4 cup flour
1 cup (8oz, 240ml) chicken broth
1 tbs Dijon-style mustard
1 tsp thyme
2 tsp cornstarch (maizena) dissolved in 1 tbs water
1/2 cup (4oz, 120gr) Greek yogurt, plain yogurt or sour cream

1 1/4 cups (4.2oz, 125gr) pasta, bite-size 

  

I like farfalle or egg noodles for this
 Instructions:
Cook pasta according to package directions.
Peel and vertically slice the onion into thick wedges.
Brush any dirt off the mushroom and slice - trimming off the tough stem ends. 
Cut the chicken into bite-size pieces. 
Put flour and paprika into a medium food bag - large enough to easily hold the chicken. 
Mix the flour and paprika, then add the chicken.  Shake to coat well.
Heat 1 tbs oil in large nonstick skillet and sauté onions for 5 minutes. 
Add mushrooms and continue to sauté until onions are tender, about 10 minutes longer. 
Remove to a plate. 
Heat remaining 1 tbs oil in same skillet.  Add chicken and sauté until golden, 3 - 4 minutes. 
Add chicken stock, onions, mushrooms, thyme and mustard to skillet, cover and simmer 5 - 7 minutes. 
Dissolve cornstarch in water and stir into pan. Continue stirring until quite thick. 
Remove from heat, add yogurt, mix thoroughly. 
Put the pasta in large pasta bowl, spoon the Stroganoff over and serve.