Main Course Menu Plan: Week 13 
Summer II
Day 1:

Grilled or Smoked Salmon with Tomato/Tarragon Sauce

Total time: 25 minutes
   We lightly smoked the salmon, directions are below...  If you prefer, it can simply be grilled or roasted in the oven. The salt is scraped off before serving.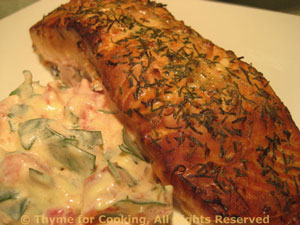 Ingredients:
2 salmon fillets, 12oz (360gr) total weight
2 tsp dill weed
1 tsp coarse salt
1 tsp olive oil
wood chips for smoking - apple is nice See Barbecue Grills for more info  

optional

1 small - medium ripe tomato, chopped  

about 1/2 cup

1 tbs fresh tarragon, snipped  

substitute 2 tsp dried

1 tbs fresh parsley, snipped  

 substitute 2 tsp dried

2 tbs mayonnaise
 Instructions:
Note: Salmon should flake easily but not be dry; remove from heat when just barely done.
Day 2:

Not-Quite-Naked Steaks 

Total time: 20 minutes
   Small, thick-cut filet mignon are perfect done on the barbecue grill.  A wrap of bacon adds flavor and helps the steak stay moist.  That, plus a light sprinkle of seasoning is all these lovely steaks need.  We like them medium rare.  On a hot grill these will cook very fast - so be mindful!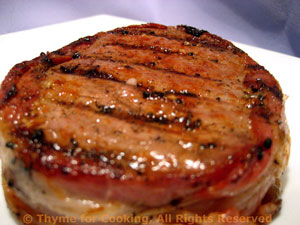 Ingredients:
2 -  6oz (180gr) beef tenderloin steaks (fillet mignon)
2 - 4 slices bacon - enough to wrap around each steak
1 tsp garlic powder
1/2 tsp salt
1 tsp chili powder
1/2 tsp black pepper
 Instructions:
Wrap bacon around steaks and secure with toothpicks. 
Mix remaining ingredients and rub on both sides of steaks. 
Grill on barbecue over high heat 3 - 5 minutes a side. 
If you like rare, remove after two minutes per side, make a small slit in one and check.   If not done to your liking return for another 1 - 2 minutes per side. 
Remove from heat and serve.
Note:  Could be broiled for roughly same amount of time - mind the bacon.
Day 3:

 Ratatouille Quiche

Total time: 60 minutes
    I use a brown rice crust: it's healthier and I don't make pie crust.  But you could certainly use a proper pastry or pie crust if you prefer.  Instead of Prosciutto you could substitute a bit of regular, baked ham or smoked turkey.  The vegetables are quickly cooked to reduce liquids and thicken.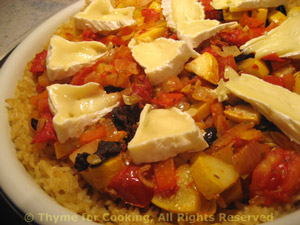 Ingredients:
1/2 cup (3.3oz, 95gr) quick-cooking brown rice  

substitute Basmati

1 cup (8oz, 240ml) chicken stock
1 egg
1/4 cup (1oz, 30gr) shredded cheese  

any flavor - it helps to bind the crust

1 small yellow squash (courgette), 7" (17cm)
1 medium onion
2 cloves garlic
1/2 red bell pepper
1 large tomato
1/2 tsp thyme
2 tsp olive oil plus a bit for the dish
4oz (120gr)  Brie, chevre  

or other semi-soft cheese

3oz (90gr) Prosciutto or other dry-cured ham

I used 3 thin slices

1/2 cup Greek olives
3 eggs
1 cup (8oz, 240ml) milk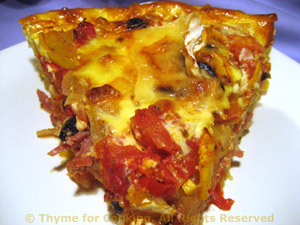 Instructions:
The Crust: 
Cook rice in stock according to package instructions. 
When done, spread out on a plate for 5 minutes to allow to cool a bit.
Lightly oil a 10" (25 cm) pie or quiche plate. 
Lightly whisk 1 egg. 
Add 1/4 cup shredded cheese and the cooked rice.  Mix well. 
Pat into the quiche plate, working it up the sides as best you can. 
Bake in 400F (200C) oven for 8 minutes.  Remove.
The Ratatouille: 
Cut the squash in fourths the long way, then into 1/4" (.5cm) slices. 
Roughly chop the onion, pepper and tomato. 
Mince garlic. 
Roughly chop olives.
Heat oil in large skillet.  Add onion, pepper and sauté until onion is tender. 
Add garlic, squash, tomatoes and sauté until squash is tender and mixture is thick. 
Stir in olives and thyme.
Slice Brie, 1/4" thick. 
Tear or cut Prosciutto into large pieces.  
Whisk eggs and milk together.
To assemble: 
Lay Prosciutto on crust. 
Spread vegetables evenly over the top. 
Lay Brie on the vegetables. 
Pour the egg mixture over as evenly as you can. 
Bake for 30 minutes, until center has set. 
Remove and let rest 5 minutes.  Slice and serve.
Note:  When baking quiches or tarts, I put the dish on a sturdy baking tray, before pouring in the egg mixture, for easier handling.  The dish can get very full.
Day 4:

 Pasta with Tuna, Cannellini and Fresh Tomato Sauce

Total time: 25 minutes
   This is a cross between a winter pasta dish and a summer pasta salad; quick, simple, great for midweek.
 Ingredients:
9oz (270gr) tuna
1 3/4 cup (15oz, 450gr) cannellini beans
2 ribs celery
1/2 cup green or Kalamata or Greek olives
4 garden fresh tomatoes
2 tbs fresh snipped chives
2 tbs fresh snipped oregano
1 tbs salad olive oil
1 tbs white balsamic vinegar
1 1/4 cups (4.2oz, 120gr) pasta,  penne, fusilli
 Instructions:
Cook pasta according to package directions.
Drain tuna and put into a large salad bowl.
 Drain and rinse beans.  Add to tuna.  
Snip herbs and add to bowl. 
Thinly slice celery and add to bowl. 
Slice olives, add. 
Cut the tomatoes in half. 
Cup half of a tomato in your hand and rub it on the big holes of a box (or other style) grater until all that is left in your hand is the skin.  You'll have to press a bit, but not too hard, be careful not to grate your hand. 
Repeat with as many halves as you think you want/need.  You end up with fresh tomato sauce with no skin... and no cooking.  Depending on size of tomatoes you will want to do 3 or 4. 
Add to bowl and toss all to combine. 
Drain pasta and add pasta to bowl.  Stir to combine. 
Add olive oil, white balsamic vinegar, and stir gently. Serve. 
Day 5:

 Hot and Sweet Glazed Pork Chops

Total time: 30 minutes
    Fresh, chopped ginger adds a better, sharper flavor than the powdered.  Usually you can just break off a small piece at the store.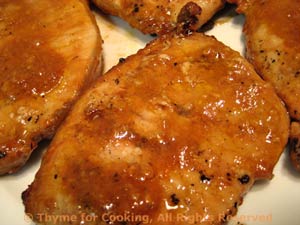 Ingredients:
 Instructions:
In small bowl whisk together the ingredients for the marinade - you need to use the whisk to break up the marmalade. 
Pour over chops and let marinate for 10 minutes (or longer...).
Remove from marinade and cook on barbecue 10 - 15 minutes turning once.
Baste with any remaining marinade before turning to give better glaze.  In all cases it depends on thickness of the chops. Test
Day 6:

 Ham, Green Bean and Cherry Tomato Pasta Salad 

Total time: 25 minutes
    I love cold ham in salads of any type and beans with basil is always a hit.  Here, it all comes together with a lower fat/calorie dressing of half mayonnaise and half Greek Yogurt.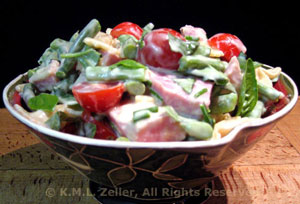 Ingredients:
1 1/4 cups (4.2oz, 125gr) pasta, bite-size - fusilli, rigatoni, penne
1 tbs olive oil, for salads
10oz (300gr) deli-style (baked) ham
6oz (180gr) green beans
1/2 cup (3oz, 90gr) cherry tomatoes
1/4 cup (2oz, 60gr) mayonnaise
1/4 cup (2oz, 60gr) plain or Greek yogurt
1 tbs Dijon-style mustard
1 tbs lemon juice
2 tbs fresh chives, snipped
2 tbs fresh basil, snipped
 Instructions: