Main Course Menu Plan: Week 5
Spring II
Day 1:

Shrimp (Prawns) Persillade over Pasta

Total time: 25 minutes
Even people who do not like escargot can't resist dipping a bit of fresh baguette into the garlic parsley butter, or persillade, that's left in the little cups. Expanding on that wonderful taste we added shrimp, a few shallots and some Parmesan and served it over pasta.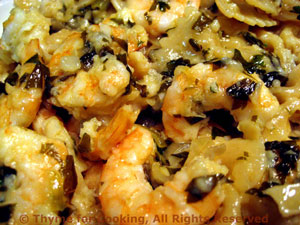 Ingredients:
12oz (360gr) shrimp (prawns), cleaned
2 slices bacon
4 - 5 large cloves garlic
2 medium shallots
2 tbs butter
1 tbs olive oil
2 tbs white wine
4 - 5 tbs fresh snipped parsley

substitute 4 tbs dried

1/2 cup (2oz, 60gr) freshly grated Parmesan
1 1/4 cups (4.2oz, 125gr) pasta - penne, rigatoni
Instructions:
Cook pasta according to package directions.
Clean shrimp if they need it.
Mince garlic and finely chop shallots.
Grate Parmesan.
Snip parsley.
Sauté bacon in a large nonstick skillet over medium heat until crisp. Remove and set aside (don't eat).
Drain off fat. Add butter and oil to skillet, heat. The oil helps to keep the butter from browning.
Add shallots and garlic and sauté over low heat, stirring occasionally, about 10 minutes. We don't want them to brown, just to cook slowly.
Add the parsley and continue to cook slowly another 5 minutes.
Turn the heat up and add the shrimp, cooking until shrimp start to curl and turn opaque.
Reduce heat and add white wine, bring to a simmer.
Crumble bacon and add to pan. Stir to combine.
Pour over hot pasta, add Parmesan and toss to coat. Serve.
Day 2:

Asparagus and Chevre (Goat Cheese) Quiche

Total time: 65 minutes
The variations on quiche are almost infinite. Because I have this one so packed full of good foods, it takes a bit longer to bake then usual. I had it in the oven for 40 minutes. The center should be dry in appearance and only slightly 'jiggly' when done. My brown rice cooks in 15 minutes... If yours take longer, make it ahead of time, or substitute Basmati or Arborio.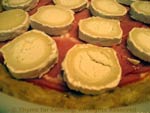 Ingredients:
The Crust:
1/2 cup (3.3oz, 95gr) quick cooking brown rice
1 cup (8oz, 240ml) chicken stock or as needed

for 2 cups cooked rice

1/4 cup shredded cheese (1oz, 30 gr)
1 egg
The Filling:
4 - 5 thin slices, (3.5oz, 100gr) Prosciutto
8oz (240gr) asparagus, trimmed
4oz (120gr) chevre (goat cheese), aged

the kind that comes in a log with a white (edible) rind

2 tbs snipped fresh chives
2 tbs snipped fresh basil

2 - 3 tomatoes, depending on size

I used 2 very long Roma tomatoes

3 eggs
1 cup (8oz, 240ml) milk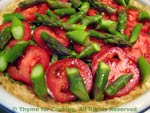 Instructions:
The crust:
Cook brown rice in stock according to package directions. Can be done ahead or the day before.
If rice is just cooked, spread it on a plate to cool for 5 minutes before adding to egg.
Oil a 9" (22 cm) pie or quiche plate.
Lightly whisk 1 egg.
Add 1/4 cup of the cheese and the cooked rice. Mix well.
Pat into the quiche plate, working it up the sides as best you can.
Bake in 400F (200C) oven for 10 minutes.
Remove and set aside.
The filling:
Trim asparagus, snapping off tough ends. Cut into 1" (2.5cm) lengths.
Heat water in a saucepan over high heat.
When boiling, add asparagus and blanch for 3 minutes.
Drain and refresh under cold water.
Dry on paper towels.
Snip herbs.
Thinly slice tomatoes.
Slice goat cheese.
Tear Prosciutto into large pieces.
In medium bowl whisk 3 eggs well.
Add milk and whisk to combine.

To assemble:

Lay Prosciutto evenly over the bottom of the baked crust.
Lay the goat cheese on top.
Sprinkle with herbs.
Lay the tomatoes on top of the herbs.
Top with the asparagus.
Pour the egg mixture over all and bake for 40 minutes. (Check after 30)
Let stand 5 minutes before serving.
Note: I put the quiche/pie plate on a pizza pan before pouring the egg/milk over. Makes it easier to get into the oven and catches any drips and spills - saving oven clean-up.
Day 3:

Roast Lamb, Breton-Style

Total time: 60 minutes
I love beans or lentils with lamb. These are simmered with sage and rosemary, then stirred into the pan juices from the roasted lamb. I used a partially boned saddle of lamb that weighed 28oz (850gr), for a bone-in leg you'd want about closer to the 3 lbs (1.5kilo) To roast it properly, a meat thermometer is invaluable.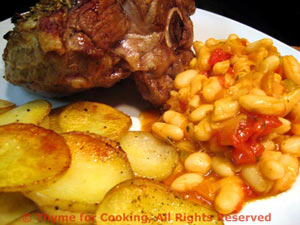 Ingredients:
The Lamb
lamb for roasting, leg, shoulder, saddle, 2 - 4 lb, (1000-2000 gr) depending on bone
1 tsp dried rosemary
2 cloves garlic
The Beans
19oz (570gr) cannellini (white kidney beans)
1 leek
1 carrot
1 rib celery
2 cloves garlic
2 tsp olive oil
1 tbs dried sage
1 tsp dried rosemary
15oz (450gr) whole tomatoes
2 tbs white wine
2 tbs chicken stock
Instructions:
Lamb:
Peel and cut garlic into slivers, 10 - 12 in all.
Make slits all over the lamb with the point of a sharp knife. Insert a sliver of garlic into each slit.
Sprinkle with rosemary.
Place the lamb in a roasting pan just large enough to hold it easily. Roast in 450F (230C) oven for 20 minutes.
Reduce the oven temperature to 400F (200C) and roast for another 15 minutes per pound, or until done to your liking. If the pan juices start to burn add a couple of tbs of hot water. Use a meat thermometer, if you have one and roast to 130F (54C) for rosy, or cut and peak.
When done, remove the lamb, cover loosely with foil and let rest.
Add beans and stock to pan, scraping and stirring with a spatula to get all the browned bits.
Beans:
Clean and slice leek.
Chop celery, carrot
Mince garlic.
Drain beans.
Heat oil in medium skillet. Add leeks, celery, carrot and garlic and sauté until tender, about 10 minutes.
Add herbs and beans.
Drain tomatoes, reserving juice for another use.
Roughly chop tomatoes and add to beans.
Cover reduce heat and simmer, stirring occasionally, 15 minutes or until carrots are tender.
To Serve:
Spoon beans onto a platter. Slice some of the lamb, arrange on beans and serve.
Day 4:

Pasta with Lamb and White Beans,

Greek Style

Total time: 25 minutes
Originally made with leftover lamb, this could as easily be made with fresh ingredients. The cherry tomatoes and green garlic add a touch of spring, and just enough 'tomato' flavor. The feta and dry-cured olives add the taste of Greece.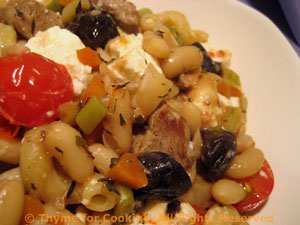 Ingredients:
2 cups leftover lamb or raw lamb cut into pieces
1 1/2 cups (12oz, 360gr) white beans

or 15oz (450gr) can or jar, drained and rinsed

1 carrot
1 rib celery
4 - 5 green garlic, about 1/2 cup, sliced

substitute 4 green onions, sliced, and 1 clove garlic, minced

1 cup (4oz, 10gr) cherry tomatoes
3oz (90gr) feta
1/3 cup dry-cured Greek black olives
2 tsp olive oil
1 tsp dried oregano
1/2 tsp dried thyme
1/2 cup (4oz, 120ml) chicken stock
1 1/4 cups (4.2oz, 125gr) pasta - penne, rigatoni
Instructions:
Cook pasta according to package directions, drain.
Roughly chop carrot, celery.
Cut the lamb into bit-size pieces.
Trim and thickly slice green garlic.
Cut the cherry tomatoes in half.
Cut the olives in half.
Cut the feta into small cubes.
Heat the oil in a large nonstick skillet.
Add the carrot, celery, (lamb if it's raw) and sauté until tender, about 5 minutes.
Add the green garlic and sauté 3 minutes longer.
Add the cooked lamb, stock, beans, herbs and bring to a simmer.
Add pasta, tomatoes, olives and feta, heat through.
Serve.
Day 5:

Sweet and Sour Chicken

Total time: 30 minutes
This is based on the Chinese Sweet and Pungent sauces, but with red wine and without the soy sauce. A simple, skillet chicken.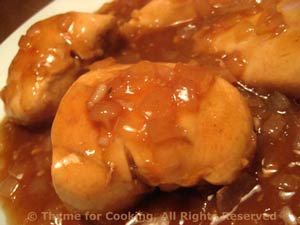 Ingredients:
2 chicken breasts, boneless, skinless
1 small onion
1 tbs olive oil
3 tbs red wine
3 tbs chicken stock
3 tbs red wine vinegar
2 tbs brown sugar
2 bay leaves (laurel)
2 tsp cornstarch (maizena, corn flour) dissolved in 1 tbs water
Instructions:
Chop onion.
Cut chicken breasts in half if large.
Heat oil in medium nonstick skillet.
Add onion and sauté about 5 minutes.
Move onions to the side and add chicken. Lightly brown on each side, about 5 minutes.
Add wine, stock and vinegar and bring to a boil.
Add sugar and stir until dissolved.
Add bay leaves, cover, reduce heat and simmer 15 minutes.
Dissolve cornstarch in water.
Uncover and increase heat.
Remove bay leaves.
Add cornstarch and stir until thickened and clear.
Put chicken breasts on a small platter, spoon some sauce over and serve, remaining sauce on the side.
Day 6:

Turkey Lo Mein

Total time: 30 minutes
You can either use turkey cutlets, cut into strips or part of a turkey tenderloin, cut into bite-size pieces. Almost any vegetable, cut small, will work in this. It's a great way to use up the odd bits left in the fridge.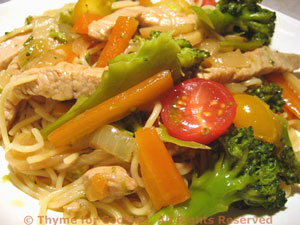 Ingredients:
10oz (300gr) turkey tenderloin or cutlets
1 onion
1 clove garlic
1 tbs minced ginger

substitute 1/2 tsp dried

1 rib celery
8 - 10 cherry tomatoes,

about 2/3 cup

1 small head broccoli
1 carrot
4oz (120gr) spaghetti -

about 1" (2.5cm) circle

1 tbs olive oil
3/4 cup (6oz, 180ml) chicken stock
1 tbs cornstarch (corn flour, Maizena) dissolved in
1 tbs soy sauce plus 1 tbs water
Instructions:
Cook pasta according to package instructions.
While pasta cooks:
Thinly slice onion.
Mince garlic.
Mince ginger (peel first).
Julienne the carrot.
Slice the celery at an angle.
Cut broccoli into florets (with some stem).
Cut tomatoes in half.
Cut the turkey into strips.
Heat olive oil in large nonstick skillet over medium-high heat. Add onion, celery to skillet and stir-fry for 2 minutes.
Add garlic, ginger, and stir-fry another 2 minutes. Remove onions/garlic from pan and set aside.
Add turkey and stir-fry 3 - 5 minutes, until golden. Remove and put with onions.
Add broccoli and carrots to skillet and stir-fry 5 minutes.
Return turkey and vegetables to pan. Add chicken stock and bring to a boil.
Cover, reduce heat and simmer for 5 minutes.
Remove cover and add cornstarch mixture and stir until thickened.
Add tomatoes, drained spaghetti and toss well to coat. Serve.