Main Course Menu Plan: Week 1 
Fall I
Day 1:

Smoked Salmon Kedgeree

Total time: 25 minutes
   Kedgeree was, traditionally, made with smoked haddock and served as a part of a large breakfast.  We smoked the salmon, using a kettle grill, for about 20 minutes.  You could use purchased smoked salmon, if you prefer, but it should be hot-smoked, American-style rather than the wet-smoked, Scotch or Irish style.  Gravlax would not work.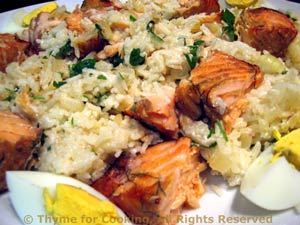 Ingredients:
 Instructions:
Melt butter in small saucepan over medium heat. 
Add rice and sauté, stirring for 2 - 3 minutes. 
Add stock, cover and cook for length of time on package. 
Hard boil eggs. 
Thinly slice onion. 
Heat remaining 1 tbs of butter and oil in large nonstick skillet. 
Add onions and sauté until tender and transparent. 
To assemble: 
Peel eggs and cut into eighths. 
Cut salmon into large pieces. 
When onions are ready add rice to skillet along with yogurt, lemon and parsley.  Mix well. 
Add salmon and eggs to rice and, mixing gently, heat through. 
Serve warm or at room temperature.
To Smoke Salmon:
Sprinkle salmon with dill weed, then salt.

If using charcoal:

Put some charcoal in the barbecue, off to one side and light it.  If you are using small, commercial wood chips, put them in water to soak. When the coals are glowing, add the fish - either in a basket or on a grill mat of some sort, to the other side - in other words, not over the coals.  Throw some wood chips on the coals and cover.  Check it halfway through and add more wood chips if it has stopped smoking. It's done when the fish flakes easily with a fork, 15 - 20 minutes.

To use a gas grill:

  Only light one side of the grill.  Wrap the soaked wood chips loosely in foil.  Poke a few holes in the foil and place on the grill.  Keep the fish off of direct heat and the grill cover closed and vented or propped open an inch or so.
Day 2:

Steak with Roasted Garlic and Red Wine Reduction

Total time: 60 minutes 
    In the summer cook these quickly on the barbecue; in winter, quickly sear in a hot skillet.  Either way, do it at the last minute so they don't get too well done.  The roasted garlic and shallots are creamy and mild; the wine reduction rich and silky.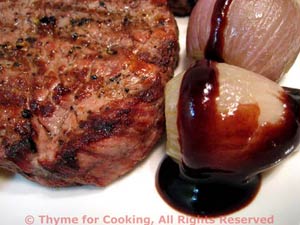 Ingredients:
2  6oz (180gr) steaks, tenderloin, preferred
8 shallots
8 cloves garlic
2 bay leaves (laurel)
1 cup (8oz, 240ml) red wine
1/3 cup (3oz, 90ml) beef stock
1/3 cup (3oz, 90ml) Balsamic vinegar
2 tsp cornstarch (maizena, corn flour) dissolved in 1 tbs beef stock
2 tbs olive oil
2 tsp thyme
Foil for wrapping garlic
 Instructions:
Garlic and shallots: 
Put 6 whole, peeled shallots and 6 whole, unpeeled garlic cloves into the center of a square of foil. 
Sprinkle with 1 tsp thyme and drizzle with 1 tbs olive oil. 
Bring edges of the foil together to make a package and fold together. 
Place package on a baking sheet with a rim and place in 400F (200C) oven for 30 minutes.  After 30 minutes open package and roast for 30 minutes longer.

Or:

  Place package over indirect heat on barbecue grill for 45 minutes, shaking and moving 2 or 3 times.
Sauce: 
Roughly chop remaining 2 shallots. 
Put shallots, remaining 2 cloves of garlic, bay leaves and wine in small saucepan. 
Boil until reduced by half. 
Add beef stock, vinegar, and reduce by half again.  You should have 3/4 cup of sauce or less. 
Strain sauce and return to pan.  Bring sauce back to a simmer. 
Dissolve cornstarch in beef stock. 
Slowly stir into sauce until thickened and clear.  Keep warm.
Steaks: 
Brush steaks with remaining olive oil. 
Heat a large skillet over medium-high heat.  Add steaks and cook, 3 - 5 minutes per side.  If you like rare, remove after three minutes per side, make a small slit in one and check.   If not done to your liking return for another 1 - 2 minutes per side.  Remove from heat. 

Or

: Cook on the barbecue grill for roughly the same amount of time.
To Serve:
Place steaks on small platter or individual plates. 
Remove garlic and shallots from oven and package and arrange around steaks. 
Spoon some sauce over each and serve, remaining sauce on the side.
Day 3:

 Pizza Margherita with Prosciutto

Total time: 1 hour 10 minutes, if you make the crust from scratch,
                               35 minutes if you buy the crust   
     This is not a typical American pizza.  It has fresh, garden-ripe tomatoes rather than sauce and fresh mozzarella rather than packaged, shredded.  The crust is easy to make, especially if you have a stand-mixer with a dough hook.  If you don't make it from scratch buy a good pizza crust at the store.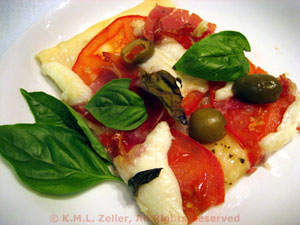 Ingredients:
Pizza Crust:
2/3 cup warm water, 105 - 115F,

hotter will kill the yeast

1 pkg (2 tsp) active dry yeast  

fast acting if you can get it

1/2 tsp sugar  

you need this to 'feed' the yeast

1/2 tsp salt   

you need this to 'control' the yeast

1 tbs olive oil
2 cups flour
Pizza Topping:
1 onion
1 tbs olive oil
1 tsp oregano
2 cloves garlic
3 - 5 tomatoes
4 - 5 slices (3oz, 100gr) Prosciutto or other dry cured ham
large handful of fresh basil leaves
1 ball fresh Mozzarella
1/3 cup green or black olives
 Instructions:
Yeast: 
Dissolve yeast and sugar in warm water and let sit a few minutes to 'proof' - start to look foamy to prove that the yeast is still alive.
Dough: 
If you have a mixer with a dough hook put the yeast and all remaining ingredients in mixer bowl. 
Blend with dough hook attachment until well mixed then kneed for an additional 3 minutes. 
Put in a warm place to rise. 
If making by hand put yeast in large bowl along with all of the rest of the ingredients minus 1/2 cup flour.
Stir to combine. 
Put remaining flour on work surface, add dough and kneed until smooth and elastic - about 10 minutes. As remaining flour is incorporated dough will become less sticky. 
Put in warm place to rise. 
After dough has doubled in size, about 30 minutes, punch down. 
Lightly butter a pizza pan or large baking sheet. 
Roll dough out with a rolling pin as best you can. 
Then put on pan and stretch it to fit, patting it out with your fingers.  If it keeps springing back wait a few minutes - or accept that your pizza will be slightly smaller than anticipated.  Try not to put any holes in the crust.  You are now ready to assemble the pizza.
Topping:
Finely chop onions and garlic and sauté  in olive oil until tender. 
Add oregano and mix well.  
Slice tomatoes as thinly as you can - you should get 5 - 8 slices from each one, depending on how big they are.  
Cut ham into 1 inch strips. 
Tear large basil leaves.
Slice mozzarella as thinly as you can, then tear into large chunks.
Cut olives in half.
To assemble pizza:
On just-finished crust or your purchased crust:  Spread onion/garlic mixture evenly over crust. 
Lay thinly sliced tomatoes evenly over crust - they should be touching and cover the entire crust. 
Bake at 450F (225C) for 10 minutes. 
Remove from oven and add ham, half the basil leaves and cheese. 
Return to oven and bake an additional 10 - 15 minutes or until crust is brown and cheese bubbling.
Remove from oven, add remaining basil leaves, slice and serve.
Day 4:

 Barbecued Chicken Breasts

Total time: 30 minutes
   A quick, savory marinade and a spicy barbecue sauce to finish makes these chicken breasts perfect for a quick summer dinner. Save a bit of barbecue sauce to pour over just before serving.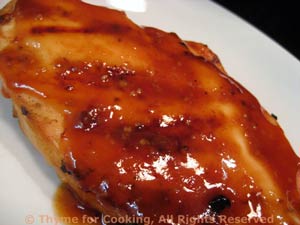 Ingredients:
2 chicken breasts, boneless, skinless
1 tbs Worcestershire sauce
1 tbs red wine vinegar
2 tbs olive oil
1/3 tsp garlic powder
1/2 tsp chili powder
Barbecue Sauce:
1/3 cup ketchup
1 tbs cider vinegar
1 tbs molasses or brown sugar
1 tbs Dijon-style mustard
2 tsp Worcestershire sauce
1/2 tsp chili powder
1 tsp garlic powder
 Instructions:
In small bowl whisk together Worcestershire, vinegar, oil, garlic and chili powder. 
Put chicken breasts in a glass baking dish and pour marinade over.  Let marinate for 10 - 15 minutes. 
Cook on barbecue grill for 7 - 9 minutes a side or until done (test - take a peak), basting with barbecue sauce. 

OR

sauté in nonstick skillet for 8 - 10 minutes a side until nicely browned and done. 
Serve with remaining barbecue sauce on the side.
Barbecue sauce: 
Mix all ingredients in small sauce pan and heat, stirring, until well combined.
Keep half the sauce separate for finishing.
Day 5:

 Stuffed Bell Peppers, Oriental Style

Total time: 45 minutes
   Stuffed Bell Peppers don't always have to have tomato sauce and cheese on them.  Choose whatever color pepper you like.  You could substitute Basmati or regular rice for the brown. Try to get 4-sided peppers, they are easier to stuff and lie flat.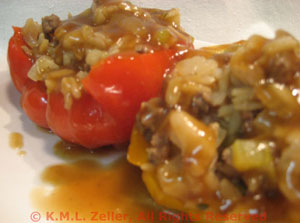 Ingredients: 
 Instructions:
Note: If you have any of the beef and rice left after filling peppers (as always, depends on size of peppers) just remove from skillet, keep it warm and serve on the side also.
Note2: Use quick cooking rice - it will cook in the time it takes to sauté the meat. The rice I use takes about 15 minutes.
Day 6:

 Chicken Breasts with Tarragon Mustard Sauce  

Total time: 20 minutes
     Tarragon is a great herb for chicken, and a classic pairing in French cuisine.  The chicken is quickly pan-fried, then finished with a light tarragon sauce, with white wine and mustard.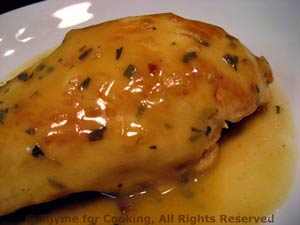 Ingredients:
2 chicken breasts, boneless, skinless
1 tbs chives
1 tbs tarragon
1 tbs Dijon mustard
1/4 cup (2oz, 60ml) white wine
1/4 cup (2oz, 60ml) chicken stock
1 tbs olive oil
 Instructions:
Heat oil in medium nonstick skillet over medium-high heat. 
Add chicken and brown well on both sides, about 10 minutes total. 
Reduce heat to medium-low, cover and let finish cooking, another 5 - 10 minutes.  Chicken is done when juices are clear when a sharp knife is inserted in the center. 
Remove chicken and cover with the pan lid or foil to keep warm. 
Increase heat under skillet to medium-high and add the herbs, mustard, white wine and chicken stock. 
Stir to loosen any brown bits, combine thoroughly and reduce a bit. 
Pour over chicken and serve.