Main Course Menu Plan: Week 4 
Fall I
Day 1:

Baked Salmon with Lemon Mayonnaise

Total time: 20 minutes 
    A light coating of mayonnaise, thinned with lemon and olive oil, keeps the salmon filets, moist.  It gets a lovely golden color while baking and infuses the salmon with a fresh lemon flavor.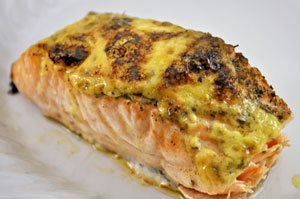 Ingredients:
2 salmon fillets or steaks, steaks, 6oz each (180gr each)
3 tbs mayonnaise
1 tbs lemon juice
1 tbs olive oil
Olive oil for coating pan
 Instructions:
Whisk together the mayonnaise, lemon and oil. 
Put salmon on a lightly oiled baking sheet.
Divide lemon mayonnaise evenly and spread over salmon. 
Bake at 400 F for 12 - 15 minutes, until top is light brown and fish flakes easily.   Serve.
Note:  For easy clean up cover pan with foil first.  This is especially nice if you are using fillets with the skin on.  You can carefully lift the salmon off the skin to serve, leaving the skin on the foil.  Then wrap the whole mess up and toss. 
Day 2:

Veal Chops Duxelles

Total time: 35 minutes 
   Fall is the perfect time to make the classic Duxelles or minced mushrooms sauce. With shallots, a bit of wine and tomato, this is excellent to serve with veal chops or chicken breasts.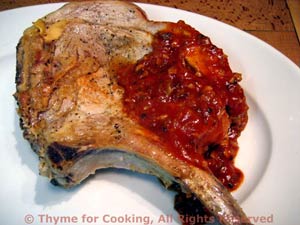 Ingredients:
 Instructions:
Day 3:

 Pumpkin, Sage and Leek Lasagne

Total time: 60 minutes
    Pumpkin is not just for pies. It's a wonderful vegetable, and works well in a lot of savory dishes.  I use moist, deli ham in this lasagne.  I love the combination of ham, sage and winter squash.  You can leave the ham out for a vegetarian version.  The recipe was designed for using no-cook noodles.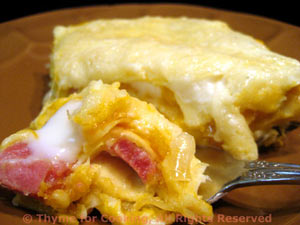 Ingredients:
1 onion
2 leeks
1 tsp olive oil
1 tsp butter
1 cup (8oz, 240gr) pumpkin
15 - 20 fresh sage leaves    

substitute 2 tbs dried

8oz (240gr) baked ham, or equivalent 

1 thick slice from the deli

1 tsp butter
1 cup (4oz, 120gr) shredded cheese

Swiss, Gruyère, Emmenthal

Béchamel:
3 tbs butter
1/4 cup (2oz, 60gr) flour
pinch of nutmeg
2 cups (16oz, (480ml) milk
9 - 12 sheets 'no-cook' lasagna noodles
1/4 cup (1oz, 30gr) grated Parmesan
 Instructions:
Trim and wash leeks. 
Thinly slice the onion and leeks. 
Heat oil and butter in large nonstick skillet over medium high heat.  Add onions, leeks and sauté, stirring, for 1 minute. 
Cover the pan, reduce heat to medium low and cook for 10 minutes. 
Uncover, increase heat to medium, continue to cook until onions are golden and tender, about 10 minutes longer. 
Add the pumpkin, stir well to combine and heat through.
Cut the ham into thin strips, then the strips into smaller squares. 
In another skillet heat 1 tsp butter.  Add sage leaves and sauté until starting to get crisp. 
Add ham, sauté until heated through and dry (it can give off a bit of water). 
Béchamel:
In a medium saucepan heat 3 tbs butter over low heat. 
Add flour, nutmeg and stir with a whisk for 1 minute. 
Add a little (1/4 cup) of the milk, whisk to combine. 
Turn heat up to medium and keep adding milk, a little at a time and whisking.  You should have added all of the milk in a minute or 2. 
When all of the milk is in, bring to a boil (should almost be there), whisking.  Then remove from heat. 

To assemble:

  in a 10" (25cm) square baking dish, or 9 X 11 oblong, make the following layers:
1/3 béchamel sauce
2 - 3 noodles,  you may have to break a third one up to get good coverage 
1/2 onion, leek, pumpkin mixture
2 - 3 noodles 

or so

1/3 béchamel sauce
all of the ham and sage
1/2 of the shredded cheese
2 - 3 noodles 

or so

1/2 onion, leek, pumpkin mixture
2 - 3 noodles 

or so

1/3 béchamel sauce
1/2 of the shredded cheese
Parmesan
To finish:
Cover and bake 425F (215C) for 20 minutes, or until noodles are done.  Test in center with a sharp knife. 
Uncover and bake 5 minutes longer to brown cheese. 
Remove and let rest for 5 minutes.  Cut into squares (or oblongs) and serve.
Day 4:

 Chicken Breasts Duxelles

Total time: 20 minutes
      Duxelles may be more traditional with veal or beef but it works wonderfully well with chicken breasts. I cut the chicken breasts it half for a nicer presentation.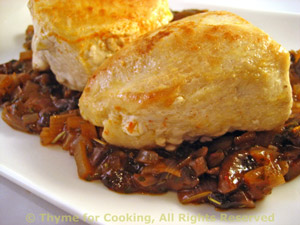 Ingredients:
2 chicken breasts, boneless, skinless
1/4 cup (2oz, 60ml) white wine
1 tbs olive oil
Duxelles Sauce:
leftover Duxelles
 Instructions:
Duxelles:
Gently reheat
Chicken:
Heat olive oil in medium nonstick skillet.  Add chicken breasts and sauté until golden, about 5 minutes per side. 
Add white wine.  Cover, reduce heat and simmer for 10 minutes. 
Arrange on Duxelles and serve.
Day 5:

 Lemon and Soy Glazed Turkey Cutlets

Total time: 20 minutes
    Turkey cutlets, are thin slices of turkey breast meat.  They cook quickly and are particularly well suited to savory marinades and sauces.  If you can't find them, substitute thinly sliced turkey tenderloin or chicken breasts. This is an intensely flavored, savory dish.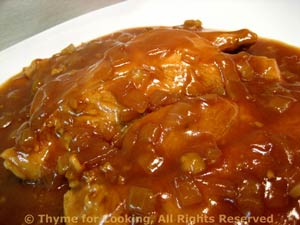 Ingredients:
 Instructions:
Combine soy sauce, lemon juice, brown sugar and stock in a dish.
Add turkey cutlets, turning to coat and allow to marinate for a bit.
Thinly slice onion.
Mince garlic.
Mince ginger if using fresh.
Sauté onion, garlic and ginger in oil in large nonstick skillet over medium heat for 5 minutes.
Add turkey (reserving marinade) and sauté until golden, turning once - pushing onion mixture to sides of pan to prevent burning.
Add reserved marinade, reduce heat and cook, covered 4 - 6 minutes longer or until done.
Remove turkey from pan.
Thicken pan juices by adding cornstarch mixture and stirring well.
Spoon over turkey and serve.
Day 6:

 Stuffed Acorn Squash with Ham and Quinoa

Total time: 60 minutes, 35 if you use a microwave 
     The squash bakes while the stuffing is prepared and just needs 10 minutes to finish.  I usually can't get all of the stuffing in, so I keep it warm and serve it on the side.  The salty ham and slightly crunchy quinoa contrast well with the sweet squash.  And, yes, the mustard works too!
 Ingredients:
1 acorn squash
1/2 cup (3.5oz, 100gr) quinoa
1 cup (8oz, 240ml) chicken stock
8oz (240gr) slice baked or deli-style ham
1 onion
2 cloves garlic
1 rib celery  

optional

1 tbs olive oil
1/2 cup (4oz, 120ml) chicken stock
1 tbs Dijon mustard
2 tbs fresh sage    

substitute 1 tbs dried, crumbled

1 1/2 tbs cornstarch (corn flour, maizena) dissolved in 2 tbs wate

r
 Instructions:
Cut squash in half and scoop out seeds.  Either place face down on tray and microwave for 10 - 12 minutes or put into a baking dish, cover with foil and bake in 400F (200C) oven for 40 minutes. 
While squash cooks: 
Cook the quinoa in chicken stock 15 minutes or according to your package directions, until all liquid is absorbed and it's done.  (Check your package directions for correct quantity of stock and cooking times.)
Chop the onion and celery; mince the garlic. 
Heat the oil in a nonstick skillet over medium heat. 
Sauté the onion and celery 5 minutes then add the garlic.  Sauté 5 more minutes or until onion and celery are tender and starting to brown. 
Cut the ham into small cubes, about 1/3" (1cm). 
Add ham and sage and sauté until ham starts to brown.  
Add mustard and chicken stock and stir well to combine. 
Dissolve cornstarch in stock. 
When ham mixture is simmering stir cornstarch in, a little at a time.  (You may not need it all).  You want it very thick but not paste. 
When quinoa is done add it to ham mixture and stir to combine. 
To assemble:
When squash are ready (they should be tender, almost done) remove from wherever they cooked and fill with the quinoa/ham mixture. 
Bake (not microwave for this last bit) uncovered for 10 minutes, until heated through and squash is done.