Main Course Menu Plan: Week 2 
Fall I
Day 1:

Sautéed Sole with Butter and Lemon

Total time: 10 minutes
     Served whole, the delicate fish flakes easily off the skeleton, which, normally, remains intact for easy removal once you've eaten one side of the fish.  Finished with a bit of butter and lemon for accent, it will simply melt in your mouth.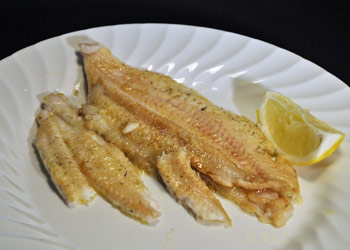 Ingredients:
2 whole sole, cleaned, about 12oz (360gr) total weight,  or filets
1/3 cup flour
salt & pepper
1 lemon, quartered
3 tbs butter
 Instructions:
Put the flour on a plate large enough for the fish to fit.  Add salt & pepper to the flour and mix it together. 
Over medium-high heat melt half of the butter in a nonstick skillet large enough to hold both fish. 
Rinse fish and pat dry. 
When butter is sizzling dip both sides of fish (hold it by the tail) in flour and add to pan. 
Sauté 1 - 2 minutes on each side depending on size of fish.  They cook very fast and if you are not careful when you take them by the tail to turn them over the skeleton will come away in your hand! 
When nicely browned and done remove to plates. 
Melt remaining butter in skillet and pour over each fish. 
Serve with 2 lemon quarters each, to squeeze over top.

Note

: If you get sole filets, they will cook even faster.  Use a long spatula to turn them carefully.
Day 2:

Lamb Chops with Rosemary Butter

Total time: 20 minutes
    Lamb chops with Rosemary.... Is there a more perfect combination?  Use the light marinade before grilling, then finish with a dollop of rosemary mustard butter to melt onto the hot chops.  You can substitute Pork Chops if you prefer.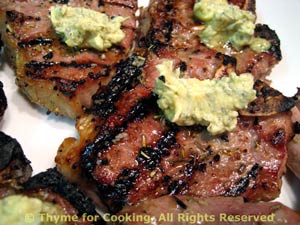 Ingredients:
4 - 6 center-cut lamb chops,  depending on size
1 tbs oil
2 tsp Worcestershire sauce
1 tsp garlic powder
1 tsp dried rosemary
Rosemary Mustard Butter:
1 tbs chopped fresh rosemary   

substitute 2 tsp dried

1 tsp Dijon-style mustard
4 tsp soft butter
 Instructions:
Day 3:

 Mini Meat Loaves

Total time: 45 minutes
      Great meat loaf taste in a small package.  You can cut this recipe in half (except for the egg) or make it in one large loaf (bake for 60 minutes).  You can also make them ahead and freeze. To bake from freezer,  unwrap and bake for 45 - 55 minutes.  You could use ground turkey or any combination of beef, pork, turkey or chicken.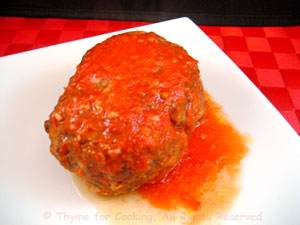 Ingredients:
16oz (480gr) ground beef (mince)
1 egg
1/2 cup bread crumbs
1/3 cup milk
1/4 cup ketchup
1 tbs Worcestershire sauce
1 tbs Dijon-style mustard
1 tsp dried oregano
1 tsp dried basil
1/2 tsp garlic powder
2 tbs dried onion flakes
8oz (250ml) tomato sauce
 Instructions: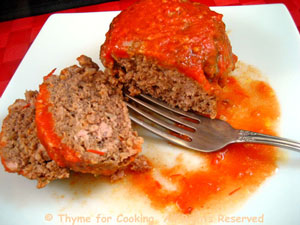 In large bowl lightly beat egg. 
Add all of the rest of the ingredients except beef and tomato sauce and mix well. 
Add beef and mix well - best to use your hand, kneading it like bread dough. 
Shape into 4 loaves and put into a large 9 X 13 baking pan, spacing evenly. 
Bake at 400F (200C) for 20 minutes. 
Remove and pour tomato sauce evenly over all 4 loaves. 
Bake 15 minutes longer or until done. 
Remove.  Slice and serve 2; save 2.
Day 4:

 Chicken Breasts with Sage, Rosemary and Lemon

Total time: 30 minutes
   Sage and rosemary work well together and, along with the lemon, make these simple chicken breasts a tender, succulent, flavorful dinner.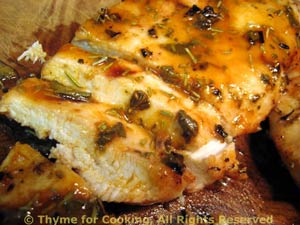 Ingredients: 
2 chicken breasts, boneless, skinless
3 tbs lemon juice
2 tbs olive oil
1 tbs ketchup
1 tbs fresh sage, chopped  

substitute 1 tsp dried

1 tbs fresh rosemary, chopped  

substitute 1 tsp dried
 Instructions:
In a small bowl mix lemon juice, oil, ketchup and herbs. 
Place chicken breasts in a dish with sides and pour marinade over.  Let marinate 10 - 20 minutes or up to 4 hours in the refrigerator. 
Remove from marinade and cook on barbecue grill for 7 - 10 minutes per side, or until done,  basting with marinade. 
Could also be sautéed in a nonstick skillet for same amount of time. Serve.
Day 5:

 Grilled Turkey Aioli

Total time: 30 minutes
   The mayonnaise makes a very thick marinade for the turkey cutlets, coating them and browning nicely.  If you can't get turkey cutlets, buy a turkey tenderloin and either slice it into thin cutlets yourself or ask your butcher. You could also use boneless, skinless chicken breasts.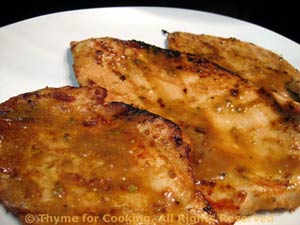 Ingredients:
2 - 4 turkey cutlets - depending on size, 12oz total (360gr)
Marinade:
3 tbs soy sauce
3 tbs mayonnaise
3 tbs olive oil
1 tsp garlic powder - or 2 cloves minced
2 tsp dried basil
 Instructions:
In small bowl whisk together the ingredients for the marinade - whisk well: it should emulsify (come together thickly). 
Spoon over turkey and let marinate for 15 minutes - or longer if you are doing other stuff, up to 45 minutes. 
Remove turkey marinade and cook on barbecue 4 - 8 minutes turning once or under broiler for 12 - 15 minutes turning once - or sauté in large skillet 10 - 15 minutes (you get the picture).
Baste with any remaining sauce.   In all cases it depends on thickness.  Test for doneness by slicing and peaking.  Serve.
Day 6:

 Zucchini (Courgette) Stuffed with Orzo and Feta

Total time: 40 minutes
     I used 2 medium zucchini for this, 7" each (17cm), both green.  You could use one larger one, 9" (22cm). Not all of the 'stuffing' will fit, just keep it warm and serve it on the side.  You could use other small pasta in place of the orzo.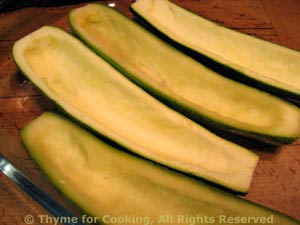 Ingredients:
2 zucchini or summer squash (courgette), 7" each (17cm)
6oz (180gr) ground beef, turkey, sausage
15oz (450gr) chopped tomatoes
1 onion
2 cloves garlic
2 tsp olive oil
1/2 tsp chili powder
1 tsp dried oregano
1 tsp dried basil
1/3 cup (3oz, 90gr) orzo
1/4 cup (2oz, 60ml) beef stock
1/4 cup (2oz, 60ml) red wine
3oz (90gr) feta
1.5oz (45gr) Greek or other olives
 Instructions: