Main Course Menu Plan: Week 6 
Fall I
Day 1:

Salmon Baked in Phyllo with Tarragon Cream Sauce

Total time: 25 minutes
    A very impressive dish, easy to prepare, bakes quickly and makes an elegant presentation. Phyllo can be frozen twice.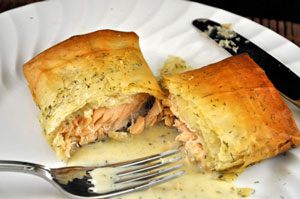 Ingredients:
2 pieces of salmon, skinned, 12oz, (360gr) 

about 2" wide by 4" long by 1" thick (5cm X 10cm x 2.5 cm)

4 sheets of phyllo (filo) dough
3 tsp dill weed
1/3 cup butter  

you may not use it all - use any leftover in the sauce

Tarragon Shallot Sauce
3/4 cup (6oz, 180ml) chicken stock
1 medium shallot
1 tbs butter
1 1/2 tsp dried tarragon
1/2 tsp dried dill weed
1 tbs cornstarch (maizena) dissolved in 2 tbs water
1/3 cup (3oz, 90ml) Greek yogurt
 Instructions:
Rinse salmon and pat dry. 
Melt butter. 
Take 1 sheet of phyllo dough, brush lightly with butter, sprinkle with half of the dill weed. 
Place another sheet of phyllo on top and brush with butter. 
Place salmon on narrower end of dough about 3 inches from edge, the 'side that had skin on' down. 
Bring dough over salmon and fold in sides.  The phyllo is now as wide as the salmon (4 inches). 
Roll the salmon forward one complete turn so that 'the side that had skin on' is once again, on the bottom. 
Cut off any remaining phyllo and discard. 
Brush both sides of packet with butter and place bottom side down on a baking sheet. 
Repeat with the other piece of salmon. 
Bake at 400F (200C) for 15 minutes or until golden brown. 
Remove and serve with Tarragon Cream Sauce on the side.
Tarragon Shallot Sauce
Finely chop shallot. 
In small saucepan over medium heat sauté shallots in butter until tender. 
Add tarragon, dill, stock and bring to a boil.  Simmer 5 minutes. 
Mix cornstarch in stock and stir into simmering stock.  Cook until thickened - should be quite thick. 
Remove from heat and stir in yogurt.  Cover and keep warm until serving.
Note: Phyllo dough is very fragile and prone to drying out.  Use one sheet at a time and cover the remaining sheets with a slightly damp towel or paper towel.
Day 2:

Chicken Breasts Savoyard    

Total time: 45 minutes
   An elegant party dish, it expands easily.  Boneless chicken and artichoke bottoms, baked in a white wine sauce.  It can be prepared ahead and baked at the last minutes.  Very little work for gourmet main course.  Serve with some fluffy Basmati or Mashed Potatoes.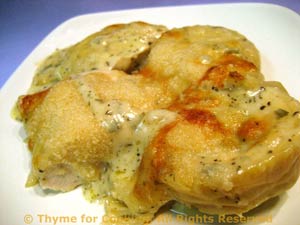 Ingredients:
2 chicken breasts - boneless, skinless
1 medium onion
1 tsp dried tarragon
1 tsp dried thyme
1 tbs olive oil
3/4 cup (6oz, 180ml) dry white wine
1/2 cup (4oz, 120ml) chicken broth
1/2 cup (4oz, 120gr) Greek or plain yogurt, or sour cream
1 tbs Dijon-style mustard
1/2 cup (2oz, 60gr) Parmesan cheese
2 tbs cornstarch dissolved in 3 tbs chicken broth
15oz (450gr) artichoke bottoms
 Instructions:
Cut onion in half and slice thinly.
Cut the chicken breasts in half, the short way. 
In nonstick skillet heat oil over medium-high heat.  Add onion and sauté until tender. 
Add tarragon, thyme and chicken breasts and sauté until chicken starts to brown.
Add the white wine, cover and reduce heat to low. Simmer for 10 minutes. 
Open and drain artichoke bottoms. 
In a small baking dish (just large enough to hold everything and, if possible, nice enough to go directly to the table) arrange artichoke bottoms in a single layer. 
Remove chicken breasts and arrange around artichokes. 
Increase heat under skillet to medium-high, add the chicken broth and mustard to the wine. 
When simmering hard stir in cornstarch mixture and cook until thickened. 
Remove from heat; add yogurt and Parmesan. 
Pour sauce over chicken and artichokes and bake in 400F (200C) for 15 minutes. 
Remove and serve.
Day 3:

 Pizza with Salami

Total time: 1 hour 10 minutes, if you make the crust from scratch
                               35 minutes if you buy the crust
    I prefer to use paper-thin sliced tomatoes rather than traditional pizza sauce.  If you'd prefer sauce, 8oz (250gr) should cover nicely.  We get wonderful salami, but pepperoni, chorizo, or other sliced, spicy sausage would be equally delicious.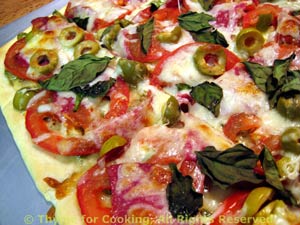 Ingredients:
Pizza Crust

:
2/3 cup warm water, 105 - 115F, hotter will kill the yeast
1 pkg (2 tsp) active dry yeast 

fast acting if you can get it

1/2 tsp sugar -

you need this to 'feed' the yeast

1/2 tsp salt -

you need this to 'control' the yeast

1 tbs olive oil
2 cups flour
Topping:

1 onion

1 small red or green bell pepper
1 tbs olive oil
1 tsp chili powder
2 tsp dried oregano 

use fresh oregano if you have it

2 cloves garlic
3 - 5 tomatoes
8 - 10 slices good salami  

mine are about 3" in diameter (7.5 cm)

1/2 cup sliced green or black olives
1/2 - 3/4 cup shredded Emmenthal or other 'Swiss' cheese
1/4 cup grated Parmesan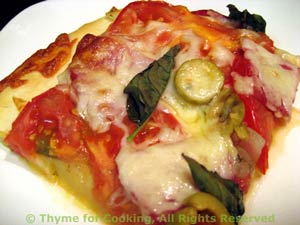 Instructions:
Dissolve yeast and sugar in warm water and let sit a few minutes to 'proof' - start to look foamy to prove that the yeast is still alive. 
If you have a mixer with a dough hook put the yeast and all remaining ingredients in mixer bowl. 
Blend with dough hook attachment until well mixed then kneed for an additional 3 minutes. 
Cover bowl with cling film or a dish towel and put in a warm place to rise, (75F, 24C) if possible. 
If making by hand put yeast in large bowl along with all of the rest of the ingredients minus 1/2 cup flour. 
Stir to combine. 
Put remaining flour on work surface, add dough and kneed until smooth and elastic - about 10 minutes. As remaining flour is incorporated dough will become less sticky. 
Put dough in a bowl, cover with cling film or a dish towel and put in a warm place to rise, (75F, 24C) if possible.
After dough has doubled in size, about 30 minutes, punch down. 
Lightly butter a pizza pan or large baking sheet. 
Roll dough out with a rolling pin as best you can. 
Then put on pan and stretch it to fit, patting it out with your fingers.  If it keeps springing back wait a few minutes. Try not to put any holes in the crust. 
Pizza Topping
Finely chop onion, pepper and garlic. 
Heat olive oil in medium nonstick skillet.  Add chili powder and sauté 1 minute. 
Add onion, pepper, garlic, oregano and sauté until tender. 
Slice tomatoes as thinly as you can - you should get 5 - 8 slices from each one, depending on how big they are. 
Cut salami into quarters. 
Slice olives if needed. 
Tear oregano leaves off the stems if using fresh.
Grate Parmesan.
To assemble:
On just-finished crust or your purchased crust:  Spread onion/pepper mixture evenly over crust. 
Lay thinly sliced tomatoes evenly over crust - they should be touching and cover the entire crust. 
Lay salami slices over tomatoes. 
Bake at 450F (225C) for 15 - 20 minutes, until crust is just starting to color. 
Remove from oven and sprinkle fresh oregano, olives and cheeses evenly over top. 
Return to oven and bake an additional 5 - 10 minutes or until crust is brown and cheese bubbling.
Remove from oven, slice and serve.
Day 4:

 Turkey Cutlets with Mustard Crust

Total time: 30 minutes
  The mustard - crumb crust keeps these nice and moist and gets deliciously crispy fried in just a bit of olive oil.  You can use chicken breasts in place of turkey, but they will need an extra 10 minutes of cooking time.... unless you pound them thin first.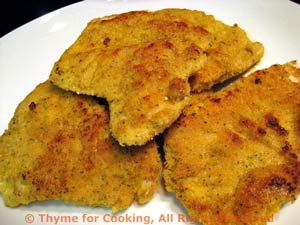 Ingredients:
2  - 3 turkey cutlets, about 12oz (360gr)
1 egg
2 tbs Dijon-style mustard
1/3 cup bread crumbs
1/2 tsp dried parsley
1/2 tsp dried basil
1/2 tsp garlic powder
1/3 cup Parmesan cheese
4 tsp olive oil
 Instructions:
If the turkey cutlets are very large (mine are) cut them in half for easier handling. 
In a bowl flat enough that you can lay the cutlets flat (or a small pie plate, or whatever works) lightly beat the egg with a fork.  Add the mustard and beat until well combined. 
In another, similar bowl combine the bread crumbs, Parmesan, herbs and garlic powder.
Using tongs or fingers, dip cutlets in the egg/mustard mixture, then in the crumb/cheese mixture, coating well. 
Lay out on wax or parchment paper and let rest for 5 - 10 minutes.
Heat 2 tsp oil in nonstick skillet large enough to hold all of the cutlets (or do it in two batches and keep them warm in 250F (125C) oven). 
When pan is hot (medium-high heat) add cutlets and sauté 5 - 6 minutes, until nicely brown. 
Add remaining 2 tsp oil to skillet and turn cutlets. 
Sauté on other side for another 4 - 5 minutes, until nicely browned and done.  Remove and serve.
Day 5:

 Spaghetti Timbale with Tuna

Total time: 50 minutes
    Spaghetti Pie with Tuna. The spaghetti forms a thick layer on the bottom with the tuna and cheese in layers on top.  If you used a spring form pan you could let it cool a bit and then unmold it for a proper timbale.  We're never that patient.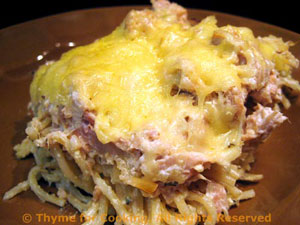 Ingredients:
 Instructions:
Cook pasta according to package directions.
Chop onion, celery, and mince garlic. Slice mushrooms. 
Heat oil in skillet over medium heat.  Add onion, celery, mushrooms and garlic sauté until tender.
Put tuna into a bowl and break it up with a fork. 
Add half of the ricotta and mix lightly.
In large bowl lightly whisk the egg. 
Add the rest of the ricotta, herbs and whisk.
When pasta is done, drain well.  
Toss to cool a bit (do not rinse) then add to the egg mixture along with 1/4 cup of shredded cheese. 
Mix well and put into a glass baking dish (mine is 9 inches square).  Pat into place. 
Spread onion/mushroom mixture evenly over the top. 
Spoon the tuna/ricotta mixture on top. 
Sprinkle with remaining 1/4 cup of cheese.  
Bake, covered with foil (or lid) at 400 F (200C) for 20 minutes. 
Remove foil (or lid) and bake 5 minutes longer.  Serve.
Day 6:

 Pork Chops with Lemon/Soy Glaze

Total time: 30 minutes
    This has a piquant sauce: dark, spicy, salty, sour, wonderful.  The pork chops I use are thin, about 3/8" (3/4cm).  If yours are thicker increase cooking time to 15 minutes.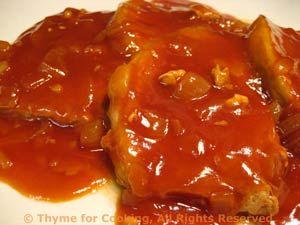 Ingredients:
 Instructions:
Squeeze lemon.
Combine soy sauce, lemon juice, stock and tomato paste in a dish. 
Add pork chops turning to coat and allow to marinate. 
Sauté onion, garlic and ginger in oil in large skillet over medium heat.
Add pork chops (reserving marinade) and brown - pushing onion mixture to sides of pan to prevent burning. 
Add reserved marinade and cook, covered 8 - 10 minutes longer or until done. 
Remove chops from pan. 
Thicken pan juices by adding cornstarch mixture and stirring well.  Pour over chops and serve.