Main Course Menu Plan: Week 9 
Spring I
Day 1:

Seared Scallops with Browned Shallots

Total time: 30 minutes
    Use the larger sea scallops for this if you can..... And let the shallots get very crispy. Scallops are best when cooked quickly over fairly high heat.  Overcooking tends to make them tough.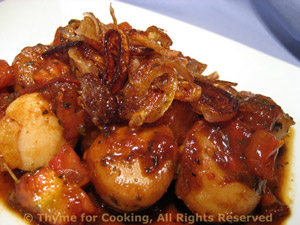 Ingredients:
10oz (300gr) large scallops
3 shallots
2 tsp olive oil
1 tomato
1 tbs Balsamic vinegar
2 tsp soy sauce
1 tsp basil
1/2 tsp paprika
 Instructions:
Day 2:

Brined, Grilled Pork Tenderloin

Total time: 40 minutes  10 minutes earlier 
    Brining keeps meat moist and tender during cooking and is particularly well-suited to pork.  The tenderloin cooks quickly on the barbecue, and the rub adds even more flavors to it. Remember, slightly pink is now okay for pork, and over-cooking can ruin the best efforts....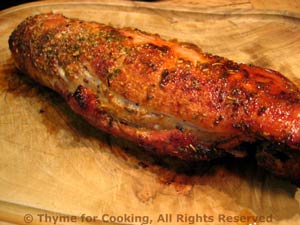 Ingredients:
1 pork tenderloin, 14oz (420gr)
The Brine:
2 cups very cold water or water and ice, mixed
2 tbs sea, kosher or other coarse salt
2 tbs brown sugar
2 tbs molasses
The Rub:
1 tsp paprika
1 tsp dried rosemary
1 tsp dried marjoram
1/2 tsp garlic powder
1/4 tsp dry mustard
 Instructions:
Earlier in the day, at least 2 hours and up to 12 hours before cooking, mix water, salt, sugar and molasses in a deep bowl. 
Stir until sugar and salt are dissolved. 
Add pork, making sure that it's totally covered. 

If not, you can put pork in large zip-lock bag and add brine. 

Refrigerate, turning occasionally, until ready to cook. 
When ready to cook, remove pork and pat dry with paper towels. 
Discard brine. 
Mix all ingredients for the rub and sprinkle on all sides of pork, patting it lightly to stick. 
Cook on barbecue grill for 15 - 20 minutes, turning to brown all sides.  Internal temperature should reach 145F (62C) or until only slightly pink in center.
Remove and let rest a few minutes. 

Carve into 1" (2.5cm) thick slices and serve. 

Could also be roasted in the oven, 400F (200C) 25 - 30 minutes.
Day 3:

 Asparagus and Chevre (Goat Cheese) Quiche

Total time: 65 minutes
    The variations on quiche are almost infinite.  Because I have this one so packed full of good foods, it takes a bit longer to bake then usual.  I had it in the oven for 40 minutes.  The center should be dry in appearance and only slightly 'jiggly' when done.  My brown rice cooks in 15 minutes... If yours take longer, make it ahead of time, or substitute Basmati or Arborio.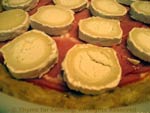 Ingredients:
The Crust:
1/2 cup (3.3oz, 95gr) quick cooking brown rice
1 cup (8oz, 240ml) chicken stock or as needed 

for 2 cups cooked rice

1/4 cup shredded cheese (1oz, 30 gr)
1 egg
The Filling:
4 - 5 thin slices, (3.5oz, 100gr) Prosciutto
8oz (240gr) asparagus, trimmed
4oz (120gr) chevre (goat cheese), aged   

the kind that comes in a log with a white (edible) rind

2 tbs snipped fresh chives
2 tbs snipped fresh basil

2 - 3 tomatoes, depending on size  

I used 2 very long Roma tomatoes

3 eggs
1 cup (8oz, 240ml) milk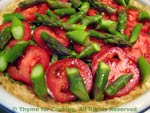 Instructions:
The crust:
Cook brown rice in stock according to package directions.  Can be done ahead or the day before. 
If rice is just cooked, spread it on a plate to cool for 5 minutes before adding to egg.
Oil a 9" (22 cm) pie or quiche plate. 
Lightly whisk 1 egg. 
Add 1/4 cup of the cheese and the cooked rice.  Mix well. 
Pat into the quiche plate, working it up the sides as best you can.
Bake in 400F (200C) oven for 10 minutes. 
Remove and set aside. 
The filling: 
Trim asparagus, snapping off tough ends.  Cut into 1" (2.5cm) lengths. 
Heat water in a saucepan over high heat. 
When boiling, add asparagus and blanch for 3 minutes. 
Drain and refresh under cold water. 
Dry on paper towels. 
Snip herbs. 
Thinly slice tomatoes.
Slice goat cheese. 
Tear Prosciutto into large pieces.
In medium bowl whisk 3 eggs well. 
Add milk and whisk to combine. 

To assemble:

Lay Prosciutto evenly over the bottom of the baked crust. 
Lay the goat cheese on top. 
Sprinkle with herbs. 
Lay the tomatoes on top of the herbs.
Top with the asparagus. 
Pour the egg mixture over all and bake for 40 minutes.  (Check after 30) 
Let stand 5 minutes before serving.
Note:  I put the quiche/pie plate on a pizza pan before pouring the egg/milk over.  Makes it easier to get into the oven and catches any drips and spills - saving oven clean-up.
Day 4:

 Warm Chicken Pasta Salad with Spring Vegetables   

Total time: 30 minutes  
   I have always disagreed with most 'Pasta Primavera' as they are meant to celebrate spring but insist on using summer vegetables: tomatoes and peppers.  This is my version, using only spring vegetables.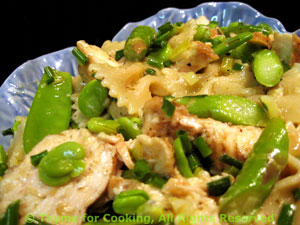 Ingredients:
6oz (180gr) green asparagus
4oz (120gr) snow peas, mangetout, pea pods
1/2  - 3/4 cup fava beans   

you'll need about 1lb (500gr) of pods to start with,    substitute edamame

4 green garlic, sliced, including green tops  

substitute 4 green onions

1 tbs oil
2 tbs fresh, snipped chives  

substitute 2 tbs dried - add to vinaigrette

1 1/4 cups (3.5oz, 100gr) farfalle pasta
Vinaigrette:
1 tbs Dijon-style mustard
1 1/2 tbs white Balsamic vinegar
4 tbs good olive oil
Grilled Chicken:
2 boneless, skinless chicken breasts
Marinade:
1 tbs red wine vinegar
1 tbs Worcestershire sauce
2 tbs olive oil
 Instructions
Cook pasta according to package directions. When done, drain well.
Mix marinade and pour over chicken.  Let marinate for 15 - 30 minutes.
Heat a sauce pan of water to boiling. 
Roll cut the asparagus into 1" (2.5cm) lengths. 
Trim the snow peas. 
Remove fava beans from the pods.
Blanch vegetables, one type at a time, in boiling water: asparagus for 3 minutes, snow peas for 2 minutes and fava beans for 2 minutes. 
Remove each from water and put into cold water. 
Shell fava beans (see notes).
Cook chicken on barbecue grill, 10 - 15 minutes, or until done or can be sautéed in skillet for about the same amount of time.
Remove and slice.
Whisk together mustard and vinegar for vinaigrette. 
Slowly drizzle in olive oil, whisking constantly.
To Assemble:
Heat 1 tbs olive oil in a large skillet over medium high heat. 
Add green garlic or onion, asparagus and  snow peas.  Stir-fry for 2 minutes, until hot and starting to brown. 
Add drained pasta and toss to heat through. 
Put into a large bowl, add fava beans, chives and sliced chicken. 
Pour vinaigrette over and toss well to combine. 
Serve.
Notes: 
Roll cut:  Cut the end off at an angle, roll 1/4 turn and slice at the same angle, roll 1/4 and slice, etc.  This gives you interesting looking pieces with lots of surface.  It's normally used on round vegetables: carrots, asparagus, etc.

Peel fava beans:  They peel like peas: break open the pod and take the beans out.  Don't bother with any really tiny ones.  After blanching they will have a whitish outer shell.  Just squeeze lightly and the inner, bright green bean will pop out.  It may split in half... that's okay.
Day 5:

 Caesar Pasta Salad with Flank Steak

Total time: 25 minutes
     With the chili powder, Worcestershire and garlic, this has a surprising kick to it... not hot, just assertive.  The creamy Greek yogurt is the perfect foil. 
 Ingredients:
 Instructions:
Cook pasta according to package instructions.
When done, drain, put into a large serving bowl and toss with 1 tbs olive oil. 
Mix chili powder, 2 tbs Worcestershire and garlic. 
Slice flank steak into strips and toss with chili powder mixture. 
Clean mushrooms and thickly slice. 
Make dressing.
Heat 2 tsp oil and 1 tbs Worcestershire in large nonstick skillet over medium heat. 
Add mushrooms and stir to coat.  Fry until soft and starting to brown, 5 - 7 minutes. 
Remove and set aside.
Add remaining 2 tsp oil to skillet.  Add beef and quickly stir-fry over medium-high heat, 2 - 3 minutes. 
To assemble:
Cut and slice avocado.
Cut cherry tomatoes in half. 
Add half the steak to the pasta.  
Add 2/3 dressing to pasta and toss to mix.  (A tongs works great for this!) 
After mixing, taste and add rest of dressing if you like. 
Put pasta in a large bowl. 
Spread the remaining steak in a circle on top. 
Add the mushrooms in the center. 
Arrange avocado slices around the edge. 
Add tomatoes and serve, any remaining dressing on the side.
Caesar Dressing
Mince garlic and put in small bowl. 
Add mustard, lemon, Worcestershire, vinegar and yogurt (and anchovies, if using) and mix well with wire whisk. 
Slowly drizzle in olive oil whisking constantly. 
Whisk in Parmesan and chives.
Day 6:

 Sautéed Chicken Breasts with Bacon and Mushrooms

Total time: 30 minutes 
    One cannot go wrong with mushrooms and bacon.... A bit decadent, perhaps, but life is for living. My bacon is very lean, so I have to sauté it in oil.  Use it or not, as needed.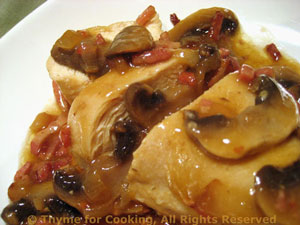 Ingredients:
2 chicken breasts, boneless, skinless
1 onion
2 cloves garlic
4oz (120gr) mushrooms
2oz (60gr) bacon   

about 2 - 3 slices

1 tsp olive oil
1/2 cup (4oz, 125ml) white wine
1 tsp cornstarch (maizena) dissolved in 1 tbs water
 Instructions:
Roughly chop onion. 
Mince garlic. 
Clean and thickly slice mushrooms. 
Roughly chop bacon. 
Heat olive oil in medium skillet over medium heat. 
Add bacon, onion, garlic, and sauté 5 minutes. 
Add mushrooms and sauté 5 minutes longer. 
Move onion/mushrooms to the sides of the pan.
Add chicken breasts and brown lightly on both sides, about 7 minutes total. 
Add white wine, reduce heat to low, cover and simmer until chicken is done, 10 - 15 minutes longer.
Remove chicken to a plate. Increase heat under skillet.
Add cornstarch mixture to mushroom bacon sauce, stirring until thickened. 
Spoon over chicken and serve.