Main Course Menu Plan: Week 1
Spring I
Day 1:

Roasted Salmon with Red Pepper Sauce

Total time: 25 minutes
The slightly spicy red pepper sauce is a nice contrast to the sweet salmon. Save remaining Red Pepper Sauce for another use.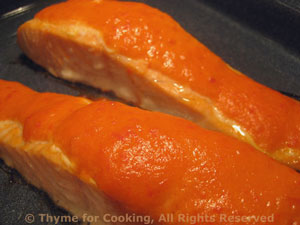 Ingredients:
2 salmon fillets, 12oz (360gr) total weight
1 tsp olive oil
1/3 cup

Red Pepper Sauce

Red Pepper Sauce:
1/2 red bell pepper
1/2 medium onion
1 clove garlic
2 tsp olive oil
1/2 tsp chili powder
1/4 cup (2oz, 60ml) chicken stock
1 tbs white balsamic vinegar
3 tbs Greek yogurt
Instructions:
Red Pepper Sauce:
Roughly chop pepper, onion and garlic.
Sauté pepper, onion, garlic and chili powder until vegetables are soft.
Add chicken stock, vinegar, cover and simmer 5 minutes.
Purée in blender with as little of the stock as possible.
Pour sauce out of blender into a small bowl and stir in yogurt.
Salmon:
Put salmon on lightly oiled baking sheet.
Spoon some of the Red Pepper Sauce evenly over each salmon fillet. You should use about 1/3 of the sauce.
Bake at 400 F for 15 - 17 minutes, until fish flakes easily. Serve.
Note: For easy clean up cover pan with foil first. This is especially nice if you are using fillets with the skin on. You can carefully lift the salmon off the skin to serve, leaving the skin on the foil. Then wrap the whole mess up and toss.
Day 2:

Pizza Steaks

Total time: 25 minutes
A thick sauce of tomatoes and oregano lend the 'pizza' taste to these steaks. You can simmer the steaks in the sauce for more flavor, if you like, be we prefer our steaks more on the medium rare side so we just spooned the sauce on top.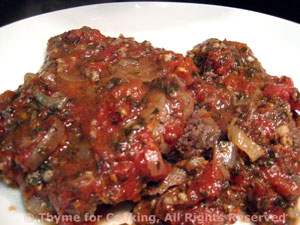 Ingredients:
Instructions:
Chop onion; mince garlic.
Heat 1 tbs oil in small skillet over medium heat. Add onion, cumin, paprika and sauté 5 minutes.
Add garlic and sauté 5 minutes longer.
Drain tomatoes, reserving juice for another use.
Roughly chop tomatoes and add to skillet along with wine and oregano.
Reduce heat and simmer for 10 minutes, until reduced and thickened.
Meanwhile heat remaining tbs of oil in large nonstick skillet or grill pan over medium-high heat.
Add steaks and fry quickly, 1 - 2 minutes per side, depending on thickness and desired degree of doneness.
When done, put on small platter. Spoon sauce over and serve.
Note: If using a tougher cut, brown first, then add to sauce and simmer 15 - 45 minutes.
Day 3:

Lentil Soup with Chorizo

Total time: 60 minutes
A little chorizo packs a lot flavor - even more if you get hot or extra spicy.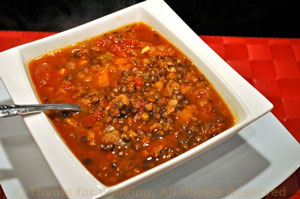 Ingredients:
5oz (150gr) chorizo
1 1/2 cups small, green lentils 'du Puy'

or tan lentils

1 cup red or coral lentils
1 medium carrot
1 rib celery
1 onion
3 cloves garlic
6 cups (48oz, 1440ml) of beef stock
2 cups (15oz, 450gr) whole tomatoes
1 1/2 tsp paprika
1/2 tsp cumin
1 tsp oregano
1 tsp basil
1 tbs olive oil
1 - 2 cups tomato juice, optional, to thin
Instructions
Chop onion, carrot, celery and mince garlic.
Roughly chop tomatoes, reserving all juices.
Sauté onion, garlic, celery and carrot in olive oil until tender and starting to color.
Add paprika, cumin and sauté 1 minute longer.
Add both lentils, herbs, tomatoes with their juices, beef stock and bring to a boil.
Cover, reduce heat and simmer until lentils are tender, about 30 minutes.
Slice chorizo into bite-size pieces.
Add chorizo and as much tomato juice as desired (if any) to thin, cover and simmer 10 minutes longer.
Serve.
Day 4:

Oven Fried Chicken with Potatoes

Total time: 50 minutes
This recipe assumes bone-in chicken which has a longer cooking time than boneless. This works well with any cut-up chicken parts. I get the thigh and leg in one piece and cut it, but could be left together.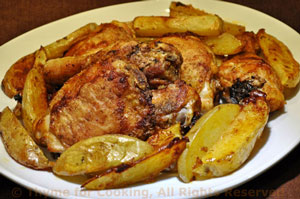 Ingredients:
2 chicken thighs
2 chicken legs
2 medium potatoes
2 tbs flour
1 tsp paprika
1/2 tsp chili powder
1/4 tsp salt
1/8 tsp black pepper
2 tbs olive oil
Instructions:
Spread olive oil on a baking sheet with a rim.
Wash chicken and pat dry.
In a plastic baggie mix the flour and spices.
Add chicken and coat well.
Lay on the baking sheet, skin side down, and bake 425F (220C) for 15 minutes.
Cut each potatoes into 8 wedges, the long way.
Remove chicken from oven, add potatoes around the chicken and bake for 15 minutes.
Remove from oven, turn chicken, potatoes and bake for 15 minutes longer.

Remove and serve

.
Day 5:

Chevre Stuffed Burgers

Total time: 25 minutes
A bit of creamy goat cheese in the center keeps these burgers very moist and adds a lovely flavor.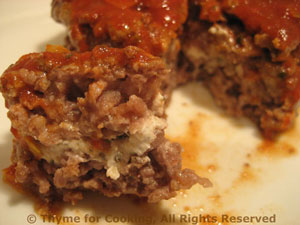 Ingredients:
12oz (360gr) ground beef
2 slices goat cheese (or any cheese you like)
1/2 tsp dried basil
1/4 tsp garlic powder
1 tbs oil
2 tbs ketchup
2 tsp Worcestershire sauce
1 tsp Dijon-style mustard
Instructions:
Make 4 patties of the beef.
Trim cheese to fit, if needed, and place on 2 patties.
Sprinkle basil, garlic powder on cheese.
Place remaining 2 patties on top. Work edges to seal.
Heat oil in nonstick skillet. Add patties and fry, 5 - 8 minutes per side, depending on thickness.
In a small bowl mix ketchup, Worcestershire and mustard.
Spread on top of the burgers after turning.
When done, remove and serve.
Day 6:

Creamy Chicken with Carrots

Total time: 25 minutes
Another skillet dinner: cook the chicken and carrots together and serve over rice. And, it's yogurt, not cream, for a healthier finish.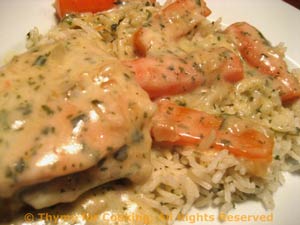 Ingredients:
2 chicken breasts, boneless, skinless
3 carrots
1 onion
1 clove garlic
1 tbs dried parsley
1 tsp dried tarragon
1 cup (8oz, 240ml) chicken stock
1 tsp Dijon-Style mustard
2 tsp cornstarch dissolved in 1 tbs water
4 tbs (2oz, 60ml) Greek or plain yogurt

Basmati Rice:

1/2 cup (3.3oz, 95gr) Basmati rice
1 tsp butter
1 cup (8oz, 240ml) chicken stock or water
Instructions:
Chop onion, mince garlic.
Peel and cut carrots into 2" (5cm) lengths. Cut each length in half or quarters, depending on size.
Cut chicken breasts in half the short way.
Heat oil in a large skillet over medium heat.
Add onion, garlic, and sauté until tender, 4 - 5 minutes.
Add chicken and brown lightly, about 3 minutes per side.
Add carrots, stock, mustard, herbs, cover and simmer until chicken is done and carrots tender, about 15 minutes.
Dissolve cornstarch in water and stir into skillet.
Remove from heat, stir in yogurt.
Serve over Basmati Rice.
Basmati Rice:
Melt butter in a small saucepan over medium heat.
Add rice and sauté, stirring for 2 - 3 minutes.
Add stock or water and thyme.
Cook rice for length of time on package.
When done fluff with fork and serve.