Main Course Menu Plan: Week 3 
Spring I
Day 1:

Pasta with Scallops and Shrimp

Total time: 25 minutes
     By sautéing the shrimp and scallops in garlic butter they get a robust flavor offset by the creamy cheese sauce... If you don't normally have milk on hand use part chicken stock and part white wine- different sauce, equally good! I used spinach fettuccini.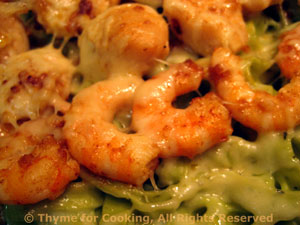 Ingredients:
6oz (180gr) sea or bay scallops  

I had 8 large sea scallops

6oz (180gr) shrimp, cleaned
1 tsp paprika
2 cloves garlic
2 tsp olive oil
1 tsp butter
1/2 cup (4oz, 120ml) milk
1/2 cup (4oz, 120ml) chicken stock
1/2 cup (2oz, 60gr) shredded Gruyère cheese
2 tbs dry sherry
1 tbs cornstarch (corn flour, maizena)
2 tsp dried parsley  

substitute 2 tbs fresh

1/4 cup (1oz, 30gr) freshly grated Parmesan

4oz (120gr) fettuccini, spaghetti, linguini or other long pasta

 
 Instructions:
Cook pasta according to package directions. 

The sauce:

 
Heat stock and milk to boiling in small saucepan.
Dissolve cornstarch in sherry and add to saucepan, stirring and cooking until sauce has thickened.
Reduce heat to low and gradually add the shredded cheese, stirring constantly.
Stir in the parsley.
Turn off heat, and cover saucepan to keep warm until needed.

The seafood: 

Clean shrimp if needed.
Mince garlic.
Heat butter and oil in a nonstick skillet over medium-low heat.  Add paprika and sauté briefly.
Add garlic and sauté until golden, 2 - 3 minutes.
Turn heat up to medium and add scallops and shrimp.  Sauté until shrimp start to curl and both start to turn opaque, turning once.  This should not take longer than 3 - 5 minutes.  Remove from heat and keep warm. 

To finish:

When pasta is done, drain well and return to cooking pan.
Add sauce and toss well to coat.
Put pasta in a bowl if serving immediately or a baking dish just large enough to hold everything if not.
Arrange scallops and shrimp on top and sprinkle with Parmesan. 
Either serve immediately or put into a warm oven (250F, 120C) for up to 15 minutes to keep hot.
Day 2:

Roasted Cornish Games Hens (Poussin)

Total time: 60 minutes
    Small, perfectly roasted hens make an elegant presentation and are perfect individual servings (with maybe a snack leftover).  If yours are larger birds, one may be enough, (you can split it in half before roasting) or fix two and have cold chicken/game hen for lunch tomorrow!  Remember to put bowls for bones on the table - and wet towels for fingers.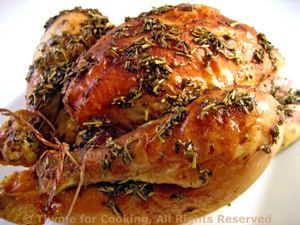 Ingredients:
2 Cornish game hens or poussin (little chickens)
2 tbs olive oil
1 tbs lemon juice
1/2 cup (4oz, 120ml) red wine
2 tsp Dijon-style mustard
2 tsp dried rosemary
2 tsp dried thyme
2 tsp dried sage
 Instructions:
Wash hens and pat dry with paper towels.

Mix 1 tbs oil with lemon juice and 1 tsp each of the herbs.
 Divide herb mixture and put half into each of the hens. 
Tie legs close and bend wings around and under the back - so it looks like they are lying there with their arms akimbo. It keeps them from flapping and gives the hen something to rest on.
 Lay them on a rack in a shallow baking pan. 
Mix the remaining oil, herbs, mustard and red wine and brush on hens. 
Put into 400F (200C). Bake for 50 - 60 minutes, basting every 15 minutes with wine mixture, until done.  See techniques. 

I recommend a meat thermometer

.
Day 3:

 Beef and Root Vegetable Stew

Total time: 90 minutes
    Sherry adds flavor notes that go well with stews.  It blends well with the traditional root vegetables. You could add parsnips, turnips or celeriac, as well.  This make enough for 4 servings.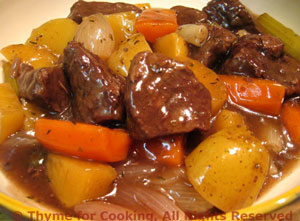 Ingredients:
24oz (720gr) beef stew meat
4 tbs flour
1 1/2 tbs paprika
6 shallots
3 medium carrots
1 small rutabaga (swede)
3 potatoes
3 ribs celery
2 cloves garlic
1 tbs olive oil
1 tsp oregano
1 tsp thyme
1 tbs tomato paste
3 bay leaves (laurel)
2 cups (16oz, 480ml) beef stock/broth
1/2 cup (4oz, 120ml) sherry or red wine
1 tbs cornstarch (maizena) dissolved in 2 tbs beef stock (if needed)
 Instructions:
The beef:

 
Cut beef into 1 1/2" (4cm) pieces. 
Put flour and paprika into a plastic food bag and mix well.
Add beef, close bag and toss well to coat thoroughly.
Heat oil in a medium pot or Dutch oven over medium-high heat.  Add beef and brown on all sides.
Mince garlic, add and sauté 1 minute.
Add broth, sherry, tomato paste, herbs, and stir well to scrape up any browned bits. 
Cover and bring to a boil.  Reduce heat and simmer 30 minutes, or simmer very slowly for several hours.
Start the vegetables an hour before dinner.
The vegetables:
Peel shallots and leave whole. 
Peel rutabaga and cut into large chunks, about, 3/4" (2cm) cubes.
Peel or scrape carrots, cut into 2 inch (5cm) lengths, then quarter the long way. 
Cut celery in half the long way, then into 2" (5cm) lengths.
Quarter the potatoes the long way then cut in half or thirds depending on size.  Put potatoes into a bowl of water to prevent discoloring. 
Add shallots, rutabaga, carrots, celery to beef.  Stir well, cover and simmer 20 minutes. 
Drain the potatoes and add to stew.  Simmer 30 minutes longer, until vegetables are tender.
To finish:
If desired, for a thicker gravy, dissolve cornstarch in beef stock.
Uncover, increase heat and remove bay leaves.
Add cornstarch and stir until sauce is thickened.  Serve directly from pot or ladle into serving bowl.
Day 4:

 Chicken Breasts with Spanish Rice

Total time: 40 minutes
    I use a quick cooking brown rice in this dish; it cooks in 20 minutes. You can use whatever rice you choose (except instant) just adjust the liquid and cooking time accordingly. The tomato juices cook right into the rice, adding color and flavor!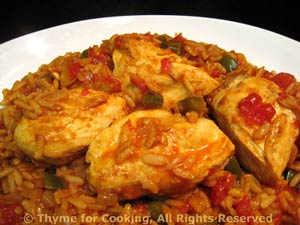 Ingredients:
2 chicken breasts, boneless, skinless
1 onion 
1/2 green bell pepper
2 cloves garlic
1 tsp chili powder
1/2 cup (3.3oz, 95gr) quick-cooking brown rice   

substitute basmati

15oz (450gr) whole tomatoes,
1/4 - 3/4 cup chicken stock or water
2 tsp Worcestershire sauce
1 tbs olive oil
 Ingredients:
Chop onion and pepper.
Mince garlic.
Heat oil in deep skillet over medium heat.  Add chicken breasts, and brown on both sides, about 5 minutes each.
Remove to a plate. 
Add chili powder, onion, pepper, and garlic.  Sauté for 5 minutes. 
Open tomatoes and drain liquid into a bowl.
Chop the tomatoes and drain again.
Add drained tomatoes, Worcestershire sauce and rice to pan.
Measure the drained liquid and add enough water or chicken stock to equal 1 cup (or however much liquid your rice package calls for).
Pour this over the rice/vegetables in the skillet and stir well to combine. 
Lay the chicken breasts on top of the rice and cover.
Reduce heat to simmer and cook until rice is done, about 20 minutes - check rice package. 
Stir occasionally while cooking. 
When done, serve - either from the pan or arrange nicely on a platter.
Day 5:

 Pork Tenderloin with Lemon and Capers

Total time: 35 minutes
     Pork tenderloin lends itself to a variety of treatments; it's lean, cooks fast and stays moist and tender.  I can get them under a lb which is perfect for us.  You could substitute boneless pork chops if you like.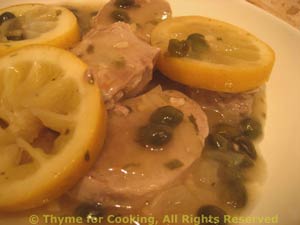 Ingredients:
12oz (360gr) pork tenderloin
1 lemon
1 shallot
1 clove garlic
2 tbs capers
2 tsp olive oil
1 tsp dried tarragon
1/2 cup (4oz, 120ml) chicken broth
1/2 cup (4oz, 120ml) white wine
1 tbs cornstarch (maizena) dissolved in 2 tbs chicken stock
 Instructions:
Slice the lemon, remove pips. 
Thinly slice the shallot and finely chop the garlic. 
Slice the tenderloin into 1 inch (2.5 cm) thick slices.
Sauté shallot and garlic in oil in nonstick skillet over medium-high heat.
When shallot starts to brown, move it to the sides of the pan and sauté pork medallions for 5 minutes per side.
Add tarragon, stock, white wine and capers to pan.  
Lay lemon slices on top of pork medallions.  Cover, reduce heat to low and simmer 15 minutes.
Dissolve cornstarch in chicken stock. 
Uncover skillet, and remove pork medallions, with lemon slices, to a small platter.
Increase heat, add cornstarch and stir until sauce is thickened. 
Spoon some caper sauce around the pork and serve, remaining sauce on the side.
Day 6:

 Pasta with Red Beans and Ham

Total time: 30 minutes 
     Beans are a major vegetable in both France and Spain, but are normally sold plain, rarely flavored or spiced.  Frying the chili powder releases more of the flavor.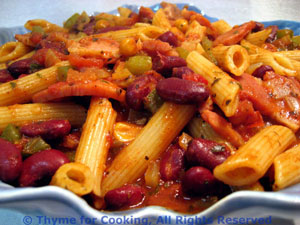 Ingredients:
 Instructions:
Cook pasta according to package directions. Drain.
Chop onion, celery and pepper.
Finely chop garlic. 
Trim ham and cut into bite-size pieces.
Drain and rinse the beans.
Drain the tomatoes, reserving the juice, then roughly chop.
Heat oil in large, nonstick skillet over medium heat.   Add chili powder and sauté 1 minute.
Add onion, celery, pepper, garlic and sauté 7 - 8 minutes.
Add ham and sauté briefly.
Add beans, tomatoes, juices, herbs and hot pepper sauce if using.
Cover and simmer over low heat for 10 minutes.
Add green chilies and simmer 5 minutes longer.
Taste, adjust heat, remove bay leaves, add to pasta and toss well.  Serve.