Main Course Menu Plan: Week 2 
Winter II
Day 1:

Baked Salmon Dijon 

Total time: 25 minutes
   We use fillets but salmon steaks will work.  Add another 5 - 10 minutes for steaks.  The mustard and cheese topping gets golden brown and the sharp flavor works well with the sweet salmon.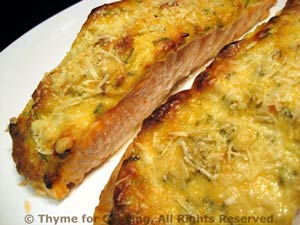 Ingredients:
2 salmon fillets,  6oz (180gr) each
3 tbs mayonnaise
1 1/2 tbs Dijon-style mustard
2 tbs Parmesan
Olive oil for coating pan
 Instructions:
Mix all of the above (except salmon). 
Put salmon on lightly oiled baking sheet. 
Divide mixture evenly and spread over salmon. 
Bake at 400 F for 15 - 17 minutes, until top is light brown and fish flakes easily.
Serve.
Note:  For easy clean up cover pan with foil first.  This is especially nice if you are using fillets with the skin on.  You can carefully lift the salmon off the skin to serve, leaving the skin on the foil.  Then wrap the whole mess up and toss. 
Day 2:

Peppered Pork Tenderloin in Red Wine Sauce

Total time: 30 minutes
    Remember that, while adding a lot of flavor, pepper can be quite hot.  Be a bit careful, particularly if you are grinding fresh peppercorns, as these will be hotter than the old stuff in the can in your pantry....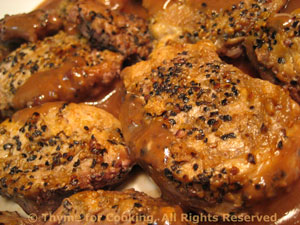 Ingredients:
12oz (360gr) pork tenderloin
2 tsp olive oil
1 clove garlic
1/2 - 1 tsp ground black pepper
2 tsp Dijon-style mustard
1 tsp tomato paste
1 tsp marjoram
1/2 cup (4oz, 120ml) beef stock
1/2 cup (4oz, 120ml) red wine
 Instructions:
Mince the garlic.
Slice the tenderloin into 1 inch (2.5 cm) thick slices.
Sprinkle the pepper evenly over each side of each piece, pressing it in. 
Heat oil in nonstick skillet over medium heat.  Add the pork and sauté for 5 minutes per side.
Add garlic, marjoram, mustard, tomato paste, stock and red wine to pan, reduce heat to low, cover and simmer 10 minutes.
Uncover and remove pork to a small platter, cover to keep warm.
Increase heat and boil sauce, for 2 minutes.   It should reduce and thicken a bit.
Spoon a bit of sauce over the pork and serve, remaining sauce on the side.
Day 3:

 Risotto with Feta, Ham, Peas and Carrots 

Total time: 30 minutes
     The peas give a lovely bright color to this risotto.  The feta is the Greek-type: small cubes that come in glass jars, covered in oil.  Any feta will work.  It doesn't melt like other cheese, adding a twist to the dish.
 Ingredients: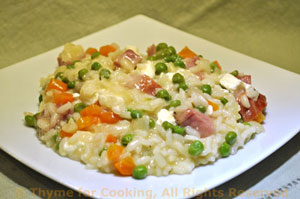 Instructions:
Heat chicken stock and keep hot over low heat. 
Finely chop onion.
In medium saucepan heat butter; add 1/2 of the onion and sauté until transparent then add rice and sauté, stirring, for 2 - 3 minutes until rice has white center. 
Add white wine and stir. 
Start condimenti. 
When wine is almost absorbed add a 1/3 cup of stock, stir.  (No need to stir constantly but do stir from time to time.) 
When stock is almost absorbed add another 1/3 cup and continue adding 1/3 cup at a time and stirring.  Before you add the last 1/3 cup taste a few kernels of rice.  They should be just 'al dente' - slightly resistant to the tooth but fully cooked.  If more stock is needed add it 1 tbs at a time and waiting until almost completely absorbed.  At this point risotto will be thick but not stiff - there will still be visible liquid and it will not hold it's shape on a plate. 
Add the Parmesan and the condimenti, including the feta, stir well, pour into a bowl or risotto platter and serve immediately.  It will continue to absorb liquid and the leftovers (if any) will be quite stiff. 
The risottos that we have eaten in northern Italy have all been served in soup plates (flattish bowls) and eaten with a spoon - not a fork.
Condimenti
Chop onion. 
Peel carrot and cut into 'pea' size pieces. 
Cut ham into bite-size pieces. 
Heat oil in medium skillet.  
Add onion, carrot and sauté until tender, 6 - 8 minutes. 
Add ham and sauté 5 minutes longer. 
Add peas and 1/4 cup of the chicken stock for the risotto. 
Cover, reduce heat and simmer until peas are thawed and carrots cooked through.
Turn heat to low and keep warm until needed. 
Day 4:

 Cashew Chicken and Vegetables

Total time: 30 minutes
    A simple stir-fry of chicken and vegetables made special with the addition of a handful of cashews sprinkled on top.
 Ingredients:
2 chicken breasts, boneless, skinless
2 ribs celery
1/2 red or green pepper
2 carrots
1 onion
3 cloves garlic
1/2 cup cashews
1/2 cup (4oz, 120ml) chicken stock
2 tbs sherry  (or white wine)
1 tbs soy sauce
1 tbs sesame oil
1 tbs olive oil
1 tbs cornstarch (maizena, corn flour)
1/2 cup (3.3pz, 95gr) brown rice, quick-cooking

1 cup (8oz, 240ml) chicken stock

or whatever your rice calls for
 Instructions:
Cook rice in stock / according to package instructions.
Cut chicken into bite size pieces. 
Cut the onion in half, then in half the other way and slice - so you have 'quarter circle' slices. 
Cut celery into 1/4 inch slices. 
Cut the pepper and the carrots into sticks 1/4 inch by 2 inch. 
Mince the garlic. 
Dissolve the cornstarch in the soy sauce and set aside. 
In large skillet or wok heat half of both oils over medium-high heat. 
Add celery, onion, pepper, carrot and stir fry 3 minutes. 
Add garlic and stir-fry 1 minute more. 
Transfer vegetables to a plate. 
Add the rest of the oils to the skillet along with the chicken.  Stir fry 3 minutes. 
Return the vegetables to the pan and add the chicken stock and sherry. 
Bring to a boil.  Reduce heat, cover and simmer for 3 - 5 minutes longer, until the vegetables are just tender - but not over done.
Give the cornstarch/soy sauce a stir to recombine and add it to the pan, stirring constantly until thickened. 
To serve:
Mound the rice onto a platter.
Spoon chicken and vegetables on top.
Sprinkle with cashews and serve.
Day 5:

 Pork Chops with Red Cabbage

Total time: 35 minutes
   With the cabbage already made, this becomes an easy midweek dinner.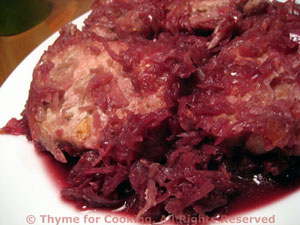 Ingredients:
12oz (360gr) boneless pork chops  or slightly more if bone-in
1 onion
13/4 cups (15oz, 450gr) cooked red cabbage
2 tsp olive oil
1/4 cup beef stock
 Instructions:
Chop onion. 
Heat oil in medium nonstick skillet over medium heat.  Add onion and sauté until tender, about 5 minutes. 
Add pork chops, pushing onion off to the sides of the pan, and brown on both sides - about 5 minutes per side. 
Add beef stock and scrape up any browned bits on the bottom of the pan. 
Add cabbage, stir to combine with onions, reduce heat to low, cover and simmer 20 minutes, until pork chops are tender and done, stirring cabbage once or twice. Serve.
Day 6:

 Orzo Pizza

Total time: 50 minutes
            I've used brown rice for a 'crust' but I was looking for something a bit different.  Orzo cooks in 15 minutes, and when done 'risotto' style is a bit sticky.  Perfect! I used salami, but pepperoni, ham or chicken would also be good.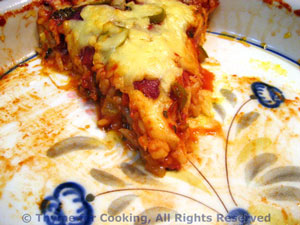 Ingredients:
1/2 cup (4.5oz, 125gr) orzo
1 1/4 cups (10oz, 300ml) chicken stock
1 egg
1/4 cup (1oz, 30gr) shredded mozzarella
1 tsp olive oil
8oz (240ml) tomato sauce
4oz (120gr) salami
1/2 green or red bell pepper
1 small onion
1/2 cup green or black (Greek) olives
1 tsp dried oregano
1 tsp dried basil
1/2 cup shredded mozzarella
 Instructions:
Put orzo and stock in small saucepan and bring to a boil. 
Cover and cook until orzo is done and stock absorbed, about 15 minutes.
Remove orzo and spread on a plate to cool for 5 minutes.
Lightly oil a 9 - 10" (22 - 25 cm) pie or quiche plate. 
Lightly whisk the egg. 
Add 1/4 cup cheese and the orzo.  Mix well. 
Pat into the quiche plate, working it up the sides as best you can. 
Bake in 400F (200C) oven for 10 minutes. 
Finely chop onion and pepper. 
Slice the olives in thirds. 
Remove crust and spread tomato sauce evenly over the top. 
Spread onions and peppers over the tomato sauce. 
Lay the salami slices on top. 
Sprinkle with olives and herbs. 
Spread cheese evenly over the top. 
Return to oven and bake for 20 minutes longer.
Remove, and let rest a minute.  Cut and serve.