Main Course Menu Plan: Week 8
Spring I
Day 1:

Baked Cod Provençal

Total time: 30 minutes
Green garlic, black olives and cherry tomatoes finish this simple, baked fish.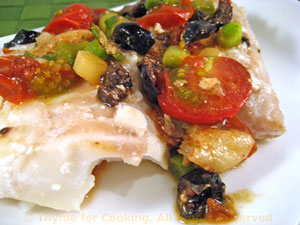 Ingredients:
12oz (360gr) cod, halibut, or other firm, white fish
2 tsp olive oil
2 tsp lemon juice
4oz (120gr) cherry tomatoes

about 1 cup

4 green garlic

or 3 green onions and 1 clove garlic

12 black olives (1/2 cup)

I used dry-cured Greek olives

1 tsp Herbes de Provence
1 tbs oil
Instructions:
Place fish on a baking sheet.
Mix 2 tsp olive oil, 2 tsp lemon juice, drizzle on fish.
Bake fish, 400F (200C) for 15 - 20 minutes, depending on thickness, until done. Fish is done when it starts to turn opaque and flakes with a fork.
Trim and slice green garlic, using as much green as you can.
Pit olives if needed and roughly chop.
Cut cherry tomatoes in half.
Heat a medium skillet over medium heat. Add oil, green garlic and sauté 2 minutes.
Add olives, tomatoes, thyme and heat through. The tomatoes should just start to soften.
Spoon over fish and serve.
Day 2:

Chicken Divan

Total time: 45 minutes
An old classic, updated for a healthier lifestyle, but still with the proper amount of decadence. I use yogurt instead of sour cream, less cheese, stock instead of 'condensed creamed' soup, and no mayonnaise. I think it's better than the original....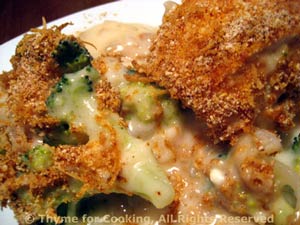 Ingredients:
2 chicken breasts, boneless, skinless
1/2 medium - large head broccoli (enough for 2)
2 shallots
1 clove garlic
1 tbs olive oil
3/4 cup (6oz, 180ml) chicken stock
1/2 cup (4oz, 120ml) white wine
2 tbs cornstarch (maizena) dissolved in 2 tbs water
1/2 cup (4oz, 120gr) Greek yogurt or crème fraiche
1/2 cup (2oz, 60gr) Gruyère, shredded
1/4 cup (1oz, 30gr) Parmesan
1/4 cup dry bread crumbs
1 tsp paprika
Instructions:
Put chicken stock in a medium skillet, just large enough to hold chicken breasts.
Cut breasts in half (the short way) and add to stock.
Cover pan and poach over medium heat until done, about 15 minutes.
Cut broccoli into small florets (with some stem), put into a steamer basket and steam over medium heat until barely tender, 6 - 7 minutes.
Finely chop shallots and garlic (techniques).
Heat oil in a medium saucepan over medium heat.
Add shallots and garlic and sauté.
Add white wine and simmer.
When chicken is done, remove from stock and add stock to white wine/shallot mix.
When simmering nicely thicken with dissolved cornstarch.
Add yogurt and shredded cheese, stir well. Remove from heat.
In a baking dish (I use my 8 X 11 inch (20 X 27.5cm) oval ceramic) spoon 1/3 of the sauce.
Arrange drained broccoli over cheese sauce.
Put 1/3 sauce over broccoli.
Arrange chicken on top, and pour over remaining sauce.
Mix the Parmesan, bread crumbs and paprika and sprinkle over all.
Bake in a 400F (200C) oven 15 - 20 minutes, until hot and bubbly. Serve directly from the dish.
Day 3:

Salisbury Burgers

Total time: 30 minutes
Similar to the oft-dreaded 'Salisbury Steak', only much, much better. Finished with a red wine and mushroom sauce.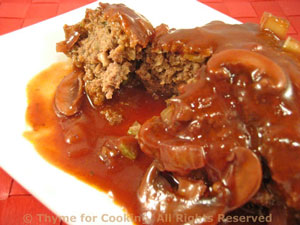 Ingredients:
12oz ground beef (360gr mince)
1 medium onion
2 ribs celery
4oz (120gr) mushrooms
2 tbs dry bread crumbs
1 tsp paprika, divided
1/2 tsp oregano
1/2 cup (4oz, 120ml) beef stock
1/2 cup (4oz, 120ml) red wine
2 tbs tomato paste
2 tsp olive oil
Instructions:
Chop onion, celery.
Finely chop 2 tbs each of the onion and celery.
Trim mushrooms and thickly slice.
Finely chop enough of the sliced mushrooms to equal 4 tbs.
Put the finely chopped 4 tbs mushrooms, 2 tbs onion, 2 tbs celery, bread crumbs, 1/2 tsp paprika, marjoram and beef in a large bowl and mix well.
Form into 2 patties.
Heat oil in a large nonstick skillet over medium heat.
Add the burgers and sauté, 5 - 7 minutes per side, turning carefully.
Remove, cover to keep warm.
Add remaining mushrooms, onions, celery, paprika to skillet and sauté about 5 minutes or until tender.
Add beef stock, red wine, tomato paste and stir well.
Return patties to pan, reduce heat and simmer 5 minutes to blend flavors and heat patties.
Serve.
Day 4:

Cumin-Scented Grilled Chicken

Total time: 30 minutes
Cumin adds a hint of Northern African fare to this marinated chicken breast.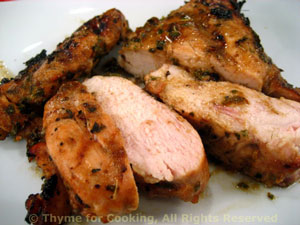 Ingredients:
2 boneless, skinless chicken breasts
2 tbs olive oil
2 tbs cider vinegar
1 tbs Worcestershire sauce
2 tsp Dijon-style mustard
1 tsp cumin
1 tsp oregano
Instructions:
Mix oil, vinegar, Worcestershire, mustard, cumin and oregano.
Spoon over chicken breasts and let marinate for 10 minutes.
Cook on barbecue grill 6 - 8 minutes per side or sauté in nonstick skillet for about the same amount of time. They should be nicely browned and juices should run clear when pierced with a knife. Remove, slice and serve.
Day 5:

Pork Chops Creole

Total time: 40 minutes
Use boneless chops for this if you can get them. The lively sauce keeps them tender even though they are only simmered 20 minutes or so..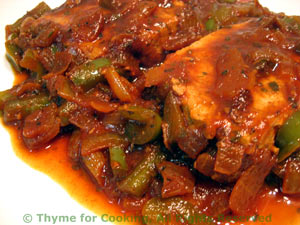 Ingredients:
2 - 4 pork chops, depending on size, 12oz (360gr) boneless weight
1 tbs olive oil
1 medium onion
1/2 green pepper
4oz (120gr) mushrooms
2 cloves garlic
1/3 cup (3oz, 90ml) ketchup
1 tbs Worcestershire
1 tsp chili powder
2 tbs chicken stock
1 tsp oregano
Instructions:
Mince garlic.
Cut onion into quarters and slice thickly.
Thickly slice green pepper, then cut slices in half.
Clean mushrooms and slice.
In medium nonstick skillet heat oil over medium-high heat.
Sauté pork chops until lightly browned, about 3 minutes per side. Remove and set aside.
Add chili powder, garlic, onions, pepper and mushrooms to pan and sauté 5 minutes.
Return chops to pan. Spread ketchup and Worcestershire sauce over top.
Add stock and bring to a boil.
Reduce heat to low, cover and simmer 20 - 30 minutes, turning once and stirring sauce, until chops are done and tender.
Serve.
Day 6:

Turkey and Broccoli Stir Fry with Brown Rice

Total time: 30 minutes
You can use turkey cutlets for this, sliced into strips, or part of a larger turkey tenderloin, freezing the rest for another time, or even ground turkey... or chicken breasts....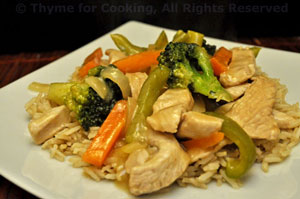 Ingredients:
10oz (300gr) turkey cutlets or tenderloin
1 onion
2 cloves garlic
1 tbs minced ginger

substitute 1/2 tsp powdered

1 rib celery
1/2 green pepper
1/2 head broccoli
1 carrot
1 tsp sesame oil
1 tsp tbs olive oil
1 tsp soy sauce
1/2 cup (4oz, 120ml) chicken stock
1 tbs sherry (optional)
1 tbs cornstarch (Maizena) dissolved in 1 tbs soy sauce plus 1 tbs water
Brown Rice:
1/2 cup (3.3oz, 95gr) quick-cooking brown rice

1 cup (8oz, 240ml) chicken stock

or whatever your rice calls for
Instructions:
Thinly slice onion.
Mince garlic.
Mince ginger (peel first).
Julienne the pepper and carrots.
Slice the celery at an angle.
Cut broccoli into florets (with some stem).
Cut the turkey into strips - bite-size.
Heat olive oil in large nonstick skillet over medium-high heat.
Add onion, celery to skillet and stir-fry for 2 minutes.
Add garlic, ginger and stir-fry another 2 minutes.
Remove onions/garlic from pan and set aside.
Add sesame oil, soy sauce to pan and heat.
Add turkey and stir-fry 3 - 5 minutes, until golden.
Remove and put with onions.
Add broccoli, carrots, pepper to skillet and stir-fry 5 minutes.
Return turkey, onions, celery, garlic and ginger to pan.
Add chicken stock, sherry and bring to a boil.
Cover, reduce heat and simmer for 5 minutes.
Stir in cornstarch mixture until thickened.
Serve over rice, adding more soy sauce if desired, according to taste.
Brown Rice:
Cook rice according to package instructions. Fluff and serve.