Main Course Menu Plan: Week 4 
Winter I
Day 1:

Turkey with Peppers, Feta and Olives over Couscous   

Total time: 30 minutes
   The Mediterranean flavors of peppers, olives and feta make bland turkey special.  Serve over Toasted Couscous, Basmati Rice or Barley. Use more or less feta, according to taste.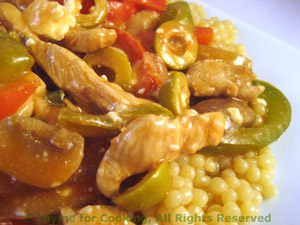 Ingredients:
10oz (300gr) turkey cutlets or tenderloin

1 onion
2 cloves garlic
1/2 green pepper
1/2 red pepper
4oz (120gr) mushrooms
1/4 cup green olives (about 15)
4oz (120gr) feta
1 tbs tomato paste
2 tsp olive oil
1/2 cup (4oz, 120ml) chicken stock
1 tbs sherry
2 tsp cornstarch (Maizena) dissolved in 2 tbs water
1/2 cup large or pearl couscous  

substitute Basmati Rice or tiny pasta

1 1/4 cups (10oz, 300ml) chicken stock  
 Instructions:
Thinly slice onion. 
Mince garlic.
Cut the peppers into strips.
Trim and slice the mushrooms.
Slice the olives into thirds.
Cut the turkey into strips - bite-size.
Cut feta into small cubes.
Heat olive oil in large nonstick skillet over medium-high heat. Add onion, peppers to skillet and stir-fry for 4 minutes. 
Add garlic, mushrooms and stir-fry another 4 minutes.
Add turkey and stir-fry 3 - 5 minutes, until golden.
Add chicken stock, sherry, tomato paste and bring to a boil.
Cover, reduce heat and simmer for 5 minutes.
Dissolve cornstarch in water.  Add to skillet and stir until thickened.
Add olives, feta and stir, just until the feta starts to melt.
Remove from heat and serve over couscous.
Couscous
Bring chicken stock and couscous to a boil in a small saucepan.
Cover and cook 10 minutes.
Uncover and drain any excess liquid.
Day 2:

Spaghetti Bolognese

Total time: 60 minutes
   This is a true Northern Italian meat sauce based on one found in the Time Life "Foods of the World, Italian,' book.  It's not the tomato-y sauce that we have come to expect as the standard.  It's full-flavored and fantastic, filled with minced vegetables and meat; but it's not thick.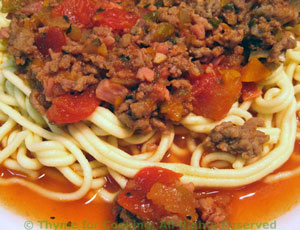 Ingredients:
fresh pasta, 8oz (240gr),  spaghetti, linguini, fettuccini  or 4oz (120gr) dry
2 tbs Greek yogurt, crème fraiche or milk
1/2 cup (2oz, 60gr) freshly grated Parmesan
1 1/2  - 2 cups Ragù Bolognese
Ragù Bolognese: 
4oz (120gr) Prosciutto
4oz (120gr) ground pork
16oz (480gr) ground beef
1 large onion, about 1 cup minced
1 medium carrot, about 1/3 cup minced
2 ribs celery, about 2/3 cup minced
3 cloves garlic, crushed
1 tbs olive oil
1/2 cup (4oz, 120ml) white wine
2 cups (16oz, 480ml) beef stock
2 cups (15oz, 450gr) whole tomatoes
4 tbs tomato paste or 1 small can
1 tsp basil
1 tsp oregano
a pinch of nutmeg
 Instructions:
Roughly chop the carrots, celery, garlic and onion.  Then, very, very finely mince the vegetables.   Do it in a food processor, or blender if you can, but stop before you make paste.  If doing it by hand, make a mound on the cutting board, half at a time.  With a large chef knife, mince them using a rocking motion.
Heat 1 tbs oil in nonstick skillet.  Add the vegetables and sauté over medium heat for 10 minutes.  Remove and put into a large sauce pan. 
Finely chop/slice the ham.  Put the ham, pork and beef into the same skillet. Sauté until cooked through and brown, breaking it up as small as you can.
Pour in the wine, turn the heat up and boil until most of the liquid has cooked off, stirring to get up any browned bits in the skillet.
Add the meat and remaining liquid to the vegetables. 
Roughly chop tomatoes, reserving all juices.
Add stock, tomatoes, tomato paste, herbs and nutmeg to sauce.
Bring to a boil, stir well, cover partially, reduce heat and simmer for 40 minutes, stirring occasionally.
Refrigerate unused sauce for later or freeze for up to 4 months.
Spaghetti Bolognese
Cook pasta according to package directions. 
Combine crème fraiche with sauce. 
Toss the pasta with the sauce and serve, Parmesan on the side.
Note: The cream or crème fraiche is added when served over pasta.
Day 3:

 Bolognese Lasagne with Spinach

Total time: 40 minutes 
     This is a wonderful way to use Ragù Bolognese.  It's simply assembling and baking.  This lasagne uses ricotta, rather than the more traditional Béchamel sauce.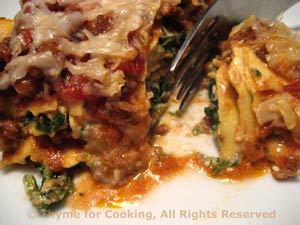 Ingredients:
3 - 4 cups Ragù Bolognese 
2 cups (16oz, 480ml) tomato sauce
1 tsp oregano
1 tsp basil
12oz (360gr) frozen spinach
12oz (360gr) ricotta
1/2 cup (4oz, 120ml) milk
1/2 cup shredded cheese
12 - 16 no-cook lasagne noodles
1/2 cup (2oz, 60gr) Parmesan
 Instructions:
Day 4:

 Coquilles Saint-Jacques

Total time: 30 minutes
     If you are getting scallops in their shells, the shells make a lovely presentation.  I love scallops but do not like the coral.  Remove it or not as suits you.  Be careful not to overcook the scallops.  This used to be very decadent ... I made it recently and trimmed back the fat a bit.  Still...  I only do it once a year.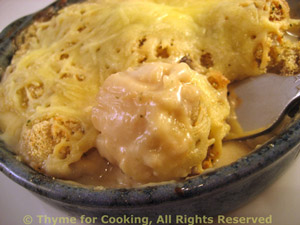 Ingredients:
12oz (360gr) sea scallops
2/3 cup (5oz, 150ml) white wine
2/3 cup (5oz, 150ml) chicken stock
1 bay leaf
3oz (90gr) mushrooms
2 shallots
2 tbs butter
1 tbs flour
1/3 cup (3oz, 90ml) crème fraiche, cream, or Greek yogurt
1/2 cup (2oz, 60ml) shredded Gruyère cheese
1/4 cup bread crumbs
 Instructions:
Bring white wine, chicken stock and bay leaf to boil in large skillet. 
Add scallops and cook until just opaque, about 5 minutes.
Remove and put into two individual baking dishes (scallop shells?) or 1 larger baking dish. 
Boil cooking liquid until reduced by half.  Remove bay leaf. 
Mince shallot and slice mushrooms.
Melt 1 tbs butter in medium skillet over medium heat.  Add shallots and sauté 5 minutes.
Add mushrooms and sauté until golden, about 8 minutes more.
Add shallots and mushrooms to scallops, dividing evenly.
Melt remaining 1 tbs butter in saucepan.
When hot add flour and cook, stirring, for 1 minute.
Reduce heat to low and slowly add in reduced cooking liquid, stirring constantly until thickened.
Add crème fraiche and heat through.
Pour sauce over scallop/mushrooms in baking dish(es).
Sprinkle with bread crumbs and cheese. 
Bake in 375F (190C) oven for 15 minutes, until hot and bubbly.  Serve.
Day 5:

 Pork Tenderloin with Potatoes, Apples and Carrots

Total time: 45 minutes
   Pork and apples naturally compliment each other: the sweet-tart flavor of the apple brings out the sweetness of the pork. With roasted potatoes and carrots this is a simple meal needing little attention.  Remember, slightly pink is fine for pork - and keeps it juicier.
 Ingredients:
1 pork tenderloin, 12oz (360gr)
2 medium potatoes
2 - 3 medium carrots
1 apple - Golden Delicious or Granny Smith
1 tbs brown sugar
1 tbs Balsamic vinegar
2 tbs olive oil
1 tbs butter
 Instructions:
Trim tenderloin if needed, but leave whole.
Cut potatoes and carrots into sticks, 1/2 X 2" (1.25 X 5cm).
In medium bowl mix sugar and vinegar, stirring until sugar is dissolved.
Add oil and mix well.
Add potatoes and carrots and toss to coat.
Spread the potatoes and carrots out in a baking dish large enough to hold everything easily.
Coat tenderloin with remaining vinegar/sugar and place in center of pan, with vegetables around it.
Bake, uncovered, in 400F (200C) oven for 20 minutes.
After 15 minutes, cut and core apple.  Slice into thick wedges.
Melt butter in nonstick skillet.  Add apples and toss to coat well.
Remove pork and vegetables from oven.
Turn the pork and stir the vegetables, turning them also.
Arrange the vegetables in a single layer, with pork on top of some of them, in the center of the pan.
Lay the apple slices around the vegetables and return it all to the oven for the last 20 minutes.
Remove, let the pork rest while you arrange the potatoes and apples on a small platter.
Slice the pork and place on top.
Pour over any pan juices and serve.
Day 6:

 Chicken with Mushrooms, Broccoli and Peppers

Total time: 25 minutes
    Tarragon and capers are the main flavor components of this chicken dish. They give a Mediterranean taste to the peppers and broccoli.  It all cooks quickly, leaving the vegetables crisp-tender.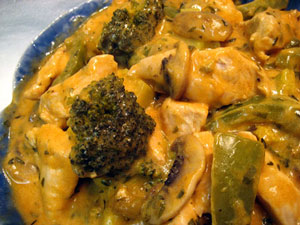 Ingredients:
2 chicken breasts, boneless, skinless
4oz (120gr) mushrooms
1 onion
1/2 green pepper
1/2 head broccoli, or 1 small head
2 cloves garlic
2 tbs capers
3/4 cup (6oz, 120ml) white wine
1 tsp dried tarragon
1 tsp dried thyme
1 tbs tomato paste
1 tbs olive oil
1 tbs cornstarch (corn flour, maizena) dissolved in 2 tbs water
 Instructions:
Roughly chop onion.
Slice the green pepper into strips 1/4" (.6cm) wide.
Cut broccoli into florets and peel and slice the stem. 
Mince garlic.
Trim and thickly slice mushrooms.
Cut chicken into large bite-size pieces.
Dissolve cornstarch in water.
Heat oil in nonstick skillet.  Add onion and sauté 5 minutes.
Add garlic, broccoli, mushrooms and pepper and sauté another 5 minutes.
Add chicken and sauté until it's cooked on all sides.
Add capers, herbs, wine, stock and tomato paste.
Cover, reduce heat and cook another 10 minutes, until the chicken is cooked through and broccoli is just tender
Uncover, increase heat.
Stir in cornstarch to thicken. 
Serve over rice or with buttered potatoes.