Main Course Menu Plan: Week 3 
Winter I
Day 1:

Pasta with Turkey, Peas and Leeks

Total time: 30 minutes 
   Frozen peas are another under-used vegetable.  They are hard to find fresh and, for peas, frozen is better, anyway.  The leeks add a mild onion flavor to the pasta and a sprinkle of shredded cheese finishes it.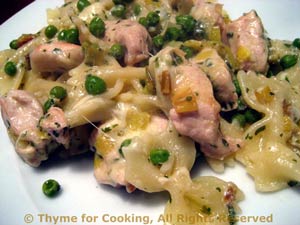 Ingredients:
 Instructions:
Cook pasta according to package directions. 
Slice turkey into strips.
Heat oil in a large nonstick skillet.  Add leeks and sauté until starting to get tender, about 5 minutes.
Add turkey and sauté 5 minutes longer.
Add chicken stock, wine, tarragon and peas
Cover, reduce heat and simmer until peas are done and tender, about 10 minutes. 

To finish:

Add the drained pasta, and cook, stirring until heated through and the liquid has either been reduced a bit or absorbed by the pasta.
Sprinkle with shredded cheese, stir to combine and serve.
Day 2:

Mustard Fried Chicken Breasts

Total time: 30 minutes
   I don't remember where the original recipe came from but I've been making these for years.  The crust is light, yet crisp and the chicken tender; the mustard adding just a hint of flavor.  I use the Parmesan in a can for this rather than freshly grated - it's drier and works better for the coating..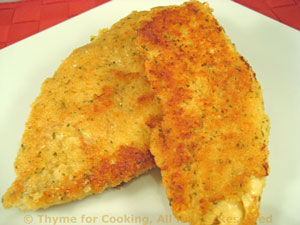 Ingredients:
2 chicken breasts, boneless, skinless
1 egg
2 tbs Dijon-style mustard
1/4 cup dry bread crumbs
1 tsp thyme
1/2 tsp garlic powder
1/4 cup Parmesan cheese
2 tbs olive oil
 Instructions:
In a bowl flat enough that you can lay the chicken breast flat (or a small pie plate, or whatever works) lightly beat the egg with a fork.
Add the mustard and beat until well combined.
In another, similar bowl combine the bread crumbs, Parmesan, thyme and garlic powder.
Heat 1 tbs oil in nonstick skillet (large enough to hold both chicken breasts) over medium heat.
With tongs or fingers dip both sides of chicken breast in egg mixture then in crumb mixture.
Place in pan and sauté  8 - 10 minutes.
Add remaining 1 tbs oil to skillet and turn breasts.
Sauté on other side for another 6 - 8 minutes, or until done.  They should be nicely browned.  Remove and serve.
When done, spoon meat and vegetables onto a platter and serve.
Day 3:

 Pasta with Sausage, Sage and Beans

Total time: 25 minutes 
     An easy skillet dinner, with lots of flavor from the sage and sausage. Sautéing the chili powder releases more flavor. If you like it hot, use hot Italian sausages, add some hot peppers or Tabasco.   It's a very flexible dish....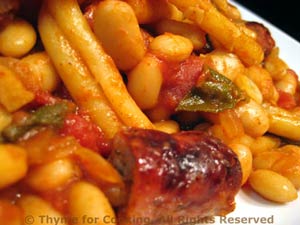 Ingredients:
 Instructions:
Cook pasta according to package instructions.
Slice sausages into 1" (2.5cm) lengths.
Chop onion and pepper.
Mince garlic.
Roughly chop tomatoes - reserving all juice.
Heat oil in large nonstick skillet over medium-high heat.  Add chili powder and sauté 1 minute.
Add onion, pepper and sauté 5 minutes.
Add sausage, garlic, sage and sauté until sausage is browned, 5 - 7 minutes.
Add tomatoes, their juices, and the cannellini, turn heat to low and simmer 10 minutes.
When pasta is done, drain and add to skillet, stir to combine and serve.
Day 4:

 Beef Tenderloin with Red Wine Sauce

Total time: 40 minutes
    Cooking time can vary depending on the size of the roast.  A meat thermometer is best.  Start checking after 20 minutes for a small roast and 30 for a larger one. Remember it will cook a bit more once off the heat.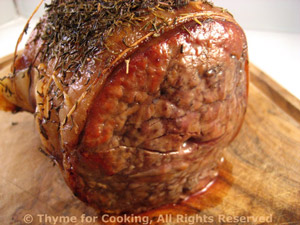 Ingredients:
The Beef
whole or piece of beef tenderloin, about 6oz (180gr) per person - but at least 16oz (480gr)
1 tbs olive oil
1 tsp dried thyme
1 tbs Worcestershire sauce
The Sauce
2 shallots
2 cloves garlic
1 cup (8oz, 240ml) red wine
1/2 cup (4oz, 120ml) beef stock
1 tsp fresh or dried thyme
1 tsp Balsamic vinegar
1 tbs cornstarch (maizena, corn flour) dissolved in 1 tbs water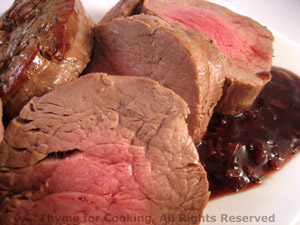 Instructions:
Day 5:

 Roast Ham with Mustard Sauce

Total time: 1 hour 45 minutes 
      A fully cooked ham should be baked to an internal temp of 140F (60C), about 20 minutes per lb. A ham that must be cooked should reach an internal temp of 150F (65C), 35 minutes per lb. for small hams and 22 minutes for larger (over 5 lbs) hams.  All times assume a 325F (165C) oven.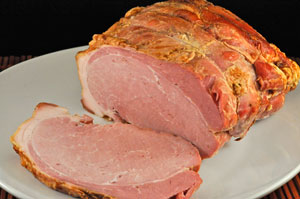 Ingredients:
1 small ham, about 4 lbs (2000gr)
1 cup brown sugar
1/2 tsp dry mustard
1 tbs red wine vinegar
 Instructions:
Put ham on rack in roasting pan and roast in 325F (165C) oven. 
About 30 minutes before it's done mix the sugar, mustard and vinegar. 
Remove the ham from the oven. Remove the skin if there is any, score the fat with a sharp knife (diamond pattern is pretty). 
Pat the brown sugar mixture over the top of the ham and return to oven.  Finish baking.
Remove ham and allow rest for 15 - 20 minutes before slicing.
Mustard Sauce
  Time: 10 minutes
    A timeless tradition in my large, extended family.  The original recipe came from "The Anderson House", a small family run hotel in my home town. For some, it's the only reason to have ham!  Can be made ahead.
 Ingredients:
1/4 cup sugar
1/4 cup milk
1/4 cup plain white or cider vinegar
2 tbs dry mustard
1 egg
pinch salt
2 tbs butter
 Instructions:
Note:  if you don't have a double boiler, put a metal bowl on a saucepan partially filled with water.  The bottom of the bowl should not touch the water.
Day 6:

 Ham and Spinach Quiche

Total time: 65 minutes 
    The rice makes a lovely crust, much healthier than the traditional pastry... and easier too, especially if you cook the rice earlier.  Use either brown or basmati rice.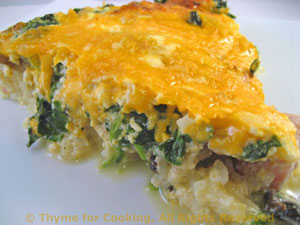 Ingredients:
Crust

1/2 cup (3.3oz, 95gr) quick-cooking brown rice

1 cup (8oz, 240ml) chicken stock

  

to yield 1 1/2 cups cooked rice

1/4 cup (1oz, 30gr)  shredded cheese
1 egg
1 tsp olive oil
Filling
8oz (240gr) ham
8oz (240gr) frozen spinach  or fresh, cooked spinach
5oz (150gr) mushrooms
1 tsp olive oil
3 eggs
1 cup (8oz, 240ml) cup milk
1/3 cup (3oz, 90gr) ricotta cheese
1/2 cup (2oz, 60gr) cup shredded cheese
 Instructions:
The rice: 

Cook the rice in stock.
 If doing in advance, refrigerate until needed. 
If doing now, spread the rice on a plate to cool for 5 minutes before making crust.

The crust:

Lightly whisk 1 egg. 
Mix cooked rice, cheese and egg.
Pat into a lightly oiled quiche or 10" (25cm) pie plate, working it up the sides a bit for the edges. 
Bake in 400F (200C) oven for 10 minutes.
The filling: Cut ham into small strips or cubes.
Thaw spinach, squeeze out all water.
Trim and slice mushrooms.
Heat oil in nonstick skillet and lightly sauté mushrooms.
Whisk 3 eggs and milk together.

To assemble: 

When crust is done, remove from oven.
Spread the spinach evenly over the crust.
Top with ricotta, mushrooms, ham and shredded cheese.
Pour egg mixture over all and bake, 40 - 50 minutes, 400F (200C). When done the center should be firm or with a very slight jiggle.
Remove from oven and let rest 5 minutes before cutting.
Note:  I usually put the quiche dish on a baking sheet to make it easier to handle – it gets kind of full.