Salmon Salad with Spanish Rice, Pimento Dressing
Preparation and cooking time: 40 minutes
This is a layered salad, with tomato-infused brown rice, zucchini and roasted or grilled salmon, finished with a red pepper dressing. If you use quick-cooking Brown Rice it all goes together fast. Everything can be cooked ahead and assembled just before serving.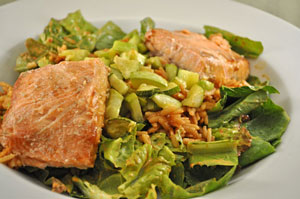 For the salmon:
2 salmon filets, 12oz total (350gr)
1 tbs fresh parsley
1 tbs fresh tarragon
1/4 tsp salt
1 tbs olive oil
Snip the parsley and tarragon. Mix with the salt and oil and spread on the salmon. Bake at 400F 200C) for 15 minutes, or until done. Remove and set aside. Could also be done on the barbecue grill for about 10 minutes. If done earlier in the day, refrigerate until ready to use.
For the Spanish Rice:
1/3 cup brown rice, quick cooking
2 tbs chopped onion
1 clove garlic, minced
1 tomato
1 tbs olive oil
2/3 cup chicken stock
Finely chop onion and mince garlic. Roughly chop tomato. Heat oil in small saucepan. Add onion and sauté until transparent. Add garlic and rice and sauté 2 minutes. Add chicken stock and tomato, cover, reduce heat and simmer until rice is done (package directions). Uncover, fluff with a fork and set aside - if done earlier in the day, refrigerate until ready to use.
For the Zucchini:
1 small zucchini (courgette) - about 7 inches long (15cm), about 1 1/2 cups, chopped
2 tsp olive oil
Sauté the zucchini in oil just until softened and tender.
Dressing for the Salad:
4oz (125 gr) pimiento (pimento) or roasted red peppers 'net weight' of the pimento, not including the liquid
1/2 cup (4oz, 125ml) plain or Greek yogurt
1/2 cup (4oz, 125ml) mayonnaise
1 tbs fresh chopped oregano
1 tbs fresh snipped chives
1 tbs lemon juice
1 tbs good olive oil
Snip/chop herbs. Drain pimento. Put the pimento and yogurt into a blender and purée. Pour the yogurt mixture into a small bowl. Add the mayonnaise, lemon juice, olive oil and herbs, stir to combine.
For salad:
lettuce for main course salad for 2 people
Prepare lettuce, tear and put in large bowl. Add 4 tbs dressing and toss well. Divide and put in 2 flat salad bowls or on 2 plates. Fluff the rice, divide and spread on the lettuce. Put the zucchini on top of the rice. Cut the salmon into 4 nice pieces, divide and arrange on zucchini. Serve with more dressing on the side.