Leek Gratin
Lamb Chops with Lemon and Rosemary
Roasted or Grilled Sweet Potatoes
Baked Tomatoes
Baked Tomatoes
Total time: 25 minutes
    In England they serve plain baked tomatoes for breakfast.  We like them, stuffed, as a first course.  They also make a lovely, vegetable side dish, especially now, as we move into fall.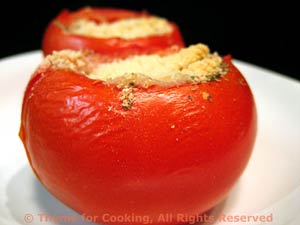 Ingredients:
2 large tomatoes, suitable for stuffing
1 tsp herbes de Provence
2 tbs grated Parmesan
2 tbs dried bread crumbs
 Instructions:
Slice the tops off of the tomatoes and scoop out the pulp and seeds leaving a hollow shell. 
In a small bowl mix herbs, cheese and bread crumbs. 
Spoon mixture into tomatoes. 
Put into a small, shallow baking pan and bake at 400F for 15 - 20 minutes, until tomatoes are hot and juicy. 
Remove and serve.