Fried Tomatoes with Fresh Mozzarella
Pan-Seared Tuna Mustard Cream
Patatas Castellanas (Castilian Potatoes)
Braised Sunchokes (Jerusalem Artichokes)
Braised Sunchokes (Jerusalem Artichokes)
Total time: 30 minutes
    Braising can add a lot of flavor to vegetables as well as meats, usually with little or no added fat. I added Herbes de Provence to these but almost any herb will work: thyme, basil, marjoram, rosemary.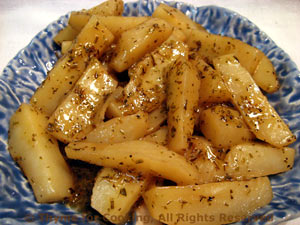 Ingredients:
2 - 3 Jerusalem artichokes

aka sunchokes

1/3 cup (3oz, 90ml) chicken stock
1 tsp Herbes de Provence or marjoram
 Instructions:
Peel sunchokes using a vegetable peeler.
Cut into sticks about 1/2" (1cm) square by 2 " (5cm) long (or however long the sunchoke is).
Put into a small skillet or medium saucepan.  Add stock and herbs, cover and bring to a boil. 
Reduce heat and partially uncover.  Simmer until tender and most of the stock is gone, 15 - 20 minutes. 
Remove, drain if necessary and serve.