Sunchoke Gratin
Total time: 30 minutes
    These gnarly roots are delicious and easy to fix.  Select sunchokes that are firm and with fewer rather than more knobby bits.  There is no need to peel, but scrub well. Trim any big knobs if you like.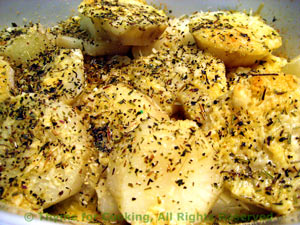 Ingredients:
3 - 4 Jerusalem artichokes aka sunchokes (8oz, 240gr)
1 tbs olive oil
1 tsp Herbes de Provence
1/4 cup (1oz, 30gr) Parmesan
 Instructions:
Trim and clean sunchokes. 
Leave whole and put into a steamer basket over hot water. 
Steam 15 minutes or until just tender when pierced with a sharp knife.  Watch them - they go from barely done to over done quickly. 
When done remove and cut into 1/2" (1.25cm) slices. 
Lightly oil a small gratin dish. 
Layer the sunchoke slices in dish. 
Sprinkle with herbs and Parmesan. 
Drizzle the remaining olive oil over the top. 
Bake, 400F (200C) for 10 - 15 minutes, until golden brown.  Remove and serve.