Omelet with Parsley, Mushrooms and Feta
Sesame-Crusted Salmon
Teriyaki Potato Chips
Sautéed Butternut Squash, Oriental Style
Sautéed Butternut Squash, Oriental Style
Total time: 20 minutes
    Butternut squash sautéed with onion and soy sauce, another simple preparation for this savory fall vegetable.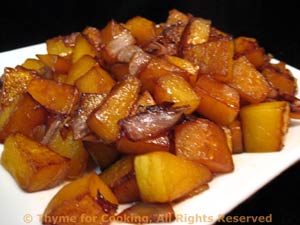 Ingredients:
 Instructions:
Slice butternut squash, (.5", 1.25cm) then cut into bite-size pieces. 
Roughly chop onion. 
Heat oils and soy sauce in a large, nonstick skillet over medium heat. 
Add squash, onions and sauté 15 minutes, until squash and onions are nicely browned. Serve.
Note:  To clean butternut squash first peel it, using a potato/vegetable peeler.  If it's large (typically) cut it in half between the 'neck' and 'bowl' ends.  Then cut those in half the 'long' way.  Scoop the seeds out of the round end and discard.  I use the neck end for uniform pieces and the bowl end for soups and smaller pieces.