Pork Chops with Tomatoes and Sage
Brown Rice with Sautéed Onions
Butternut Squash with Bacon and Sage
Butternut Squash with Bacon and Sage
Total time: 40 minutes
   There is a group of cooks that feel almost anything can be improved with bacon. I'm one of them... Within reason. I love the combination of salty bacon or ham with sweet squash and spicy sage. And I love easy vegetables.  This started out to be a gratin, but I decided to leave the topping off, some things are best simple.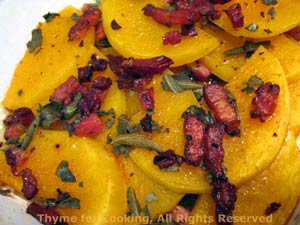 Ingredients:
12oz (360gr) butternut squash
2oz (60gr) bacon, 

2 - 3 slices

8 - 10 fresh sage leaves   

substitute 1 tbs dried

1/3 cup (3oz, 90ml) chicken stock
1 tsp olive oil
 Instructions:
Fry bacon until crisp. 
Remove, drain on paper towels for a minute, then crumble. 
Cut squash into slices about 1/4" (.6cm) thick. 
Snip sages leaves. 
Lightly oil the bottom of a baking dish large enough to hold the squash.  I used an 8" (20cm) round glass dish. 
Make a layer of 1/3 of the squash slices.
Sprinkle with 1/3 bacon and 1/3 sage. 
Repeat twice. 
Pour chicken stock over the top, cover and bake for 25 minutes, 400F (200C). 
Remove and serve.
Note:  To clean butternut squash first peel it, using a potato/vegetable peeler.  If it's large (typically) cut it in half between the 'neck' and 'bowl' ends.  Then cut those in half the 'long' way.  Scoop the seeds out of the round end and discard.  I use the neck end for uniform pieces and the bowl end for soups and smaller pieces.