Chicken Breast with Chunky Tomato Yogurt Sauce
Pasta with Browned Butter and Pepper
Rutabagas with Bacon and Onion
Rutabagas with Bacon and Onion
Total time: 35 minutes
    Rutabagas, or Swedes as they are known in the UK, are a yellow turnip.  They add sweetness to vegetable soups or stews and are excellent, braised on their own, or, as in this case, with a bit of bacon and onion.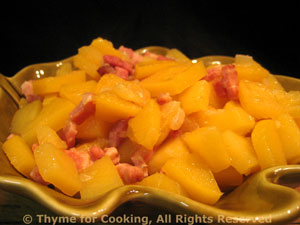 Ingredients:
 Instructions:
Peel rutabaga (with a vegetable peeler - like a potato) and cut into pieces about 1/2" X 1/4" - you will need a big knife; it's rather hard. 
Roughly chop bacon and sauté in a medium sauce pan.
When crisp remove and drain all but 1 tbs fat.
Chop onion, add to skillet and sauté until tender, about 5 minutes.
Add rutabaga, 1/2 cup water and bacon.  Bring to a boil, cover, reduce heat and simmer 15 - 20 minutes.
Test for doneness - taste, should be like a cooked potato.  When done, drain any remaining liquid, stir in butter, sherry and serve.