Sautéed Snow Peas
(mangetout, pea pods)

 with Browned Shallots

Total time: 25 minutes
   Another of those fleeting spring vegetables.  They cook quickly and are more versatile than 'just for stir-fries'.  If they are small, leave them whole.  If they are large (2", 5cm) cut in half of thirds, at an angle.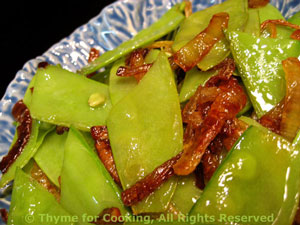 Ingredients:
4oz (120gr) snow peas
2 shallots
2 tsp olive oil
salt and pepper
 Instructions:
Peel and slice shallots.
Clean pea pods - snip off the stem end.  Cut large pods into pieces, at an angle, if desired. 
Heat oil in nonstick skillet over medium heat. Add shallots and sauté until browned, reducing heat after 10 minutes, about 20 minutes total time. 
Add pea pods and sauté 5 minutes, depending on size, stirring frequently. 
Remove, add salt and pepper if using and serve