Egg Linguini with Avocado Sauce
Baked Salmon with Sesame-Soy Glaze
Basmati Rice with Mushrooms
Snow Peas with Sesame Seeds
Sautéed Snow Peas
(mangetout, pea pods)

with Sesame Seeds

Total time: 10 minutes
  Another of those fleeting spring vegetables.  They cook quickly and are more versatile than 'just for stir-fries'.  If they are small, leave them whole.  If they are large (2", 5cm) cut in half or thirds, at an angle.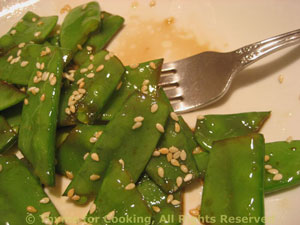 Ingredients:
4oz (120gr) snow peas, mangetout
1 tsp butter
1 tsp sesame or walnut oil
1 tsp soy sauce
1 tsp toasted sesame seeds
 Instructions:
Trim pea pods by snipping off the stem end. 
Heat butter and oil in a nonstick skillet over medium heat.  
Add pea pods and soy sauce and sauté 3 - 5 minutes, depending on size, stirring frequently. 
Taste, when they are done to your liking, remove, sprinkle with sesame seeds, soy sauce and serve.
To toast sesame seeds: 
Put them into a dry, nonstick skillet over medium heat. 
Toss or stir them about in the pan until lightly golden, about 5 minutes.