Spinach Salad with Warm Chevre Sautéed
Scallops with Pesto
Parmesan Polenta
Sautéed Snow Peas (Mangetout)
Sautéed Snow Peas  (mangetout, pea pods)
Total time: 10 minutes
    Another of those fleeting spring vegetables.  Some say they are best eaten while standing in the garden and pulling them off the vine.  This is second best.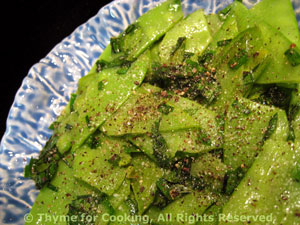 Ingredients:
4oz (120gr) snow peas, mangetout
1 tsp butter
1 tsp olive oil
1 tsp fresh or dried chives
Salt and pepper
 Instructions:
Clean pea pods - snip off the stem end. 
Heat butter and oil in nonstick skillet over medium heat. 
Add pea pods, chives, and sauté 5 - 10 minutes, depending on size, stirring frequently. 
Taste, when they are done to your liking, remove, add salt and pepper and serve.