Braised Endive
Total time: 35 minutes
    The braised endive is finished with a dash of white Balsamic vinegar, a bit of cheese and a sprinkle of olives.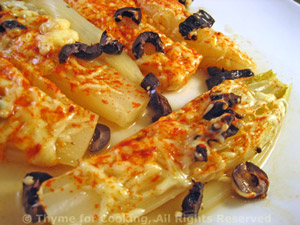 Ingredients:
2 medium endive
1 cup (8oz, 240ml) chicken stock
2 tbs white balsamic vinegar
1/4 cup Greek olives
1/3 cup cheese, shredded
1 tsp paprika
sea salt
 Instructions:
Rinse endive and remove 2 or 3 outer leaves as needed.
Trim the stem end.
Cut each endive in half the long way through the stem.
Lay in a skillet large enough to hold them flat, in one layer.  Add chicken stock, cover and simmer until the stem end is tender when pierced with a knife, about 15 minutes.
Pit olives, if needed and roughly chop.
Shred cheese if needed.
Pour off all or most of the chicken stock.
Sprinkle the vinegar over the endive; top with cheese and cover until cheese melts.
Remove Endive to a plate, top with olives, paprika, salt and serve.