Composed Salad with Asparagus
Stuffed, Barbecued Pork Loin
Grilled Potatoes with Mustard and Vinegar
Sautéed Courgette (Zucchini) and Spinach
Sautéed Spinach, Yellow Squash (Courgette) and Onions
Total time: 20 minutes
    I used a yellow squash and, coupled with the bright green spinach, it made a very pretty side dish.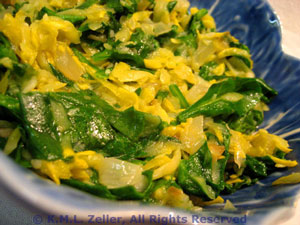 Ingredients:  
 Instructions
Slice onion and mince garlic. 
Shred squash 
Remove thick stems from spinach and cut into strips: put the spinach leaves together in one hand and snip with a scissors.  
Heat oil in medium, nonstick skillet over medium-high heat. 
Add onion and sauté until golden.   
Turn heat to medium, add squash and garlic, continue to sauté for about 15 minutes, stirring occasionally with a wooden spoon. 
Add spinach and chicken stock.  Sauté just until spinach wilts. 
Remove and serve.