Lentil and Herb Salad
Grilled Pork Tenderloin with Ginger Barbecue Sauce
Quinoa Pilaf
Sautéed Courgette (Zucchini) / Lemon Thyme & Walnuts
Sautéed Zucchini (Courgette) / Lemon Thyme and Walnuts 
Total time: 25 minutes
    I have lemon thyme and lemon basil in my garden and love using it with courgette (and fish).  Use regular thyme and basil tossed with 1/4 tsp lemon juice as a substitute. Don't crowd the slices or they will steam, rather than fry... and won't get the lovely brown crust.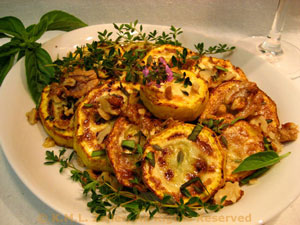 Ingredients:
1 yellow or green courgette (zucchini), 8 inches (20cm) long 
1oz (30gr) walnut halves
several sprigs of lemon thyme or regular thyme
1 tbs lemon basil or regular basil plus 1/4 tsp lemon juice
2 tsp butter, divided
1 tsp olive oil
 Instructions:
Slice the blossom end off of the zucchini, then slice it into 1/2 inch (1 cm) rounds.  Don't bother with the thin, stem end.   (Slice as much as you'll want to eat; I did about 12 slices. 
Heat 1 tsp butter and the oil in a nonstick skillet over medium heat.  The skillet needs to be large enough to hold all of the slices flat.
Add zucchini slices and fry about 8 - 12 minutes.  Check after 8 by lifting up with tongs and looking at the bottom; it should be getting brown spots on it.  If not, fry some more; if yes turn and fry the other side.  The other side won't take quite as long. 
When they are done the slices will have nice, browned patches on both sides and be tender. 
While the zucchini is frying, heat the remaining tsp of butter in a small skillet over medium heat. 
Add walnut halves and sauté 10 minutes, turning and stirring occasionally. 
When done, transfer to a cutting board and roughly chop. 
Snip basil and pull the thyme leaves off the stems. 
When zucchini is done, remove to a platter, arranging nicely.  Sprinkle with herbs, chopped nuts, salt and pepper if desired, and serve.