Grilled Chicken Breasts with Honey Mustard
Quinoa
Sautéed Zucchini (Courgette) with Red Pepper
Sautéed Zucchini (Courgette) with Red Pepper
Total time: 20 minutes
    Use a smaller zucchini (courgette) for this dish.  The red pepper, chili powder and Worcestershire add just a slight amount of heat.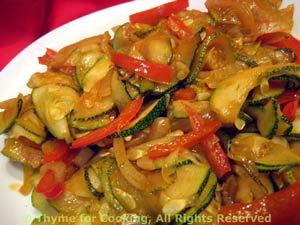 Ingredients:
1 zucchini (courgette), small - medium
1 small onion
1/2 red pepper
1 clove garlic
1/2 tsp chili powder
2 tsp Worcestershire
1 tbs olive oil
 Instructions:
Thinly slice zucchini. 
Slice red pepper, then cut slices in half. 
Slice onion. 
Mince garlic. 
Heat oil, chili powder and Worcestershire in a large nonstick skillet over medium heat. 
Add onion and pepper and sauté for 5 minutes. 
Add garlic and zucchini, sauté until zucchini is tender, 5 - 8 minutes longer. 
Remove and serve.