Grilled Ham with Red-Eye Glaze
Barley Pilaf
Grilled Zucchini (Courgette)
Grilled Zucchini (Courgette)
Total time: 20 minutes
    Did I mention that the hubs does all of the outdoor cooking?  He is convinced that he can cook anything on the grill.  When he saw the pile of zucchini becoming a mountain last summer he tried this.... and it was good.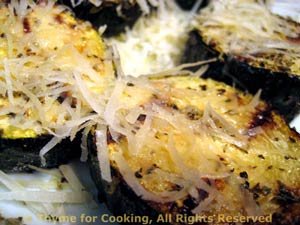 Ingredients:
1 medium zucchini (courgette) 7 - 8 inches (20 cm)
2 tbs olive oil
salt - flavored, if you use it
pepper
2 - 3 tbs Parmesan cheese
 Instructions:
Put olive oil on a plate. 
Slice courgette into 1/2 inch thick rounds. 
Dip both sides in olive oil and put directly onto grill of barbecue. 
Grill until soft and browned - about 15 minutes, turning once. 
Remove and immediately sprinkle with salt, pepper and Parmesan. Serve.
Note: You can fry them in a nonstick skillet over medium high heat for 8 minutes a side, until they develop light brown spots.  Use 1 tbs butter and 1 tbs olive oil.  They will absorb and then release the oil.  You can drain them briefly on paper towels before adding salt, pepper and Parmesan.