Grilled Turkey Cutlets Piccata
Couscous with Tomatoes and Basil
Sautéed Zucchini (Courgette) with Feta and Olives
Sautéed Zucchini (Courgette) with Feta and Olives
Total time: 20 minutes
    Use a smaller zucchini (courgette) for this dish, and a yellow or red pepper.  Add the feta and olives at the end so they only start to get warm.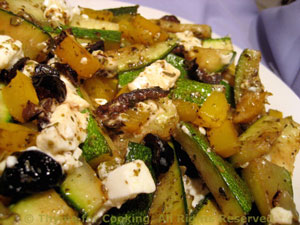 Ingredients:
1 courgette (zucchini), about 7" (17cm) long
1/2 yellow bell pepper
1/3 cup dry, Greek olives, about 12
1 1/2 oz (45gr) feta
1 tbs dried oregano
1 tsp Worcestershire
2 tsp olive oil
 Instructions:
Cut zucchini into sticks about 1 1/2" (4cm) long. 
Roughly chop pepper.
Heat oil in a large nonstick skillet over medium heat. 
Add pepper, zucchini and sauté until zucchini is tender, 7 - 10 minutes. 
Add oregano, Worcestershire and stir to combine.
Pit olives if needed and cut into thirds.
Crumble feta. 
Stir olives and feta into zucchini, remove from heat and serve.